Lesotho
Lesotho
Lesotho is located in Southern Africa, encompassing a land mass slightly smaller than the U.S. state of Maryland.
641 of approximately 5412 Catholic Sisters in Lesotho have been served by ASEC programs.
ALUM FUNDS RAISED
≈$532,500
Recent News & Reflections
view all articles from Lesotho »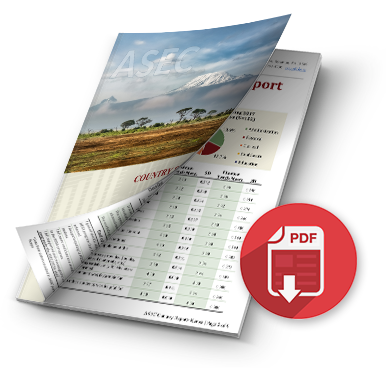 Download the Lesotho Country Report (PDF) for statistics about students and alumnae of ASEC's programs.

SLDI
HESA
There's been a 17.9% decrease in the number of women religious in Lesotho from 2012 to 2017. Lesotho is one of only two countries that ASEC serves that has seen a decline.
Alumnae in Lesotho
Healthcare (89%) and no poverty (78%) are the top Sustainable Development Goals (SDGs) that ASEC alumnae in country contribute to in their ministries (N=9).
73% received leadership positions in their ministries (N=11)
82% demonstrated effective use of skills in their ministries (N=11)
82% demonstrated effective use of skills in their congregations (N=11)
Sisters Leadership Development Initiative (SLDI) in Lesotho
SLDI has been working in Lesotho since 2015.
ASEC has served 55 Catholic sisters from Lesotho through the SLDI program.
41% of 2019 SLDI participants in Lesotho report teaching as their ministry (N=17)
34% of SLDI participants were trained in administration and 31%in finance, as of 2018 (N=35)
SLDI Partners of Lesotho
Recent SLDI Reporting
Higher Education for Sisters in Africa (HESA) in Lesotho
HESA has been working in Lesotho since 2017 (August).
ASEC is supporting 93 Catholic sisters in Lesotho to study for degrees and diplomas through the HESA program.
50% of HESA participants in Lesotho report teaching as their ministry (N=6)
86% of HESA participants in Lesotho are studying in the field of education (N=7)
HESA Partners of Lesotho
Recent HESA Reporting