Since 1999, ASEC has been educating women religious in Sub-Saharan Africa. Upon learning about ASEC's work, people in the United States sometimes ask,
"Why do you support Catholic sisters... in Africa?"
We feel that this question presents a unique opportunity for those of us at ASEC to reveal why Catholic sisters in Africa are such powerful agents of change. We often reply with...
"Did you know that unlike the United States, the Catholic population in Africa is growing rapidly? Did you know that Catholic Sisters are addressing many of the serious development challenges in Africa today? Issues like poverty, chronic hunger, disease, ecological degradation, and violence?"
It's true!
Yet few people are aware of the significant impact sisters are making Africa.
While Africa is a continent of vast potential, it currently faces serious obstacles of poverty, chronic hunger, disease, ecological degradation, and violence. Catholic women religious are a strong force in harnessing that potential, addressing these issues and offering hope for the future. These women, who are deeply trusted by their societies, are leading and serving where the needs are the greatest - in schools, in healthcare facilities, and in human service, environmental, and economic projects across the continent.
The single biggest hurdle they have is a lack of education and skills needed to make a larger impact. Many African sisters lack higher education credentials or professional preparation; some lack even the secondary school qualifications required for entry to higher education.
Why is educating African sisters so important?
Many people know that sisters spread the word of God and engage in ministries that are guided by their faith. But the hidden story about sisters is that they are addressing a multitude of the most pressing development challenges in Africa today. From improvements in healthcare, education, and infrastructure to increasing access to clean water and sanitation and reducing poverty, sisters are affecting change on the local, regional, and even national levels. From the ground up, sisters are moving the needle on nearly all of the United Nation's Sustainable Development Goals.
Sisters who participate in ASEC's programs are often able to improve the effectiveness and impact of their ministry work through the skills, confidence, and networks they gain through our programs.
Brighten your inbox with stories of lives impacted by education.
Get our emails »
The Global Shift of Catholics
There has been a remarkable global shift of Catholics from the global north to the global south over the last century.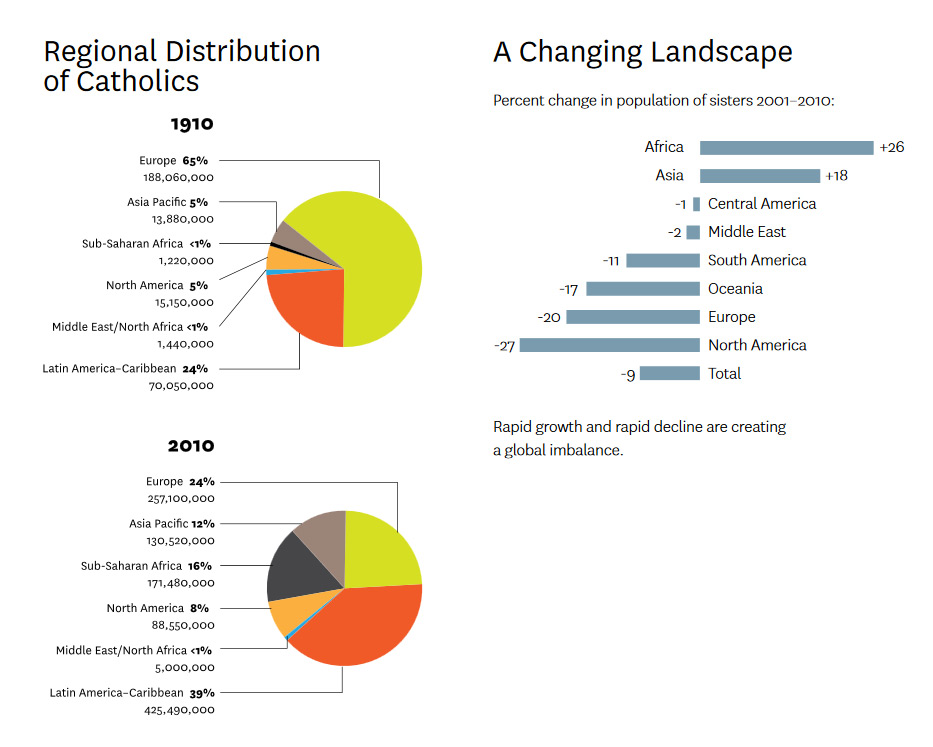 Source: Building the Global Sisterhood, CRCC's first report for the Hilton Foundation about the Catholic Sisters Initiative
The Catholic population in Africa and Asia is growing rapidly. In 1910, less than 1% of Catholics were located in Africa. In 2010, it was found that Africa is home to about 16% of the total Catholic population! By 2050, the Pew Forum on Religion and Public Life predicts that 4 out of 10 Christians will live in sub-Saharan Africa.
The changing face of the global Catholic Church also is reflected in the regional numbers of Catholic sisters today. While there was been a rapid increase of Catholic Sisters in Africa and Asia, the number of Catholic Sisters in the United States, Europe and Australia is on a severe decline. From 1965-2014 the number of Catholic Sisters in the United States dropped more than 72% (from 179,954 to 49,883).
The Challenges of African Sisters
African congregations are vital and growing. Sisters have educated many of the presidents, corporate leaders and influential people throughout the continent of Africa. They also run and staff many of the best hospitals and clinics. And they advocate for human rights as they serve children with disabilities and work in many of Africa's slum areas.
Nevertheless, they face several significant challenges to their vitality. There is an increased demand for leadership and technical expertise in their mission work in African countries and abroad. And the swelling numbers of aspirants wanting to enter formation houses strain resources. In short, they face the opposite challenge of their global north counterparts. Congregations are flooded with more aspirants than they can handle, and they struggle to educate young women who are entering their ranks fresh from secondary school.
Education and leadership skills are key to running the day- to-day mission work of congregations, from financial planning and bookkeeping to fundraising, teaching, counseling and nursing. Local governments are increasing the requirements for teachers, principals, nurses and other occupations that sisters hold. Congregations need to have the resources to respond to these evolving requirements.
This is what ASEC is all about. With the help of people like you, we have educated approximately 5,300 sisters in 10 countries in Africa.
One cannot underestimate the power of a good education. We often see a ripple effect happen just by giving one single sister the tools to succeed. She goes on to mentor other members of her congregation, members of other congregations, and even lay people. In fact, our alumnae and their mentees have raised over $13.7M to fund projects in their communities!
Watch our video »