This has been a monumental year for the Scholarship Program, including expansion into a new country, the piloting of a new scholarship, longer scholarship options and COVID-19-related interruptions.
In February 2020, ASEC's Scholarship Program expanded to Ghana to fund scholarships for Catholic Sisters pursuing degrees and training in Special Education.
During a recent Service Learning trip to Ghana, the school that was served by the Service Learning participants did not have any trained teachers or sisters to provide special needs education. Following the trip and reviewing participants' experiences, the ASEC Board approved expansion of the Scholarship Program into Ghana. A grant from the National Catholic Community Foundation (NCCF) made it possible for ASEC to provide scholarships.
Zambia, a country supported by the Scholarship Program since 2016, also saw a recent change in services. A governmental change took place that expanded Zambia's diploma programs from two to three years. This extended the length of the Scholarship Program in Zambia to three years so the sisters' tuition will be covered.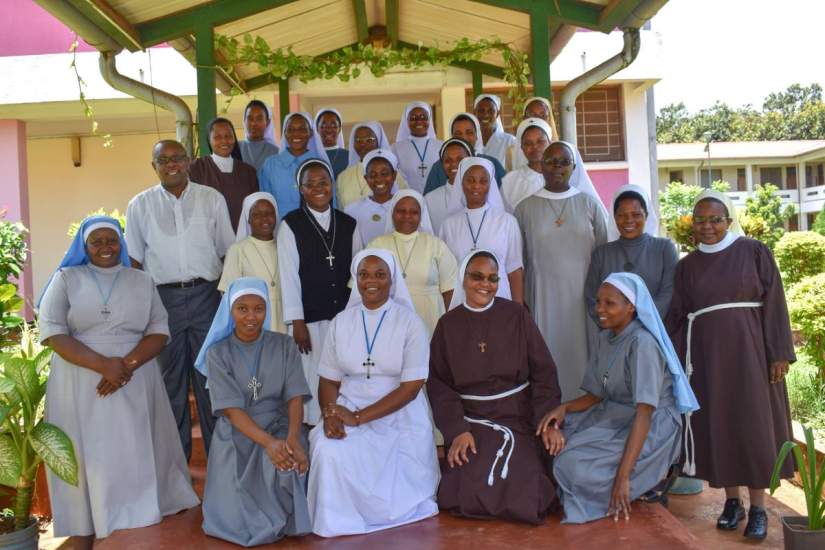 The Scholarship Program is currently piloting a Ph.D. program to support sisters in need of funding in their doctoral programs at select colleges and universities. The pilot stage is only accepting sisters attending the Catholic University of Eastern Africa (CUEA) in Kenya.
Possibly the biggest impact on the program this year has been the impact of the coronavirus. While each country and school reacted in their own way, COVID-19 delayed recruitment and admission for scholarship recipients.
ASEC has awarded 369 scholarships since the program's inception. So far, 211 sisters have graduated.
The Scholarship Program also received its first full evaluation report following the 2019 year. The 2020 year is still in progress and currently delayed due to COVID-19. However, from 2012-2019, a total of 369 sisters have received scholarships through the program. 211 scholarship recipients have graduated with degrees in fields related to their ministry work.
A 97% retention rate reaffirms that sisters who begin the program also tend to stay in the program. Scholarship recipients attend programs in various disciplines such as education, social work, law, accounting and pharmaceutical science.
While ASEC's scholarship program supports higher education and even doctoral degrees, a large majority of scholarships are awarded to sisters who haven't completed high school. In fact, the Scholarship Program was initiated in 2012 to meet this specific need expressed by sisters in Tanzania, where 65% of sisters did not have a high school diploma.
ASEC partners with Bigwa Sisters Secondary School (Bigwa), a boarding school for religious women in located in Morogoro, Tanzania. Through ASEC, women religious are awarded two-year scholarships to attend Bigwa and complete their secondary school education. In addition to tuition, ASEC also provides stipends to support the teachers at Bigwa.
In October 2019, Bigwa received the Most Improved Schools award from the Office of the Regional Administration and Local Government in collaboration with the Examinations Council of Tanzania. We are so proud of our scholarship recipients for playing a part in the school's success! In celebration, ASEC donated ten desktop computers to Bigwa so our students can continue to achieve academic success.
Sr. Jane Wakahiu, LSOSF, Ph.D., ASEC's former Executive Director and Associate VP of Program Operations & Head of Catholic Sisters Initiative at the Conrad N. Hilton Foundation, made a donation to provide the Bigwa school with antibacterial soap, sanitation items and protective masks.
The Scholarship Program is constantly evolving and has changed so much since I started at ASEC two years ago. Our scholarships give sisters both training in their ministries and the opportunity to be prepared for higher education as well. I am excited to see where the Scholarship Program goes in the future.
ASEC's Scholarship Program is not grant funded and relies on donations from our supporters to operate. Would you consider supporting this valuable programs? Make a donation today.