Your health and safety is of utmost concern for our organization. As the COVID-19 situation rapidly evolves, we are taking steps to protect and uphold our internal team, our external partners and surrounding communities.
Events and program delivery
In close coordination with our partners, supporters and beneficiaries, we have converted events, where possible, to virtual operations. We will also be postponing in-person events across the USA and Africa as the situation unfolds.
Due to COVID-19, all ASEC partner institutions for Higher Education for Sisters in Africa (HESA) and the Scholarship program have closed by government order.
Universities in Africa are working to implement online classes for higher education students. Currently, online classes are taking place in the countries of Cameroon and Kenya.
HESA Reflective Learning workshops, SLDI workshops, Alumnae meetings and other in-person events are being postponed on a case-by-case basis as the situation unfolds. Please consult with your country staff for more information.

ASEC staff are in the planning process to move in-person events to online virtual meetings, where possible.
Our staff and partners on the ground in Africa will continue to monitor the situation and relay government recommendations to the USA office.
Like many of you, we are disappointed that these events will not continue as planned. We look forward to working collaboratively online in the weeks to come and at in-person events once this health threat has passed.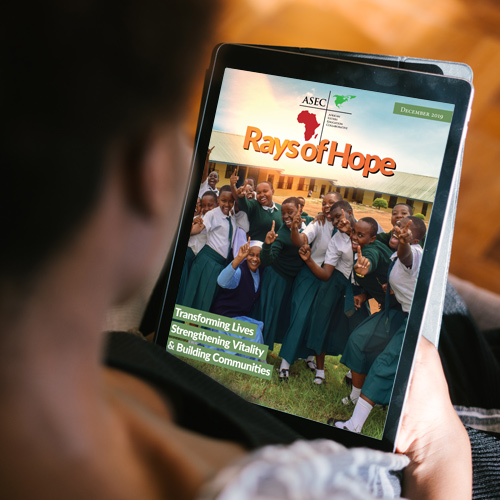 Read Rays of Hope
Learn more about Catholic Sisters transforming poor, rural communities across Africa in our FREE Rays of Hope ebook.
Read It Now »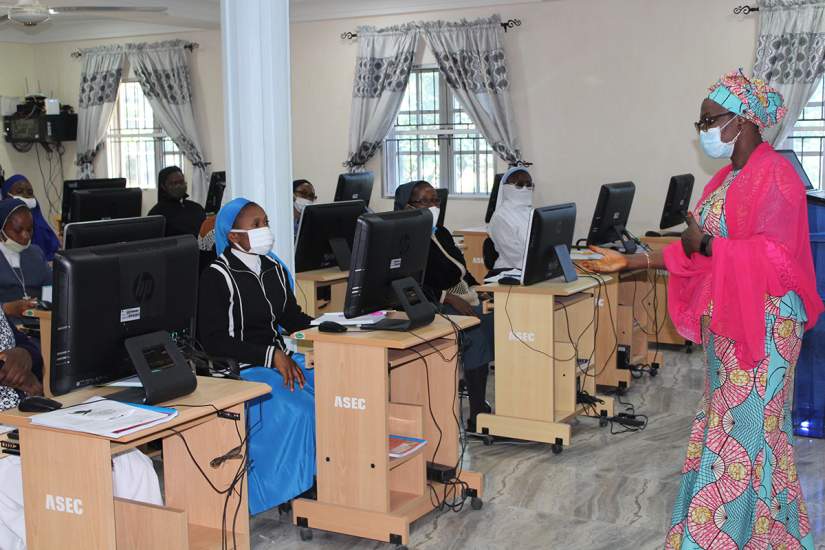 United in Prayer
We at ASEC are united with the world in prayer; for the safety of all humanity and for all those affected by the COVID-19 pandemic. The sisters in Africa continue to pray, especially for our partners and supporters. May the blessing of this Easter lift our fear and anxiety and renew our courage and hope for a brighter tomorrow.
Above, clockwise from top left:
SNDdeN sisters praying stations of the cross in Nigeria
Prayers from the Sisters of St. Ann in Cameroon
Sisters pray the rosary in Kenya
Sisters of St. Ann in Cameroon pray for the protection of our benefactors
Holy Family Sisters of Bordeaux at St Monica's in Lesotho
HESA students Kenya in prayer and solidarity
More prayer messages and photo can be viewed on ASEC's Facebook page.
Video prayers from Sisters in Africa can be watched on ASEC's YouTube channel.
Read more about how Sisters are reaching out to the poor and vulnerable communities of Africa.
Working remote
Beginning March 19, our staff in both USA and Africa have been encouraged to work from home, cancel work-related travel and transition to virtual meetings. These recommendations are in place through June 30 at which time we will review workplace and community safety recommendations from public health officials. Mailings and communications may be delayed as a result of this situation, so we appreciate your patience as we navigate this uncharted territory.
Our staff are currently working our usual hours and can be reached most easily by email. Contact information can be found on the Our Team page.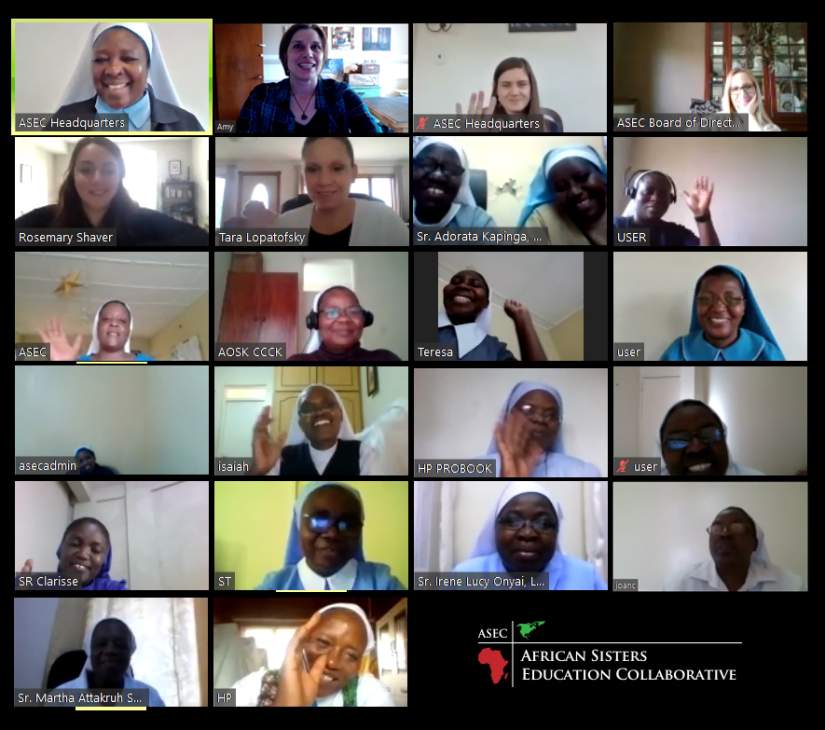 Solidarity Message to Local Community
Staff in the US participated in a solidarity message that was aired on WNEP-TV, the local news station in Scranton, PA, where ASEC US Headquarters is located.
Songs & signs of hope (ASEC message starts at 1:05).
In Memory of ASEC Family Lost
Unfortunately, no matter how many precautions were taken, several ASEC family members still lost their lives to this devastating pandemic. May all the faithful departed rest in eternal peace.
Mother Grace Ngu (April 11, 2020)
Mother Grace was the General Superior of the Sisters of St. Therese of the Child Jesus of Buea (SST), which is the congregation of our ASEC Country Director in Cameroon, Sr. Clarisse Remjika Jaiwo. For women religious, losing the General Superior is similar to losing a parent. We pray for the peace of the Sisters of St. Therese during this difficult time.
Dr. Edward Ddumba (April, 2020)
Dr. Ddumba initiated and signed ASEC's first Frame of Reference with HESA Partner St. Francis Nsambya Hospital Training School in Kampala, Uganda. May he rest in eternal peace.