The Kikyusa schools, run by the Sisters of Mercy of the Holy Cross (MHC), have a reputation for excellence that brings in students from all over the African continent.
Sr. Monica Auma and Sr. Imelda Namyanzi received promotions to head teachers upon receiving education degrees through ASEC's Higher Education for Sisters in Africa (HESA) program. The HESA program provides opportunities for Sisters to access diploma, undergraduate and master's level education. HESA is delivered through partnerships with higher education institutions in Africa and online in the USA.
Alumnae of ASEC's HESA programs obtain the skills and credentials needed to advocate for the most vulnerable and persecuted individuals in the communities they serve.
Kikyusa Primary, Sr. Monica
Sr. Monica is Head Teacher of Kikyusa Primary School which serves over 350 students, ages 6-13 years, with nearly 40% of students boarding there.
Sr. Monica received 1st Class Honors upon graduating with her degree from Catholic University of Eastern Africa (CUEA) through ASEC's HESA program. She feels that the first thing you need as a leader are good teachers who promote the holistic growth of each child.
She used skills she learned in HESA to raise funds for a school kitchen. She has also implemented a small farm on the property where students learn how to cultivate food. Curriculum for this project was developed through collaboration with local community members, after the school conducted a Strengths, Weakness, Opportunity and Threat (SWOT) analysis and determined this was a gap in the students' instruction.
Kikyusa Secondary, Sr. Imelda
As Head Teacher of Kikyusa Secondary School, Sr. Imelda has found that implementing her child development knowledge has benefited the quality of education at the school.
In 2018, she introduced an extracurricular program so students can develop holistically through dance, singing and sports. The program is a direct result of the feedback she received from Sr. Gail Cabral at Marywood University while taking her online courses. The children attend school from 8-5pm, previously this entire time was spent on their studies. Sr. Gail advised that children need time to do what they love, to enjoy what they learn and to spend time "playing."
As such, Sr. Imelda advocated for extracurricular programs.
She encountered a great deal of resistance, but by producing evidence and advocating for her students she won the opportunity to provide these services. Now, the extracurricular programs are bringing in more students and are a real selling point for the school.
The students in the dance/singing program even won an award in the diocese this year for their performances.
Sr. Imelda told us that she's benefited greatly from the ASEC Alumnae Workshops.Through these workshops she has learned to give back to the community and to help the community in trusting her and the school. Sr. Imelda also explained that she stays in contact with Sisters from her HESA cohort and they exchange ideas and offer each other assistance as necessary.
Sr. Imelda was taught at Reflective Learning to make soap and has implemented this skill at the school. She had to try three times until the soap was successful and then she taught this skill to the children. Now, the children sell their soap to the community and the local health centers which raises funds for the school.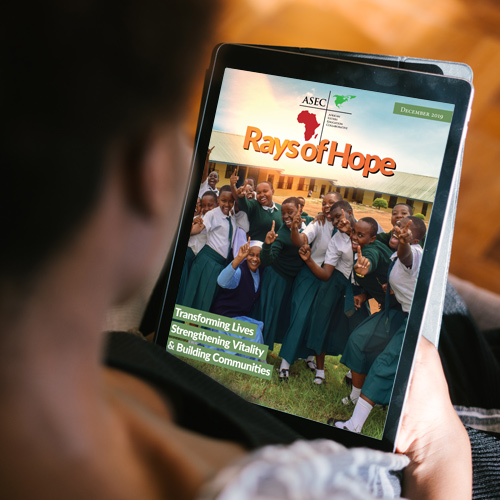 Read Rays of Hope
Learn more about Catholic Sisters transforming poor, rural communities across Africa in our FREE Rays of Hope ebook.
Read It Now »
Building a Reputation and Increased Enrollment
Thanks to Sr. Monica and Sr. Imelda, word is spreading about the schools impressive curriculum and opportunities. Since the administration is well educated and are religious, the community trusts that the school will take good care of their children.
Sr. Monica explained that she made connections in the HESA program with Sisters in other countries and areas. Through these connections, parents have heard of the school and sent their children to attend.
Sr. Monica feels that HESA has widened her ability to network and has built her administration skills. Through hard work and the skills she's acquired, the number of students have grown.
The administration representatives of the school told ASEC that Srs. Monica and Imelda have demonstrated increased commitment and determination since completing HESA. They have impressed the community and increased the trust the community has in school.
This has resulted in an increase in school enrollment, which also means the school will soon need to expand. This is especially true in the girls hostel which has taken over one of the health centers buildings this last year due to lack of space. The Sisters have assisted the school in living up to their performance core values of faith, love and hope, instilling and increased sense of morality and spirituality in the community.
Sr. Monica said,
"I would like to truly thank you for kindly sponsoring the Sisters in Africa and us in particular. We truly appreciate your continued support render to us. You did not stop only on the online thing but furthered to the onsite study program, as if that was not enough you encourage and fund different workshops for alumnae where we are enriched with many skills. Today I have the pleasure to tell you that the liquid soap we use at the school is made by our student, I also move out to families whenever I have time and involve in their family affairs, especially in regard to educating their children. I have settled some of these families back to normal. I attribute such confidence, skills and contribution to ASEC programs that empower us each year. The HESA programs have exposed us to knowledge. HESA has contributed a lot to my apostolate in the way that I am able to teach, to lead, to counsel and to mother many because of the education we acquired. The exposure and opportunities like meeting people and hearing from many has a way it builds confidence and also changes the way we see and perceive things, hence enabling us to operate in apostolate with different kinds of people. Even right after my bachelors when I was posted to a school as an administrator I felt I had the capacity to do it, though not without challenges."
It's easy to see that at Kikyusa, the Sisters instill the values of faith, love and hope in every student they encounter. With their own education, Srs. Monica and Imelda are now able to improve the school even more and increase the quality of holistic education provided to the children in their care.