In Africa, Catholic sisters are at the forefront of addressing modern Africa's challenges, and are strategically placed to be key players and problem solvers in Africa. Sisters engage in programs that alleviate the plight of their people by providing human, social, and pastoral services at schools, hospitals and dispensaries, dental clinics, rural outreach programs and healthcare facilities, and in programs for HIV/AIDS patients, unwed mothers, youth, street children, and orphans, to name just a few.
On World AIDS day, ASEC would like to acknowledge all the sisters working to prevent, treat and support those affected and infected with HIV/AIDS.

During their recent trip to Nairobi, Kenya in October 2016, ASEC staff were able to conduct interviews, focus groups and site visits to ASEC Alumnae projects, including several projects that serve individuals with HIV/AIDS.

Sr. Mary Wambui is doing incredible work in supporting those with HIV/AIDS in Kenya. She was mentored by an SLDI alumnae, Sr. Wilfrida Adero, who passed along valuable skills that Sr. Mary uses every day. Sr. Mary and her staff work with children and parents as part of a holistic program that addresses HIV/AIDS prevention and care, economic empowerment, nutrition, education, and much more. They serve roughly 3000 vulnerable children and their families and engage local community members on the ground to help monitor the children's progress and de-stigmatize the disease. The program is funded by USAID and has been running for about 10 years.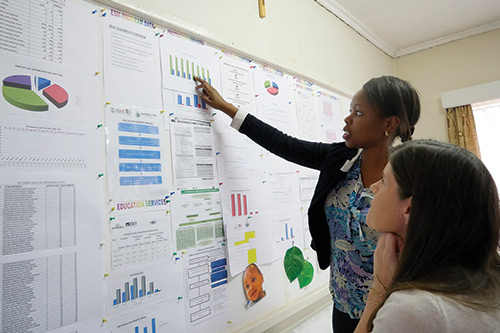 Margaret, Monitoring and Evaluation Coordinator at the Evangelizing Sisters of Mary, shows Jen some of the data from the congregation's USAID funded project.
Sr. Eunice Okobia, MMM, is the Matron in charge of the Medical Missionaries of Mary Clinic, ACO Hosing Estate, New Lugbe, Abuja, Nigeria. Sr. Eunice graduated from ASEC's SLDI Finance Track in 2009 and is one of the beneficiaries of the SLDI Alumnae Signature Grant through which she received $25,000USD under a pilot program with the Catholic Sisters Initiative at the Conrad N. Hilton Foundation to purchase a Cervical Screening machine in June 2015. "ASEC is a life-saving organization", Sr. Eunice stated upon seeing my greeting her.

Cases of HIV/AIDS, cancer, STDs, Hepatitis, Typhoid and even Malaria are, unfortunately, the norm, where Sr. Eunice works. She leads educational activities at the Clinic twice per week and include patient screenings and information on Pre-natal care, baby delivery, HIV/AIDS and cancer awareness. read more...

The St. Francis Community Hospital in Kasarani, the outskirts of Nairobi is part of a whole range of projects run by the Little sisters of St. Francis in an area that is populated people from low income areas who live in the informal settlements around the hospital. On a site visit, the Conrad. N. Hilton Foundation team was taken through the hospital, a rehabilitation center for street children and listened to narrations of people living with HIV and AIDS who are under the care of the sisters. A seven year old boy Emmanuel John Zachary, a member of the child support group at St. Francis Hospital epitomized the work of the sisters... "I know that I am positive, I have learned to live positively, eat a balanced diet, take my drugs, and work hard at school... my life is the hands of the sisters!!!" read more...
Sr. Josephine Muthoni Kwenga an SLDI graduate of the Administration track in 2015, is a sister who has successfully used her skills and networks to lead an innovative project, take up leadership roles, and collaborate with partners.
Sr. Josephine recognized a need to empower women in both rural and urban settings. After completing SLDI, Sr. Josephine wrote a grant proposal to begin her project titled Women Peacemakers with Alternative Livelihood and was awarded in $12,832 in funding from Mensen met en Missie. She also raised $987 for her project through local donations. The project seeks to empower poor women in a slum in Nairobi as well as women in a rural area in Mwala-Machakos County. One of the project activities included in her grant is gender empowerment of marginalized women including individuals living in extreme poverty and living with HIV/AIDS (infected or affected). read more...
In 2015 ASEC's SLDI program introduced field trips into the curriculum to provide "hands on" learning experiences for sisters. Participants of the program visit the Cottolengo Centre for orphaned HIV positive children and many other sites, often times these are projects led by our very own SLDI alumnae.
Because of society's great need, the majority of Catholic sisters in Africa are put to task without proper training and skills, lacking the essential competencies and degrees that are prerequisites for effective management. With the high cost of living and of education, and with sisters working in low-paying or non-paying jobs in parishes, it becomes difficult for their communities to invest in sisters' education. As a result, sisters lack the tools needed for rendering effective services. The Catholic schools and healthcare and social welfare programs now heavily staffed by the sisters in Africa can only survive the challenge of a changing global landscape if these sisters are provided with relevant skills through upgrading and ensuring that they are well educated to handle emerging needs.

Today and throughout the year, we honor those continuing to fight back against this global health epidemic.
On World AIDS day, we ask that you'll consider donating to our cause to educate the Catholic Sisters in Africa, and share their stories with your friends and family to bring awareness to HIV/AIDS and the great work that all of our sisters in the ASEC program are doing to improve the lives of their communities.
Save