In Bembeke, Teresian Sisters are working with people who are HIV/AIDS positive in five support groups reaching a total of more than 200 beneficiaries. The aim is to empower them with a variety of skills for self-sustainability and happy living. On September 10, 2017, these sisters visited Kungumbe village T/A Kamenyagwaza in Dedza district, to assist the support group there in the preparation of nutritious foods from local resources. This occasion was blessed by seven chiefs from the surrounding areas. More than 40 families benefited from the project. Group village headman Kungumbe felt that the project was so beneficial and worthy of replicating that he asked the sisters to train all the villages in his locality. He saw the project as really relevant to the needs of his people. So the Bembeke community is calling upon all area religious to reach out to help fulfil this project.
The sisters involved in this service to the marginalized see that they are better able to work with the less privileged because of the knowledge they have gained from ASEC training. They see themselves as the channels by which ASEC indirectly reaches the less privileged. Thanks to ASEC, those bound in the slavery of poverty through the HIV/AIDS pandemic are now empowered, and they can live a healthy life in accord with these United Nations Sustainable Development Goals (SDGs)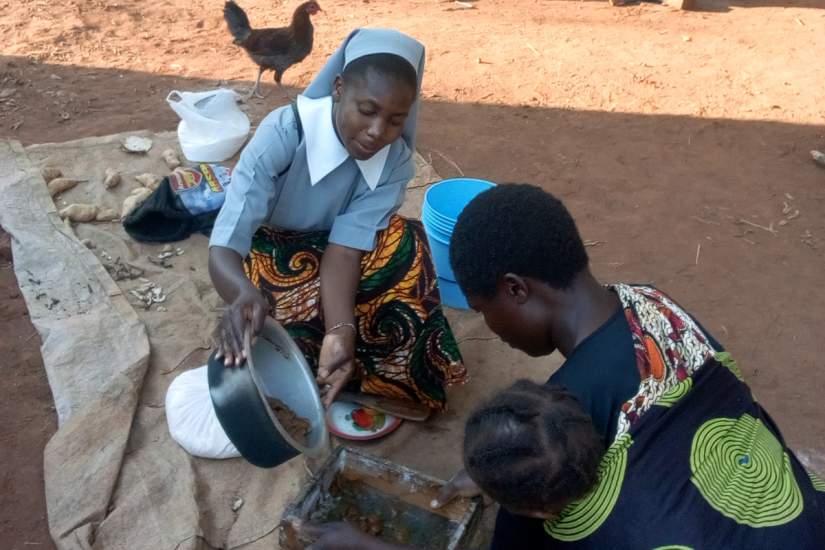 The Teresian Sisters Congregation was founded by Bishop Mathurino Guilleme in 1929 with the aim of liberating people from different modes of slavery. The community of Teresian sisters of Bembeke in Dedza Diocese, Malawi, are tirelessly working with the marginalized as a way of fulfilling their charism of liberation. Among other things, these sisters work in hospitals, schools, pastoral work, social work and even administration in various institutions in Malawi and Zambia.
Through the leadership training offered to the sisters, ASEC not only aids the marginalized, but has been a key component in helping the sisters realize their Congregation charism of liberation.