THE COTTOLENGO CENTRE
Cottolengo Centre started in 1994, with the aim of taking care of vulnerable abandoned and Orphaned children, who are either infected or affected by HIV+ from all Kenya and preferably from Nairobi. The Centre is managed by the Cottolengo Sisters here in Kenya. Cottolengo Centre is a Catholic Faith Based nonprofit making institution.
They admit Children under one year of age, and HIV+ although there are exceptional cases considering the need of each child.
Their goal or vision is to provide an wholistic care for the children so as to restitute their human dignity and stabilize their health.
The Children under one year that they receive, after right feeding and proper healthy care about 85% of them create their own immunity and turn Zero-negative.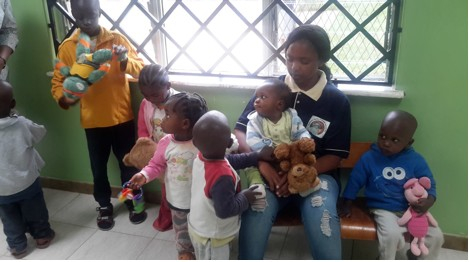 A care taker with the children at the Centre
CRITERIA FOR ADMISSION
Must be confirmed HIV positive/exposed
Abandoned, orphaned, or with one living parent unable to support the child due to health problems.
Aged between birth and one year old.
Exceptionally we admit vulnerable children who are not HIV+ or are over one year of age meanwhile we evaluate the right location for them.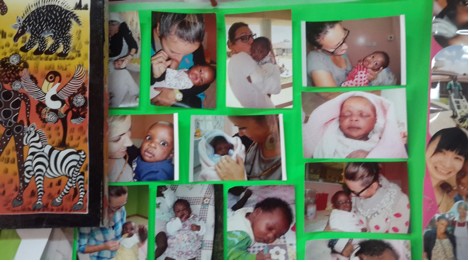 SOURCES OF THE CHILDREN
Various Hospitals
Abandoned children through Good Samaritans (Through police)
Referral from other children centers'/home after discovering that they are HIV+
From their own homes by the parents, relatives or through social workers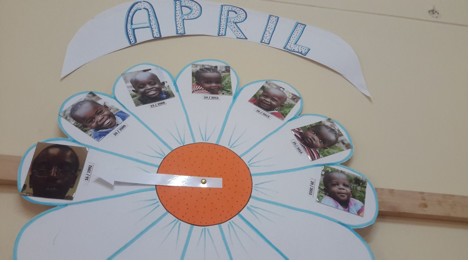 CHALLENGES
Stigma from the society since HIV+ people are usually not appreciated in the social settings
High cost of acquiring drugs
High cost of acquiring the Right diet
The cost of school fees
High cost in finances for the reintegration strategy
DISCHARGES
-Reintegration to families of origin after either becoming zero-negative or stabilizing their health
-Adoption/foster care through Adoptive Society of Kenya mainly for those who turn zero-negative and have no relatives known and willing to take them home.
The cottolengo centre at the moment host 84 children aged from 8 months to twenty three years.
The children are subdivided into seven family groups.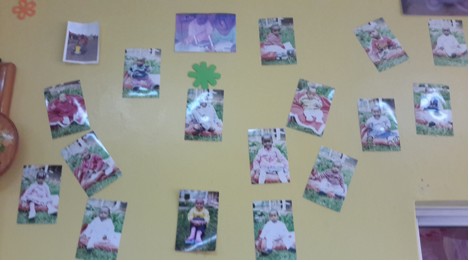 THE HOLY ANGELS: have the babies from 0-3 years of age, at the present they are 24 children
FRANCIS AND ST. PIUS : the boys from 4-11 years of age
MARIA GORETT AND SR. BAKITA : Girls from 4-11 years
JOSEPH, boys from 12 years and above
THERESA Girls from 12 years and above
Each family group have a sister as a point of reference and she is present in all the important moments of the child`s life
THE EDUCATION
Since our aim is integral care, the children education is one aspect of their interest. Their children attends various schools. In the compound they have baby class for the children under three years
Others attend:-
Hekima Primary school Ngong, 12 Children
Br. Beusang primary school Ngong 21 children
Cottolengo Primary school Meru, 9 Children
They have 11 children in various secondary schools and 7 in vocational training schools
As noted earlier among the challenges, to run the Centre they need qualified personnel to give quality service to the children. They have two doctors, who are on call in alternate weeks, 5 nurses to cover 24 hours, 13 auxiliary staff and 2 drivers
They depend on the well wishers and donors to run the centre.