Sr. Harriet Baker, IHMR, has a passion for serving others. Her entire career is based upon caring for the health of the vulnerable and sick. That's why it's no surprise that she wanted to study for her diploma in nursing and further her education.
But Catholic nuns in Africa have a very difficult time getting access to education. They are much needed in their positions of service and are often in low or no-paying jobs. So, many congregations don't have the funds to send their sisters to school. In fact, 71% of sisters in the countries ASEC serves lack higher education credentials.
ASEC is changing that reality through partnerships and collaboration across the world, and Sr. Harriet is just one of our beneficiaries.
ASEC's Higher Education for Sisters in Africa (HESA) provides opportunities for African sisters to access higher education. Through this program, Sr. Harriet was chosen for a scholarship so she could study nursing at St. Francis Hospital Nsambya Training School in Uganda.
Stepping in a Leadership Role
In September, 2018, Sr. Harriet received her Diploma in Nursing and shortly thereafter was promoted to Nursing Director of Nkozi Hospital, where she was already serving. Sr. Harriet is dedicated to the mission of Nkozi Hospital, which is
"to uplift healthy standards of the community, with preference to the most vulnerable ones, through comprehensive model of high quality healthy service delivery."
The hospital offers a variety of inpatient and outpatient services from immunization and maternity care, to specialized services for diabetes, HIV/AIDs and mental health, to name a few. Because they are dedicated to serving the poor and vulnerable, the staff will also conduct home visits. All services focus on preventive, promotive, curative and rehabilitative care.
Sr. Harriet's role as Nursing Director includes professional, administrative and human resources activities. She is in charge of maintaining the hospital's standard of care and educating the public about the importance of healthcare. She plays a role in hospital planning, budgeting and inventory. She ensures 24-hour staffing and supervises 95 healthcare workers. She's also the human resources manager for all of her staff.
And this is just a short list of Sr. Harriet's many responsibilities.
But, the education she received has given her the knowledge and confidence to effectively lead and supervise. Sr. Harriet told ASEC staff that she appreciates all of the support provided by the HESA program. In particular, she believes her cohort was an important part in her success. She believes that being able to study together and encourage one another was the reason that all five students in her cohort were able to perform well in the program.
Facing Big Challenges Head-On
As Nursing Director, Sr. Harriet faces many challenges. Some of these include:
Providing services to the poor before their conditions get worse and more expensive.
Financial constraints of patients and cases of runaway and non-payment, which inhibit hospital growth.
High frequency of road traffic accidents on the Kampala Masaka highway.
Accommodating volume of cases for emergency and critical care - often patients are treated in the grass out in front of the hospital, which compromises the level of care.
Maternity department is too small to accommodate all of the women.
Low wages for employees and difficulty competing with the government pay scale.
But Sr. Harriet is not discouraged by these challenges. In fact, she's facing them head-on.
Medical Camps
One of her most recent successes has been conducting a 1 day medical camp that served 680 in her community. Sr. Harriet explained that people in the community get sick and because they cannot afford treatment, they don't come to the hospital until their condition is so bad that they have to come. By then, the treatment is much more expensive than it would have been.
The intention of the medical camp was to perform check-ups, screenings and provide treatment to patients who needed it. She was able to get medication and donations through local resources and connections.
Sr. Harriet stressed that she wanted to educate people about the importance of seeking early treatment at the hospital. Members of her staff also held sessions throughout the day about various health topics, thus, making the community aware of the many services the hospital provides.
The medical camp was for certain a success. After evaluating the results, it was determined that medical camps need to be done regularly in order to best serve the community. Sr. Harriet says,
"...So, I wrote a proposal to the Conrad Hilton sisters for assistance to organize the health camps and recently I received a positive response from them, May God be blessed forever."
Now Nkozi Hospital has funding to hold regular medical camps to serve the most vulnerable members of their community. All while spreading more awareness about the hospital's services.
Accident, Emergency and Trauma Center
Because Nkozi Hospital is the only hospital along the Kampala Masaka highway, all accident victims are brought there. But, on most days, the space they have is not enough. So, the hospital is in the process of raising funds to construct an Accident, Emergency and Trauma Center.
Sr. Harriet is excited to participate in the fundraising activities. Rotary Uganda generously promised to provide all the equipment necessary for the trauma center once it's built.
All those involved came up with ideas to raise funds via marathons, car washes, dinners, sports galas and more. Sr. Harriet plans to hold annual events and put all of the funds raised into the construction of the trauma center.
Using what's been raised, they were able to pour the foundation and begin construction on the new trauma center. Although the project can be overwhelming, Sr. Harriet is taking it one event at a time. Each event will enable them to build more and more of the center they so desperately need.
Community Sensitization
Sr. Harriet has also been involved in sensitization of the community through open forums. Every two weeks, they choose a market to visit. Using community radios and megaphones, Sr. Harriet and her staff share information about the hospital and its services.
The community also gives feedback to the hospital via a suggestion box. Sr. Harriet uses her time at the market to keep the public updated and about how she's addressing their suggestions and concerns.
Special Events at the Hospital
Sr. Harriet has also been holding regular events at the hospital for the community, patients and even her staff.
In December, "World AIDS Day" was held at the hospital to commemorate World AIDS Day, which is celebrated annually on December 1. The focus on that day was to fight against stigma and encourage HIV testing and partner notification. Staff also held talks about drug adherence and how to avoid stigma. Sr. Harriet said that they received about 500 clients that day. There was also food and dancing for all who attended.
Over the Christmas holiday and on the "World Day of the Sick" in February, staff gave out some sugar and a piece of soap to each patient in the hospital.
Sr. Harriet and management also organized an end of year party for the staff. She said that the mass, speeches, dinner and small gifts were a way to appreciate all of their hard work throughout the year.
Plans for Future Improvements
Sr. Harriet also has plans to lobby for funds to expand the hospital's maternity services and construct a concrete wall to prevent runaway and non-payment cases.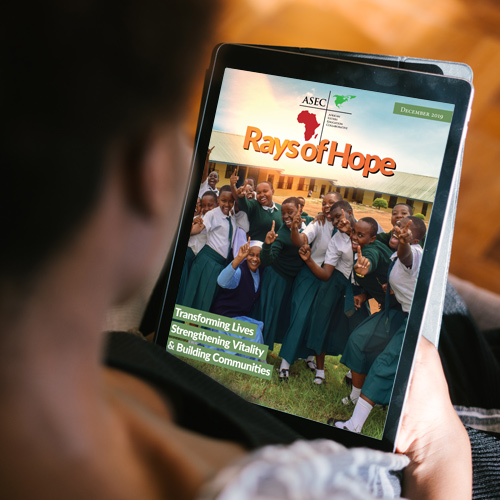 Read Rays of Hope
Learn more about Catholic Sisters transforming poor, rural communities across Africa in our FREE Rays of Hope ebook.
Read It Now »
As you can see, Sr. Harriet is constantly creating innovative solutions in order to serve her patients and holds an extreme passion for the important work she and her staff do. Sr. Harriet hopes to continue her education so she can make an even bigger impact through expanding and improving healthcare services for the people who need them most.