At ASEC, it's a priority to collect data about our programs and the ways they impact communities across Africa. When sisters dedicate time and commitment to education, it creates a powerful transformation that travels outwards into their communities. Grants for improvement projects are requested as a result of obtaining grant-writing skills, new buildings are built with the grants, and qualified sisters know exactly what an education system needs to thrive. Later a sustainable farm or clean drinking water becomes a permanent possibility. Sometimes it is hard to grasp the growth that can happen so quickly as a result of education.
Whether conducting research by obtaining a scholarship or participating in workshops that develop professional skills, ASEC Sisters are focused and ready to learn. It is common to hear sisters say that they have a strong draw to education and put their faith in God as to how to obtain it. It's inspiring to see the impact – let's take a look!
Creating Peace
Education opens up opportunities for positive change, but before that, it opens your eyes to the things that need to be changed. That was the case for Sr. Bi Eveline Ambe, Sisters of St. Ann, who completed Sisters Leadership Development Initiative (SLDI) in November of 2015 and obtained her Bachelor's degree through ASEC's Higher Education for Sisters in Africa (HESA) program. Through her studies, she said she started learning more about the world - specifically Geography and Environmental Studies, which she described as an "eye opener."
"I read Geography and Environmental Studies which acted as an eye opener to me to pay more attention to the plight of the thousands that had been displaced in the North West and South West regions of Cameroon due to the socio-political crisis which resulted in a humanitarian crisis."
Due to escalated violence which brought the country to the brink of civil war, the first Women's National Convention for Peace took place in the summer of 2021. Sr. Bi was invited as a result of her work done in a local non-governmental organization. The aim of the convention was to seek sustainable solutions in peace-building by pursuing dialogue, ensuring equal participation of women in all aspects of the process, and providing psychosocial support for healing trauma. The proposals for these processes were useful and enriching.
After the convention Sr. Bi was invited to form part of the planning committee. She went on to help create "Ambassadors of Peace" clubs in schools so women can contribute in building peace, together, piece by piece, in their country of Cameroon.
"Thanks to the education received through the HESA program I was empowered to impact thousands of women and girls in grassroots events and schools by sensitizing women on peace building."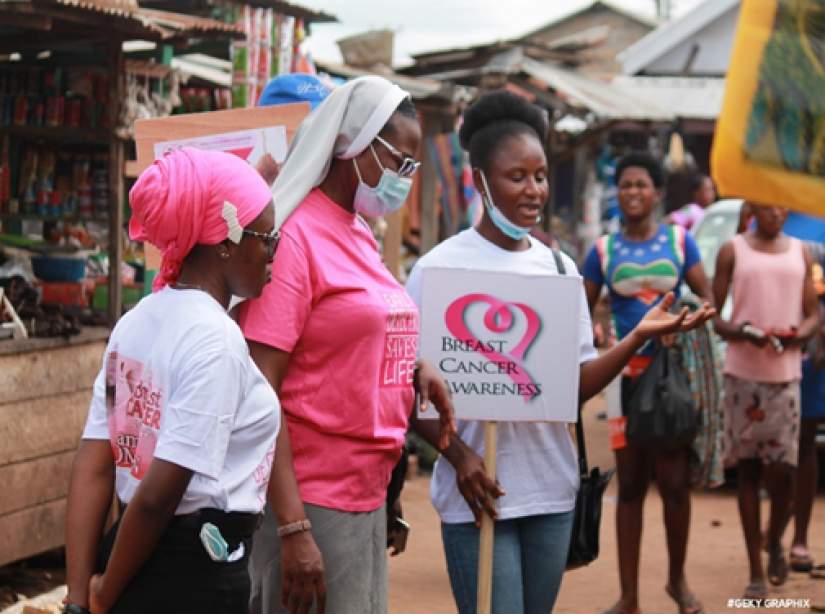 Leading their Peers
It has been 21 years since the founding of the Catholic University College of Ghana (CUCG), an ASEC-HESA partner institution. As part of the institution, the Faculty of Health and Allied Sciences provides courses that prepare students to meet challenges facing Ghana's healthcare system. Despite its long history, the student president of the organization had never been a religious woman prior to 2021, when. Sr. Grace Akunna John-Emezi of the Handmaids of the Holy Child Jesus (HHCJ), a ASEC-HESA student earning her Bachelor of Science in Nursing, changed this statistic.
In her role as president, she oversaw the faculty student body, including those studying general nursing, midwifery, and public health. She was also responsible for overseeing the leadership team, which was composed of eleven other students.
The position required a range of responsibilities including promoting breast cancer awareness throughout the community, account auditing, facilitating a faculty week celebration, and fundraising. Sr. Grace successfully led efforts to gather funds through saving of student dues, laboratory coat sales, and budgeting. In addition, she has remained an excellent student who is succeeding in her studies.
Sr. Grace credits her success to the time management skills she learned through HESA Reflective Learning Workshops which prepared her to balance her office, prayer life, and studies. She is scheduled to graduate with a Bachelor's of Science Degree in Nursing in October 2022. Further, due to her exemplary services as the Faculty Student President (2021-2022), the Catholic University College of Ghana has awarded her a Certificate of Honor.
Improving Education in their Communities
Sr. Janet Kiden is the first sister to obtain a Ph.D. through ASEC's Scholarship Program. She presented her dissertation in October 2021, entitled: Implementation of Internal Quality Assurance Policy in Undergraduate Education for Quality Teaching and Learning in Public Universities in South Sudan.
Through her research, Sr. Janet found a shortage of qualified academic staff, obsolete curriculum, unqualified students admitted into universities, and lecturers using ineffective teaching methods. She identified challenges in the universities' implementation of quality assurance policies, including lack of funds, infrequent audits, irregular salaries, and a lack of commitment from academic staff.
With her discoveries, Sr. Janet was able to provide insights to universities to better the quality of education. She recommended a review of education programs by university authorities to ensure the relevance of programs to societal needs. She suggested employment of more qualified lecturers, quipping libraries with updated resources and providing Wi-Fi to enhance the quality of teaching at universities. By reviewing admission policies, improving infrastructure, reducing class size and organizing continuing education workshops for academic staff, Sr. Janet's findings are improving the quality of undergraduate education in South Sudan.
The Doctoral Scholarship Program launched as a pilot program in February 2020 due to a lack of doctoral-level degrees held in African countries. Sr. Janet stated that she will use the program planning and teaching skills that she learned through her participation in ASEC upon returning to the Catholic University of South Sudan. She also believes that the skills and knowledge she learned can indirectly help her congregation.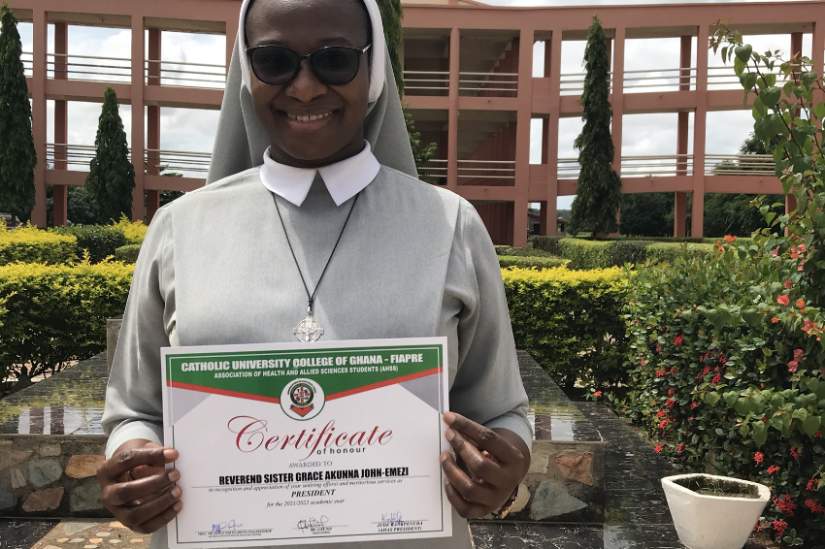 Promote Economic Development
Well-trained, ethical accountants are a key component to the economic development of all nations. In Nigeria, deficiencies have been identified within higher education institutions charged with developing future accountants. Specifically, Nigerian accounting lecturers have been identified as lacking motivation to effectively train students. Sr. Angela Chinaenye Ibe of the Congregation of the Sisters of the Sacred Heart of Jesus (SSH) hopes to improve these circumstances by providing quality education as a caring accounting professor and mentor.
Sr. Angela enrolled in the SLDI's Administration Track in 2014. Sr. Angela says that participation in the SLDI program broadened her thinking and expressional horizons. After completing that program, she continued her studies through HESA, an ASEC program which provides opportunities for women religious in African countries to access undergraduate and master's level education. She graduated with her Bachelor's degree in March of 2019 and her Masters degree in January of 2022, both in accounting.
After graduating, Sr. Angela accepted a position as an Assistant Lecturer in Accounting at Veritas University, where she teaches three courses to over 120 students, serves as a course advisor, and a mentor. She is also working towards the achievement of her doctorate in accounting.
Sr. Angela plans to continue preparing young adults to be knowledgeable and effective accountants, who will make a difference throughout Nigeria. Of her time in the SLDI and HESA programs she says,
"This is a success story because it is an unimaginable transformation which I did not clamor for and it has come to me as an unmerited gift from God, achieved through the help of gifted human beings around me who played contributory roles in my life."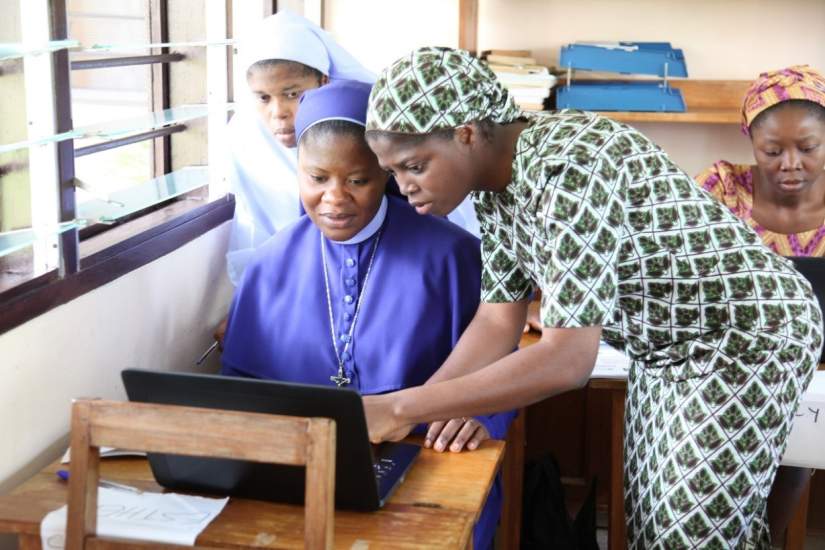 The Impact of Education for Women Religious in Africa
As a result of these success stories and many others featuring ASEC Sisters, the impact of education results in transformation of communities across Africa. Alumnae projects that have been initiated by sisters have created more than 4,000 jobs in underserved rural African communities and have served more than 2.2 million people in poor rural communities. With their education, ASEC Sisters enjoy passing on their knowledge to others in the community that can benefit - more than 35,500 people have been mentored in this way. Lastly, alumnae and their mentees have raised more than $19.9 million in funding for community sustainability and improvement projects.
Supporting the education of a sister means supporting their congregations, communities, churches and more. For every sister who obtains news skills through ASEC programs, the goal is to spread that knowledge to at least three more people in the community – that way it isn't just the sisters undergoing transformation, but entire communities and cities are also seeing beneficial changes.
So, how can you help make an impact on education and transform poor and rural parts of Africa? Support the education of an ASEC Sister today by visiting http://asec-sldi.org/donate/.