As nations go, South Sudan is still very young. The country was born on July 9, 2011 after a six-year peace process between the Government of Sudan and the Sudan People's Liberation Movement (SPLM), ending more than 20 years of war (Source). But peace did not follow with the birth of this nation. In December 2013, "violence broke out in South Sudan's capital Juba and quickly spread to other locations in the country resulting in deep nation-wide political and security crisis," according to the United Nations.
The unrest and violence from both sides of the conflict have caused long-lasting major impacts to the country's infrastructure that still affect the young nation today. Over two-thirds of the population remains in need of humanitarian assistance with dire challenges ranging from food insecurity, displacement, sexual violence, lack of education and destroyed livelihoods.
But despite the overwhelming humanitarian emergencies facing South Sudan, Sr. Mary Faida, SHS, stays. A Sister of the Sacred Heart, she is committed to rebuilding the broken lives of those affected by the violence and with nowhere else to go. Not only is she using spirituality to build hope among the South Sudanese, but she is also utilizing her education to provide tangible help with basic necessities.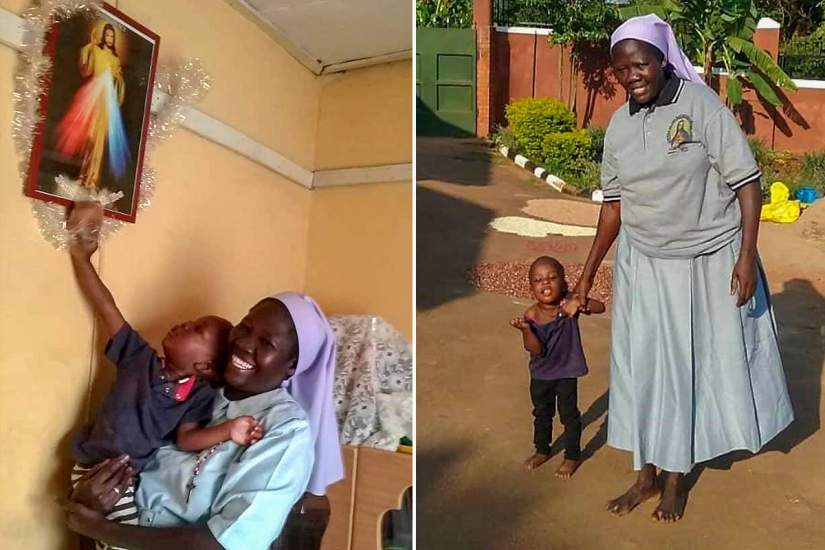 A 2015 graduate of ASEC's Sisters Leadership Development Initiative (SLDI) who focused on technology and administration and a current participant in the Higher Education for Sisters in Africa (HESA) program studying in Uganda Martyrs University's Nursing Science program, Sr. Faida has used her ASEC education to make an astonishing impact in her local community. She has secured grant funds and/or donations for numerous projects in South Sudan, including:
The purchase of a vehicle for use in her congregation (via Aid to the Church in Need)
Expenses related to trauma-informed formation to sisters in South Sudan who experienced the civil war (via Koch Foundation and Comboni Missionaries). She was also able to acquire additional donations to continue this important program into the future.
Medical bills to help a fellow sister get a kidney transplant. Unfortunately, that sister passed before receiving the transplant, but Sr. Faida successfully negotiated for those funds be used for sick sisters in the future.
Requesting and receiving funds from Aid to the Church in Need and Catholic Relief Services South Sudan for the repair of the congregation's solar power system, construction of a wall fence for security and laundry for washing clothes.
Assisting SLDI alumna Sr. M. Antoniettea Walea Kiiza, SHS, in raising funds through a grant and mobilizing local resources for a borehole drilling project to provide clean water.
Requesting and receiving grant and donation funds from the Sisters of Notre Dame and the Comboni Missionary Fathers of North America to hold a chapter delegate meeting for her congregation.
"All the proposals I wrote were after the ASEC/SLDI training. I had no idea about the proposal writing or fund raising before. I'm really very grateful for the knowledge I have acquired."
Like the rest of the world, Sr. Faida's work has most recently been impacted by the COVID-19 pandemic. While currently studying at HESA partner institution, Uganda Martyrs University, Sr. Faida lives within a fenced neighborhood of eleven families, one of which includes a young boy named Martin and his single mother. From the day he was born, Martin faced a number of medical complications and spent much of his life in the intensive care unit. While he has since had a recovery his doctors considered miraculous, he still has long-term effects and complications from a spinal cord injury that prevent him from reaching normal developmental milestones. But with limited funds, Martin's family often cannot afford food, much less his weekly physiotherapy.
However, during the COVID-19 lockdown, Sr. Faida was able to spend more time with Martin and provide him and his mother with much needed physical, psychological and moral support. Every day, she holds Martin's hands and supports him as he walks for exercise and builds strength. She was also able to secure funds from the Jesuit Refugee Service to continue Martin's physiotherapy at Nsambya hospital and provide some food for his family.
Sr. Faida also noticed during the pandemic how difficult it was for Martin's and other families to obtain healthy, green vegetables necessary for their nutritional well-being. She and the sisters demonstrated how to plant vegetables using sacks and broken buckets on their veranda. This allowed families to grow their own nutritious food, even if they were renting and did not have their own land. Young children, including Martin, are able to take an active part in improving their health through growing and eating nutritious greens.
The wide variety and depth of the projects Sr. Faida has taken on shows how improving a sister's skills and confidence leads to being more effective in her service to the poor and the wide impact one sister can have on her surrounding community.
Whether she is securing funds for a borehole, teaching a neighborhood the importance of nutrition and how to grow your own vegetables, or providing physical support to a handicapped boy, all amidst the chaos of a war-torn nation, Sr. Faida is able to provide both stability and hope thanks to the skills and confidence she gained through ASEC's SLDI program. And with these projects comes hope for the future. In an article from Global Sisters Report, she expressed,
"I don't think the present situation will be permanent. I think it will change... God is present."