Imagine a classroom without desks.
Overcrowded classrooms, outdated books, lack of desks... these are all are common occurrences in schools without the funding to meet students' needs. Teachers burn out or may be unqualified to teach certain subjects.
The culmination of these challenges creates a serious disadvantage for children growing up in poor households. Without a clear, safe workspace to learn, children in Africa have a difficult time concentrating on their education. One study found that changing some core elements of classroom design can increase student learning outcomes by 16%. Proper classroom furniture in also linked to an increase in collaboration, focus, engagement, feedback and stimulation.
If schools can't meet the basic needs of their students, how can students be expected to thrive in the classroom?
Be a Ray of Hope
Discover more about Catholic Sisters' work in Africa in our FREE 20-page Rays of Hope ebook.
Download Now »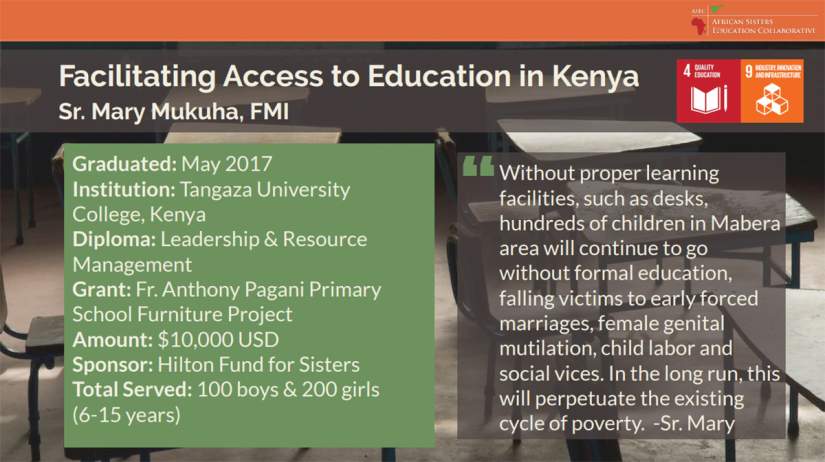 According to Sr. Mary Mukuha, FMI, this was the case for students attending the Fr. Anthony Pagani Primary School where she serves. 90% of the students did not have a desk.
And sadly, this is the norm rather than the exception. In some counties in Kenya, the desk-to-child ratio is 1:10. Bringing this issue to light has initiated other campaigns such as One Desk One Child by TechWomen and Unicef's Kids in Need of Desks (K.I.N.D.) program.
However, lack of desks for school students still remains a serious problem in rural areas in Kenya.
Sr. Mary states that the children's parents were unable to purchase their children desks due to high poverty levels, cultural factors and apathy.
Sr. Mary participated in ASEC's Higher Education for Sisters in Africa (HESA) program, graduating with a diploma in Leadership and Resource Management in 2017. Using the skills she learned, Sr. Mary wrote a successful grant that enabled her to purchase desks for the students which include 100 boys and 200 girls ages 6-15, ensuring inclusive and equitable quality education for all (SDG 4).
"Without proper learning facilities, such as desks, hundreds of children in Mabera area will continue to go without formal education, falling victims to early forced marriages, female genital mutilation, child labor and social vices. In the long run, this will perpetuate the existing cycle of poverty." -Sr. Mary