ASEC lifts a heavy burden from the religious congregations by providing an educational program that both supports and credentials its participants. For the individual sister, it is a golden chance to acquire the knowledge for better performance of all future ministry assignments. The program's graduates go forth with confidence and new-found self-esteem which greatly affect the recipients of their expertise. This ripple-down effect adds immense benefit to the whole country of Tanzania.
When I reflect on the work of ASEC in Tanzania, I see the hand of God in all it does. From the SLDI workshops to the HESA program which extends ASEC into college/university settings and degrees, God is there. ASEC staff dedicate themselves to serve and assist the sisters by collaborating with the Superior General of each congregation.
Orientation Program
ASEC plans many good moments in the orientation program, which makes our attendance very successful. The outcome is that we will be able to utilize our learning for the betterment of our own school performance. More importantly, it helps us in sharing our knowledge with other sisters who did not get the chance for this formal instruction. Indirectly, we are able to help a broader slice of society in our evangelization of the goodness of God. May the living God be with us all as we continue His witness wherever we are!
Personally, I extend thankfulness to the facilitator who taught us with a very heartfelt spirit. He stated that the major cause of stress is the inability of people to discover their real nature. Discover your gifts, follow them and you will never feel stressed, insisted the facilitator. We managed to strengthen our knowledge of stress management:
symptoms of stress

common causes of stress

effects of stress in our bodies

how to overcome stress in our studies

how to overcome stress in our daily lives
Focused on the topic of time management, we were able to expand our knowledge to aspects of planning and managing time, setting goals, dealing with different people, and being conscious of time wasted. At this point I came to understand clearly the essential skills for time management, principles of time management, and how to manage time effectively as well as the consequences of mismanaged time.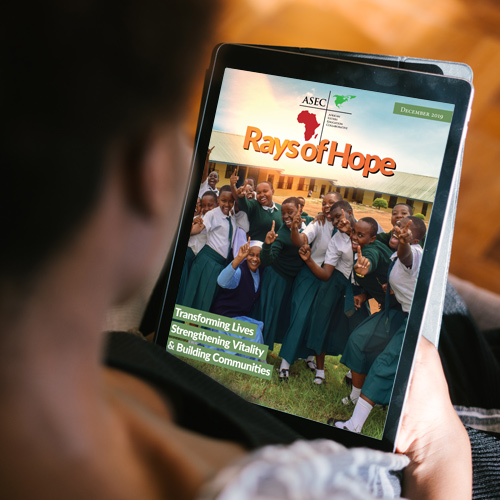 Read Rays of Hope
Learn more about Catholic Sisters transforming poor, rural communities across Africa in our FREE Rays of Hope ebook.
Read It Now »
Thank you
ASEC programs and workshops deserve an expression of deep gratitude from all the sisters in Tanzania who have benefited. What we learned we assure you, our benefactors, that we will put them into practice so as to obtain excellent performance, have good lives, and use our knowledge for the realization of the mission and vision of our Congregations. Thank you very much. May the blessings of the Almighty Father be with you always. I wish you all the best in your lives.