ASEC: Our Team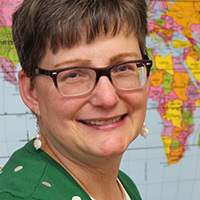 Jacqueline C. Reich, Ph.D.
ASEC Board of Directors: Other Director
(2019-2022)
Board Member (Other Director)
Chestnut Hill College



Areas of Expertise: political science, global awareness

Dr. Reich is an Associate Professor of Political Science at Chestnut Hill College. She is also the Coordinator of the Political Science and Global Affairs majors at the college. Dr. Reich is very involved with ASEC's Service Learning program, serving as a mentor for US students traveling to Africa for service work.
Education
Ph.D., University of California, Berkeley (1991)
M.A., University of California, Berkeley (1981)
B.A., University of Pittsburgh (1980)
Articles
ASEC: Why It Matters, Reflection on Service Learning Experience Summer 2017