In the forest of Kalulu Hill in the Mchinji District in Malawi, firewood is in short supply. Women must walk long distances in search of dry wood to use for cooking and heating their homes. These women are at risk of being victims of rape in this forest just by trying to provide basic necessities for their families. It has long been a dream of these women to find an alternative to firewood.
Sr. Jane Perpetual Chitete did not spend her summer holiday as most students do, resting and visiting with friends. She spent time with these women and taught them new ideas for survival. Sr. Jane is a Higher Education for Sisters in Africa (HESA) program participant. She studies at the Catholic University of Malawi. She credits her Professor J. Chipeta and his course Business Planning and Practice for "opening my eyes to be able to see beyond my capability."
Sr. Jane taught the women a simple sawdust briquette recipe made from sawdust and water to make briquettes for their fires. The nearby Kachebere Seminary Carpentry Shop has heaps and heaps of sawdust for the women to form into these briquettes which they can then use and sell for a profit.
Now these women are relieved from the burden of waking up early in the morning and walking long distances in dangerous conditions to gather wood. This new innovation has also reduced the improper practice of cutting down trees in the forest of Kalulu Hill. This would not have been possible without the guidance of Sr. Jane and her education provided to her by ASEC.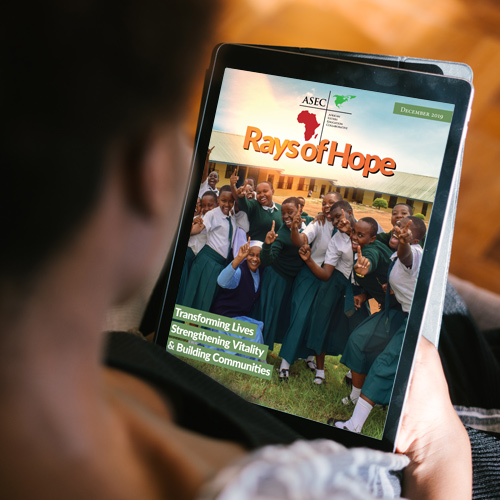 Read Rays of Hope
Learn more about Catholic Sisters transforming poor, rural communities across Africa in our FREE Rays of Hope ebook.
Read It Now »
Sr. Jane's Sawdust Briquette Recipe
Ingredients:
One pail of water
Two pails of sawdust
Instructions: Take one pail of water and combine with 2 pails of sawdust and leave the mixture out for a night. The following morning, squeeze the mixture with your hands and make simple ball shapes (briquettes) and leave them for a few days to dry. That's it!