Since 2012, ASEC's Scholarship Program has been providing scholarships for sisters to complete secondary school or higher education credentials relevant to sisters' ministries.
From 2012-2021, more than 500 sisters received scholarships through the program, which now serves sisters in Tanzania, Malawi, Zambia, Ghana, Kenya and Lesotho.
Approximately 270 scholarship recipients have graduated* with an education that will assist them in their ministry work.
A 97% retention rate* reaffirms that sisters who begin the program also tend to stay in the program.
Program Milestones in 2021
500+ Served: Since 2012, over 500 sisters (≈90 new & 65 continuing in 2020-21)* have received educational scholarships through this program.
270+ Graduates: Because of our generous donors, over 270 sponsored sisters* have graduated; 160 secondary school, 90 diploma-level, 20 certificates and 4 bachelor's degrees.
Program Expansion to Lesotho: In June, 2021, the Scholarship Program expanded to Lesotho. The program now serves sisters in 6 African countries.
Form-Level Scholarships
ASEC's Scholarship Program was initiated in 2012 to meet the unique educational needs expressed by sisters in Tanzania, where 65% of women religious lack secondary education.* ASEC partners with Bigwa Sisters Secondary School (Bigwa) in Morogoro, Tanzania to serve sisters in need of secondary school, or form-level, education.
April 26, 2021, 22 ASEC-sponsored students* graduated from Bigwa. We're so grateful to all who generously donated to support their education.
Higher Education Scholarships
In addition to form-level, scholarship recipients also attend programs in various disciplines such as education, medical science, social work, law, accounting and more. With college diplomas/certificates, sisters are able to receive training relevant to their ministry work.
Scholarships often serve as a stepping stone for sisters interested in pursuing higher levels of education. Many of our scholarship recipients are not yet qualified for acceptance into the HESA program. Scholarships fill the education gap, so sisters can then continue their studies through HESA, which is grant-funded by the Hilton Foundation.
One such example is Sr. Fides Mlacha, FCSM, who was awarded a scholarship to obtain teaching credentials. Sr. Fides performed so well in the program that she was awarded a Certificate of Academic Excellence for Outstanding Performance in Education at graduation from Jordan University College, Tanzania in December, 2020. Sr. Fides has since been accepted into ASEC's HESA program and is currently pursuing her diploma in Education and Religious Studies.
Other sisters apply for the Scholarship Program to pursue more specialized degree programs related to their ministry work that may not be offered by our HESA partner institutions. Scholarships give sisters the ability to receive specialized training that's relevant to their ministry work.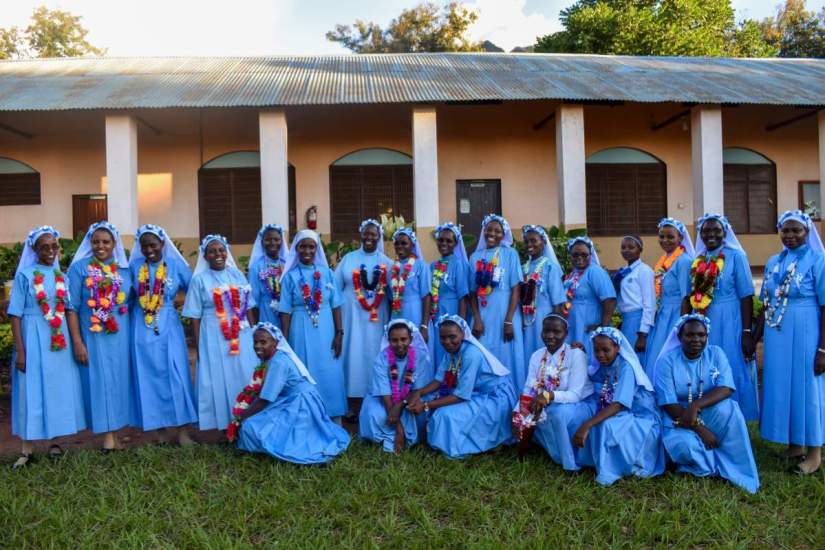 Pilot Doctoral Scholarship Initiative
In 2020, ASEC developed a pilot initiative under the Scholarship Program to support women religious in Africa pursuing doctoral degrees. Three (3) women religious are participating in the pilot at ASEC partner institutions in Kenya - two at the Catholic University of Eastern Africa (CUEA), (2020) and one at Tangaza University College (2021).
Sr. Esther Wambui Gitee, ASN, is pursuing a Ph.D. in Financial Management at CUEA. In addition to her current studies, Sr. Esther teaches business studies and catholic religious education classes at Maryhill Girls High School in Thika, Kenya and serves as their business coordinator. She is also an adjunct finance lecturer at CUEA.
Sr. Kiden Christine Janet, MSBVM, is pursuing a Ph.D. in Education at CUEA. Prior to pursuing her doctorate, Sr. Kiden served as the Head of the Department of Education, 2011-2013, and Dean of the Arts and Social Sciences, 2013-2018, at the Catholic University of South Sudan. As of 2021, she has successfully defended her research proposal and is in the dissertation phase of her doctoral studies.
Sr. Christine John O. Amaa, SHS, is studying for a Doctor of Social Transformation at Tangaza University College's Institute for Social Transformation. Her research focus is sustainable livelihoods and coping strategies among rural men.
The pilot phase of the Doctoral Scholarship Initiative will support the sisters through their education and research requirements for a doctoral degree, as well as engage them in professional development opportunities.
Program Expansion to Lesotho
In June, 2021, ASEC expanded the Scholarship Program to Lesotho to provide a bridge to higher education and enhance the vitality of congregations in the country.
In August 2021, 20 students from 8 congregations joined the program in Lesotho. They are studying at the high school (13), certificate (1) and diploma (6) education levels.
Awarding Scholarships
Scholarships are always awarded for the full length of time it will take a sister to complete her education, most commonly 2-3 years.
ASEC's Scholarship Program relies on donations from our generous supporters to operate. Sisters apply to the program, and, depending on the level of support from people like you, ASEC awards scholarships to the best applicants.
Unfortunately, not all applicants are awarded a scholarship. There are always more sisters in need of an education than we are able to financially support.
Would you consider supporting this valuable program? Just $85 pays for one month of a sister's education. Make a donation today.
Sources
*ASEC Two-Year Scholarship Program Evaluation Report, December 2019 (PDF)