Sr. Carol Jean Vale is president of Chestnut Hill College and is one of the nation's longest-serving and most accomplished college presidents. In a recent article from Chestnut Hill News, Sr. Carol Jean was highlighted for the transformations she made at the university:
"A nationally-renowned leader in Catholic higher education, Vale has successfully transformed the former women's college into a thriving coed liberal arts school that has become an integral part of the city's higher education system, with a diverse enrollment of 1,600 students from all walks of life."
During her three-decade career, Sr. Carol Jean has had many accomplishments, including raising more than $1 million for student scholarships, leading the effort to secure NCAA Division II athletic status, adding 11 new sports teams, and recruiting and supporting a diverse student body.
Sr. Carol Jean is a founding member of ASEC. She supported the organization from the start and served as the ASEC Board Chair from September 2015 to September 2017. She has an A.B. in English from Chestnut Hill College, an M.A. in Theology/Spirituality from Fordham University and a Ph.D. in Historical Theology from Fordham University. She is a member of the numerous organizations dedicated to higher education and Catholicism.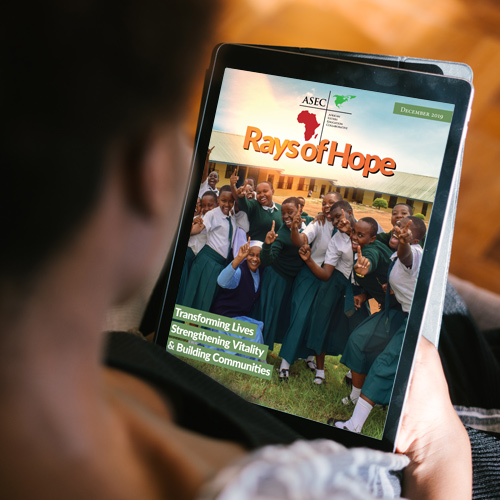 Read Rays of Hope
Learn more about Catholic Sisters transforming poor, rural communities across Africa in our FREE Rays of Hope ebook.
Read It Now »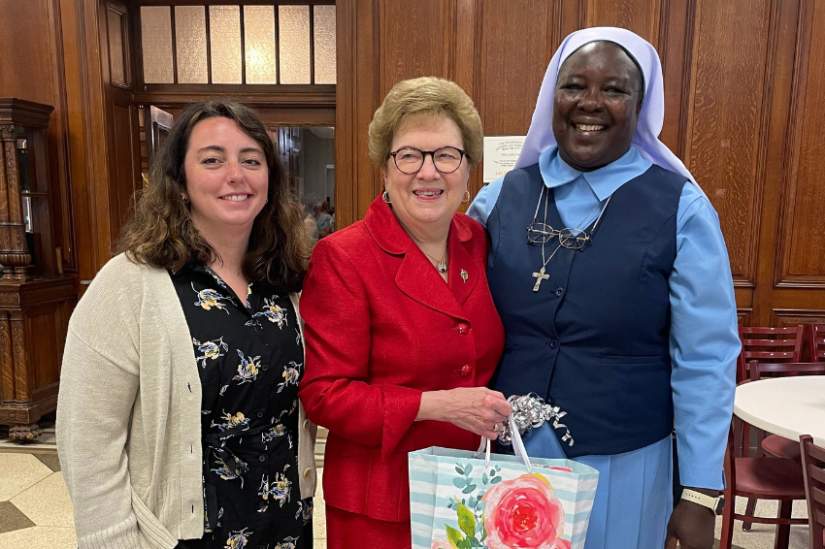 On Saturday, June 4, 2022, Chestnut Hill College hosted a Resilience in Red Gala to honor Sr. Carol Jean's retirement and contributions to the university. The Resilience in Red theme draws attention to Sr. Carol Jean's signature - a red suit that meant she was ready for business, hard work and dedication to her career. Wearing the suit for the occasion, Sr. Carol Jean was surrounded by faculty, staff, and alumni from Chestnut Hill College. From ASEC, Executive Director Sr. Draru Mary Cecilia, LSMIG, Ph.D. and Senior Program Manager Rosemary Shaver attended the Gala to wish Sr. Carol Jean a blessed retirement. The staff from ASEC put together a memory booklet as a gift, which featured well wishes, poems and drawings from staff and Sisters in the U.S. and Africa. Our executive director even penned a symbolic and heartfelt poem to express her gratitude – it was beautiful!
Throughout her tenure, Sr. Carol Jean has always kept a special place in her heart for ASEC. At the ASEC@20, the 20th anniversary of the creation of ASEC, Sr. Carol Jean spoke to her passion for the organization:
"What ASEC has accomplished is an outward manifestation of God bringing a dream into the light of day. The collaboration between the ASEC Board of Directors, the ASEC staff in the United States, the Leadership Conferences of Women Religious in Africa, the Women Religious who serve on-site in Africa as liaisons between the Africa and the United States is a an exemplar of the power of partnerships to bring about monumental transformation for marginalized and vulnerable populations."
Because of her dedication and success, we have been able to thrive as an organization. We thank Sr. Carol Jean Vale for all she has done for us, her community and the ASEC Sisters in Africa. We'll keep her in our hearts always – with the red suit, she'll fit in just fine!