ASEC: Our Team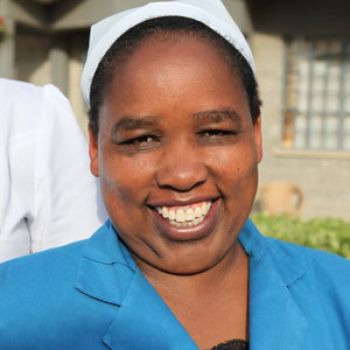 Sr. Lina Wanjiku Ndung'u, SE
Regional Director East & Central Africa



I was born in the Rift Valley Province of Kenya in a family of six – three boys and three girls. I am the second-born child in my family. I belong to the Congregation of the Sisters of Emmanuel of Muranga Diocese, Kenya, currently serving as Superior General. In June, 2020, I celebrated my Silver Jubilee, marking 25 years of dedication to religious life.

I finished high school in 1986 and joined Kenya Utalii College where I enrolled in the Front Office Operations Course.

I later worked at Young Men Christian Association (YMCA) for three years and then joined the sisterhood in January 1993. On June 29, 1995, I made my first profession (of vows) and then made the final profession in December 2002. In 2006, I joined Catholic University for Eastern Africa (CUEA) and undertook a bachelor's degree specializing in History and CRE (Credential in Religious Education). In the year 2009 I graduated with first class honors.

In 2010 I began my job with the African Sisters Education Collaborative as the Director for East Africa. It is a very fulfilling job especially when I witness the academic and professional growth and development of many sisters taking place. I am personally touched and inspired by the tremendous and immeasurable success that has been reported by some of the graduates of this program.

ASEC has helped the sisters to raise their self-esteem and confidence, in providing leadership. The graduates of ASEC programs have therefore turned into result-oriented individuals, who are set to change the face of the communities in which they live and the entire African continent.

In the words of the great Chinese philosopher Confucius, "If you think in terms of a year, plant a seed; if you think in terms of 10 years, plant a tree; if you think in terms of 100 years, teach the people."

As a person, I am very open, outgoing and quite adventurous.
Contact Information
lina.wanjiku@asec-sldi.org
Contributions