ASEC: Our Team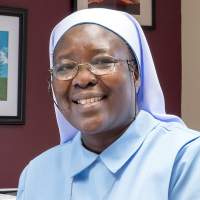 Sr. Draru Mary Cecilia, LSMIG, Ph.D.
Charter Member of the Board of Directors
Representing African Sisters Education Collaborative
Executive Director
com.dotmarketing.viewtools.content.SelectMap@67c51aa6[options=[U.S. Headquarters, Africa, None],values=[01US, 02Africa, 03None],selectValue=01US]



Sr. Draru Mary Cecilia, LSMIG, Ph.D. is of the congregation Little Sisters of Mary Immaculate of Gulu (LSMIG) in Northern Uganda and began her role as ASEC Executive Director in November 2017.

Sr. Draru has vast experience on gender, education and sustainable development in Africa. She received her Ph.D. in September, 2017 from Radboud University in Nijmegen, Holland after successfully defending her doctoral thesis, Education Pathways: Narratives of Female Academics and Administrators.

Prior to her new role as ASEC Executive Director, Sr. Draru spent 15 years serving at ASEC's HESA partner institution, Uganda Martyrs University (UMU). Her most recent role at UMU was Dean of Students, where she was responsible for student welfare, student extracurricular activities and managing alumnae relations.