The world-wide population is growing, but no continent is seeing growth like Africa. According to Unicef, about 16 of 100 of the world's current inhabitants are African, but that number will grow to 25 in 100 by the year 2050.
"Projections indicate that by 2050, around 40% of all births and about 40% of all children, will be in Africa, up from about 10% in 1950."
While this rapid population growth is full of possibilities for the continent, it comes with its own growing pains in the form of violence, abuse and exploitation of children and other vulnerable segments of the population.
"Even though our youth have the potential to transform Africa, if neglected, they could exacerbate poverty and inequality while threatening peace, security and prosperity," said Graça Machel, chair of the international board of trustees of the African Child Policy Forum (ACPF) and the widow of Nelson Mandela. She fears this rapid growth in the youth population could lead to a generation of "angry, underfed, under-educated and under-employed" Africans without major investment and protection of children.
Some African Catholic nuns have witnessed the need to serve, protect and keep these children safe. Using skills gained through ASEC programs, the sisters have developed and implemented programs and policies that protect the youth and increase the safety of their own communities.
Sisters Rescue Kidnapped Children in Cameroon
Sr. Ayumbi Ndeng, SST, is a member of the Sisters of St. Therese of the Child Jesus congregation in Cameroon. The SST sisters are engaged in the prison apostolate and are very much committed to provisions of the International Convention on the Rights of Children. The sisters seek to protect children from inhumane, degrading or cruel treatment and also alert the appropriate authorities when children's rights are violated.
Sr. Ayumbi is also a participant in ASEC's Sisters Leadership Development Initiative (SLDI), which provides leadership and technology training to Catholic sisters over a three-year period. Sisters may select either a technology/web design track or an administration/finance track. Both tracks offer workshops, field trips and mentoring and equip participants with a strong foundation of skills and confidence.
In March 2020, Sr. Ayumbi's leadership skills were put to the test when she spearheaded a team that liberated 20 kidnapped children. Kids between 3-12 years old were taken hostage and locked up in a house unattended with little or no food, medical or emotional support. When the sisters became aware of the situation, they alerted the appropriate authorities and the children were immediately dispatched to a safe home. While authorities conducted investigations to ensure the children could return to their homes, the sisters attended to their physical, psychological and spiritual needs.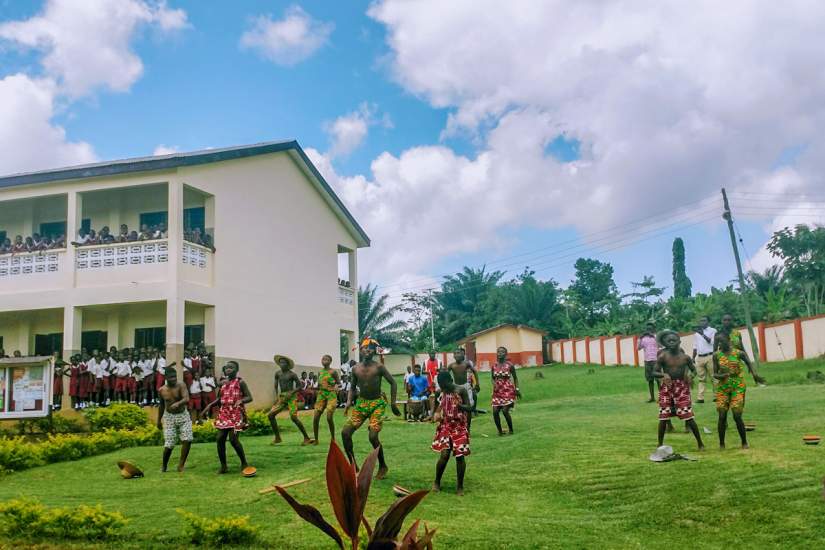 Providing Physical Safeguards and Preventing Violence for Kids in Ghana
Two more SLDI alumnae, Sr. Irene Christine Oparku, SIJ, Society of Infant Jesus, and Sr. Bernardine Pemii, DC, a Daughter of Charity, are using their skills to protect children in Ghana.
As Headmistress of Infant Jesus Preparatory School in Kumasi, the safety of her 700 students is Sr. Irene's number one priority. Sr. Irene used the skills she gained from SLDI's Administration track to obtain funding for improved safety features at the school. With the funding, she was able to construct a wall around the school's perimeter and install solar power street lamps in the surrounding community, protecting the school and providing a sense of security for students and staff.
After graduating from SLDI, Sr. Bernadine became the Upper East Regional Manager of the Catholic Education Unit of the Navrongo-Bolgatana in Ghana. There she used her newly-acquired skills to secure a grant for three years for a child protection program. Through the program, 4,000 teachers, 11,000 students and other religious and lay stakeholders are being trained on child protection laws, developing information systems to track abuse cases and identifying and serving victims of abuse.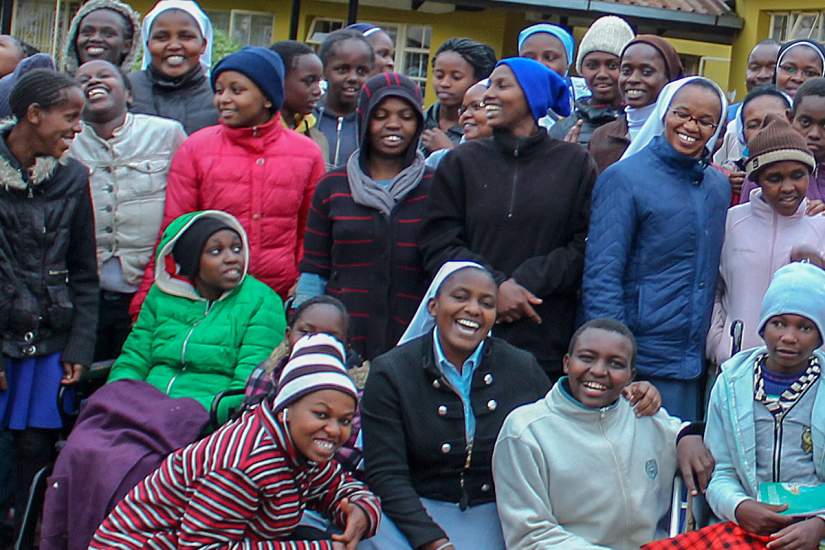 Safeguarding Girls and Boys in Kenya
Many sisters who complete the SLDI program continue to ASEC's Higher Education for Sisters in Africa (HESA) program, which provides African sisters access to undergraduate and master's level education. Sisters participate in HESA orientation and annual reflective learning as a cohort of 4 to 20 sisters and study together at higher education institutions in Africa and online in the USA. The cohort serves as a support network throughout the sisters' studies.
Sr. Anne Kamene Musyoka, ASN, has been able to apply the education and support she gained through HESA to protect some of Kenya's most vulnerable girls. After she graduated with first class honors with a Bachelor of Arts in Development Studies from at Catholic University of Eastern Africa (CUEA), Sr. Anne accepted a position as Director of Cheshire Home for Girls in Limuru, Kenya. The home provides a residential and training program for girls with varying mental and physical disabilities. In addition, about 90% of the girls at the home have experienced sexual abuse.
Among the wide variety of programs she runs at the school that teach and enrich the daily lives of the girls, Sr. Anne has partnered with a group called Youth Changes Kenya, which enables the home to work with a Child Protection officer and to connect with lawyers as needed. Volunteers from Child Protection come and teach the girls about self-defense and sexual violence.
Sr. Anne also recognized the need for mental health services for the girls but knew the home could not afford to hire one. So she reached out to a local university and they now send a team of five counselors to the home regularly.
The potential and possibilities Sr. Anne sees in girls, Sr. Felistas sees in the boys of Kenya. Sr. Felistas Chematia Chesire, ASE, a member of the congregation Assumption Sisters of Eldoret and alumna of both SLDI and HESA, combs the streets of Nairobi to help poor, orphaned and homeless boys. She builds trust with the boys in the hopes of breaking the cycle of poverty and drug addiction.
Sr. Felistas offers these boys protection and solace they may have never experienced through substance abuse treatment and educational opportunities at the children's home, Kwetu Home of Peace Rehabilitation Centre for Street Children. The 250 street boys get medical care and drug rehabilitation. Then, Sr. Felistas gives them the opportunity to attend school and turn their lives around.
As Financial Administrator of Kwetu Home, Sr. Felistas seeks out local companies for donations and manages Kwetu's accounts and finances. She has also implemented and maintained income-generating projects at the home like a health dispensary and a farm, greenhouse and fish pond that encourage sustainability and agribusiness.
Sr. Delvin Mukwana, DHM, is another HESA alumna using her education to help Kenyan kids. She earned her undergraduate degree in development studies and is now earning her master's degree in project planning and management at the Catholic University of Eastern Africa.
Sr. Delvin heads the Catholic Care for Children in Kenya (AOSK-CCCK) Program, which seeks to safeguard and promote quality care for vulnerable children. It specifically focuses on all Catholic Child Care Institutions in the country and adopts care reforms in family and community-based care in line with the social teaching of the Catholic Church.
In this position, Sr. Delvin spearheaded the development of a child protection policy to inhibit abuse and ensure that members of AOSK foster a safe environment for children. The policy was implemented on July 6, 2019 with Archbishop Hubertus Matheus, the Apostolic Nuncio to Kenya and South Sudan, present.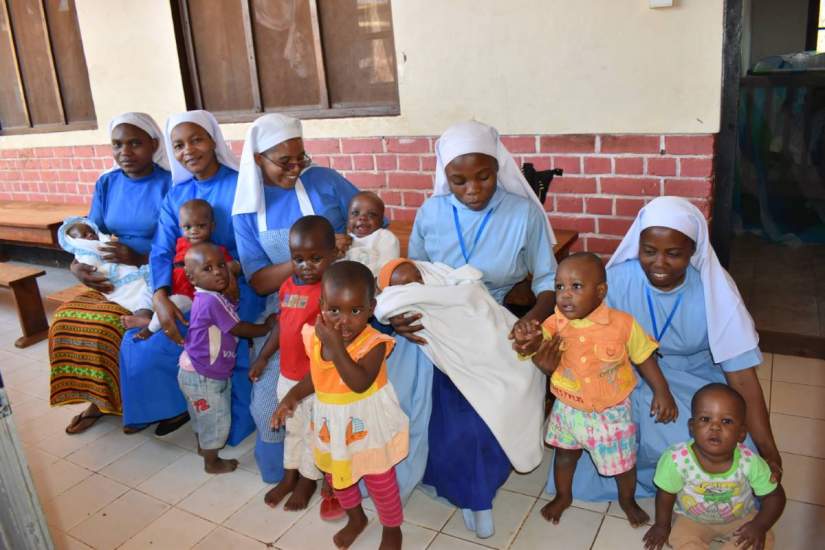 Providing for the Orphans of Africa
A number of sisters from both SLDI and HESA programs have used their education to help orphans throughout Africa.
Sr. Cecilia Nakambo, LSSF, a member of the Little Sisters of St. Francis in Zambia, is an SLDI alumna in the Finance track. Since completing the program, she has launched a national project that provides and promotes the long term safety and well being of children and their families. The grants she secured using her education have allowed the project to develop Zambia's orphanages, bolster their quality of care and prevent family separations. The project also provides psychosocial services to children and their families.
Sr. Efrosina Mbiki, CICM, is an Immaculate Heart of Mary (CICM) Sister, locally known as Mgolole Sisters, in Morogoro, Tanzania. A high-honors graduate of St. Augustine University through HESA, she is a secondary school teacher by profession, but she has found her true vocation caring for orphaned children. The Mgolole Orphanage is one of the oldest centers in the city and is known locally as a center of hope, love and tranquility for orphaned children.
Sr. Efrosina "assists in healing and rescuing the lives" of the over 100 orphans living with the nuns at Mgolole; from infants all the way to secondary school.
Sr. Margaret Nthenya Kaleli, SSJBC, a Sister of St. Joseph Benedict Cottolengo (SSJBC), is a graduate of both SLDI, where she studied Administration, and HESA, which enabled her to receive her diploma in Leadership and Resource Management from Tangaza University College, Kenya.
Sr. Margaret has been serving at the Cottolengo Centre for orphaned HIV positive children in Nairobi on and off since 1995. She told ASEC staff that with proper nutrition and health care, the condition of many of the infants improved. In fact, about 85% of their infant orphans create their own immunity to HIV and turn zero-negative.
The administration skills she learned have also been extremely helpful for Sr. Margaret.
"...Especially in the side of management, you find you have got new skills of organizing arranging your work and even delivering your work. ...Especially human resources, you find that if you can arrange [the children's records] better you can meet their needs better; you can understand them better." -Sr. Margaret
As members of their local communities, these sisters have seen how with 77% of the African population under 35, the needs of children are also rapidly growing. The sisters are meeting those needs using the education and skills they gained through ASEC sponsored programs.