The four-week administration workshop was attended by 29 Sisters from the various religious institutes at the ARU Secretariat in Kampala, Uganda. The participants were 25 Sisters from Uganda and four Sisters from South Sudan. The Sisters represented 15 different congregations. The Sisters were able to develop individual mentoring plans, write project proposals, develop job descriptions for their work, among many other activities. They were also thrilled with being able to receive a laptop computer and textbooks.
Featured in the group photograph above first row from left to right:
Sr. Nyachwo Jane Evalyn, Sr. Grace Athieno, Sr. Annet Wambojo, Sr. Margaret Nakigozi, Sr. Alice Beinagera, Sr. Christine Kharunda, Sr. Specioza Aliganyira, Sr. Florence Namutebi, and Sr. Olivia Mary Achan.
Featured in the second row from left to right:
Mr. Andrew Otsieno (Instructor), Sr. Gertrude Kafuba, Sr. Jackline Barbara Young, Sr. Jane Harriet Nansubuga, Sr. Marcella Akele, Ar. Eva Nabiteeko, Sr. Annunciata Akankwasa, Sr. Jenifer Driwaru, Sr. Justine Nakayima, Sr. Margaret Biira, Sr. Maria Goretti Tumwebaze, and Sr. Germina Keneema (Coordinator).
Featured in the third row from left to right:
Sr. Anna Grace Alum, Sr. Proscovia Nshemereirwe, Sr. Betty Namaganda, Sr. Bernadette Echessa, Sr. Christine Kabonesa, Sr. Angelica N. Atuhaire, Sr. Mary Immaculate Amulen, Sr. Francesca Tindiwegi, Sr. Marie Anthony Nakagwa, and Sr. Kavira Vakatsuraki Francis.
Below are two group photographs of our Uganda sisters with their new laptop computers!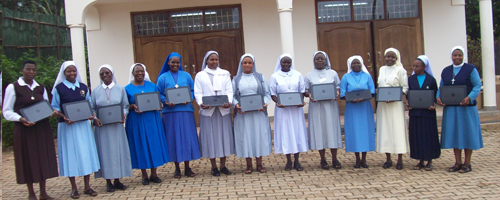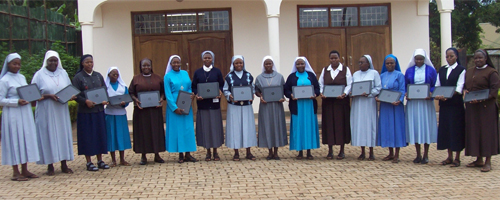 Featured below are images of the Sisters during class and group discussions: