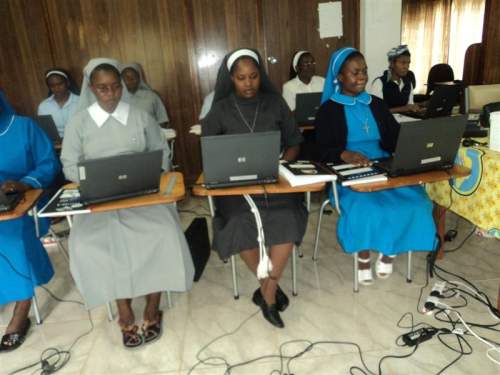 Posted on Thu, Dec 29, 2011
Finance trainings held in Uganda, Ghana, Kenya, Nigeria, Tanzania, and Zambia
Finance training in Uganda, Ghana, Kenya, Nigeria, Tanzania, and Zambia
Keep Reading...
What I learned from the SLDI program (Finance Track)
Sr. Crescensia reflects how her experience in the SLDI Finance program has increased her technology skills, made her more confident in her work and inspired her to mentor other sisters in her congregation.
2017 ASEC Annual Board Meetings take place at Marywood University
ASEC held its annual board meeting on April 25, 2017, in Scranton, Pa. The SLDI-HESA Advisory Board meeting was held the day prior, April 24.
Staff present at Women's and Gender Studies Conference in Wilkes-Barre, PA
ASEC staff gave two presentations at this year's conference, themed "Identity at a Crossroads: Third-Wave Feminism and Intersectionality."
ASEC Director Sr. Rose Jane Adiero laid to rest in Juba, South Sudan
ASEC staff attended the mass and burial of our friend and colleague Sr. Rose Jane Adiero, ASEC's Director in South Sudan. Sr. Rose devoted much of her life to teaching and ministering children.
Employment Opportunity: Executive Director
ASEC is currently seeking applications and nominations for Executive Director position.