In July 2013, Sister Jane Wakahiu, LSOSF, ASEC Executive Director and Sister Rosemarie Nassif, SSND, Director of the Catholic Sisters Initiative at the Conrad N. Hilton Foundation visited the four sub-Saharan nations of Nigeria, Ghana, Tanzania and Kenya. The purpose of the visit was for program monitoring, visiting SLDI alumnae ministries, meeting leaders of Associations of Religious, as well as for visiting with presidents of the Catholic colleges and universities that have partnered with ASEC to implement the Higher Education for Sisters in Africa (HESA) program.
This visit was eye opening! It was a very insightful and powerful trip with many exciting moments as sisters participating in ASEC's SLDI prorgram talked about how the knowledge and skills they acquired are enabling them to create life changing programs.
Impacts created by sisters in their ministries are a testimony that Catholic sisters are working tirelessly to bring change and meaning of life to the underprivileged persons in their society. Sisters promote development through education, health care and rendering social and pastoral services in remote regions of their countries. Over fifteen ministries including schools, hospitals, welfare programs, HIV/AIDS programs, agricultural programs, orphanages, disability and street children homes and formation houses were visited.
Sr. Jane and Sr. Rosemarie also had the opportunity to meet SLDI instructors and to attend in-session SLDI training workshops in each country. Through the support of the Conrad N. Hilton Foundation, 275 sisters from Ghana, Kenya, Malawi, Nigeria, South Sudan, Tanzania, Uganda, and Zambia were undertaking training in Basic Technology and Web Design.
Below are some highlights from the trip:
Sisters have created water projects to help people obtain water and to teach them how to safely treat it for drinking, as well as use it for good hygiene in their communities. The sisters in the SLDI training are keen to learn skills in Basic Technology and Web Design. They have created websites for their congregations and ministries. Sisters are committed to the education of girls to help end the traditions of the culture that keeps young women from development and engaging in development issues.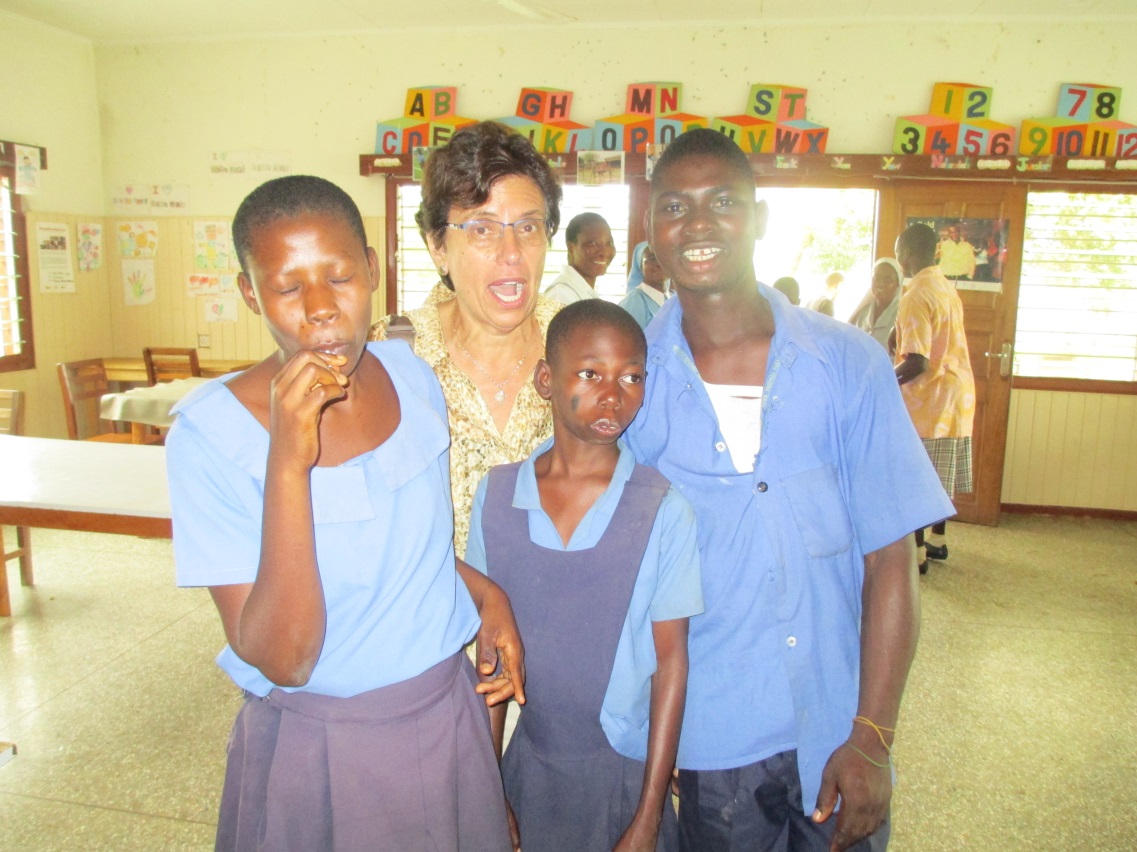 SLDI graduates have designed very creative programs for orphans, children affected or infected by HIV/AIDS, unwed mothers, and the rehabilitation of street children. Unity in diversity was evident in all the ministries visited including a variety of ethnic groups, traditions, languages and economic challenges. Despite the challenges faced by the sisters in serving their people, the gift of joy expressed in bursts of song and dance brought much relief to lighten the difficulties they face. Education is the greatest investment that one can provide for the sisters in Africa. Education will continue to unlock their talents and to use the skills in creative ways to bring transformation for themselves and their people.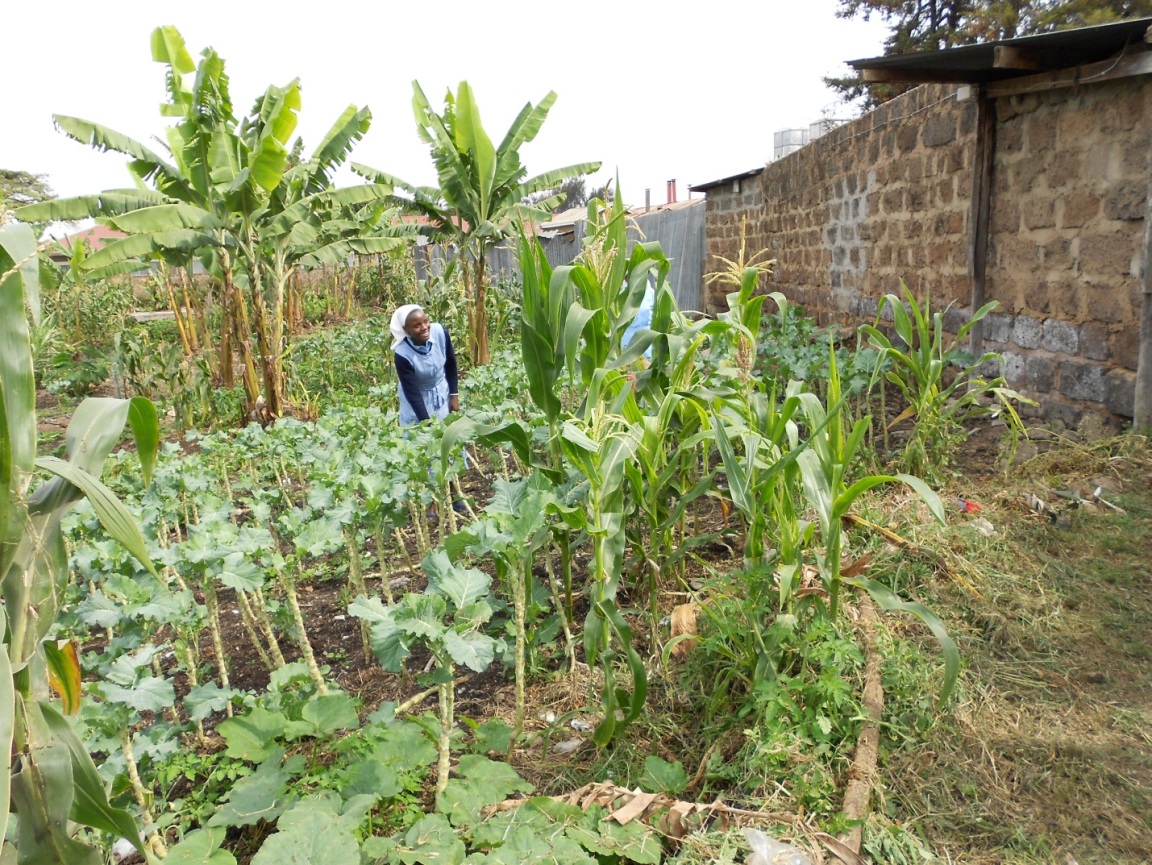 A visit to sisters' ministries was not only eye opening but also enabled the visiting delegation to understand how sisters are using the skills gained in the SLDI program to create transformation in their ministries and in reaching out to the underserved population in their localities. In Nigeria, visiting the Abeokuta Agricultural project run by the Sisters of the Holy Child Jesus was evidence of sisters' engagement in training the local communities on food production and arable land use practices. Sisters are working to increase food production and to train women in income-generating skills and sustainable agriculture. The projects include a piggery, poultry and rabbit farming and food production.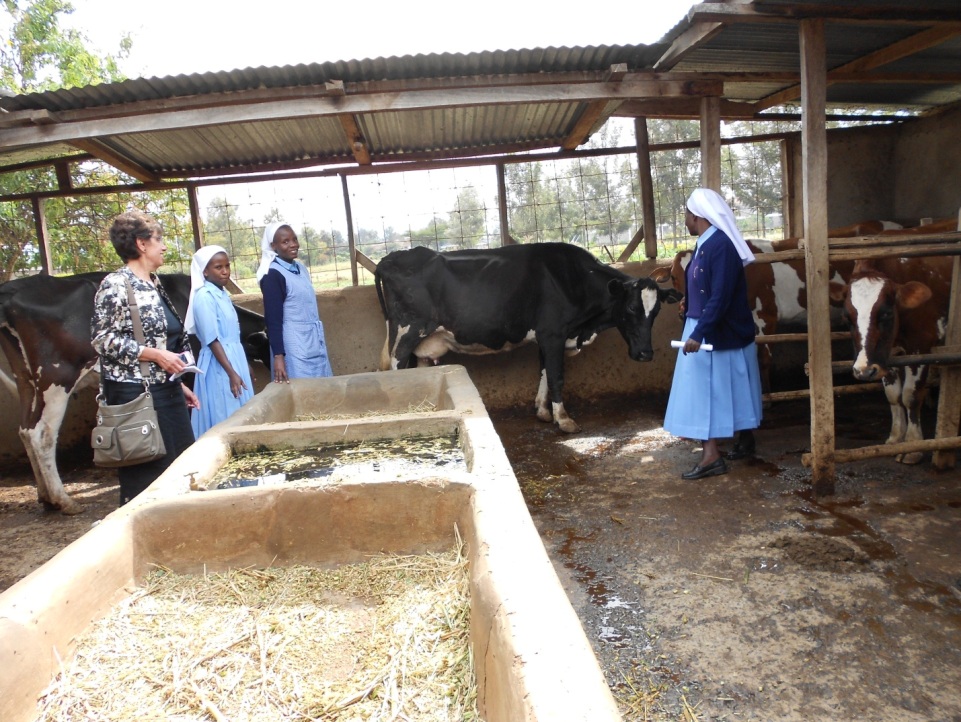 The impacts of the SLDI program permeate the lives and work of the sisters in Africa. At the Evangelizing Sisters of Mary in Ongata Rongai, Kenya, Sister Rosemarie watches as sisters describe the benefits of the cows project, how the project has created jobs for underprivileged women and how milk production is used to supplement the diets for the children in the Kwale slum.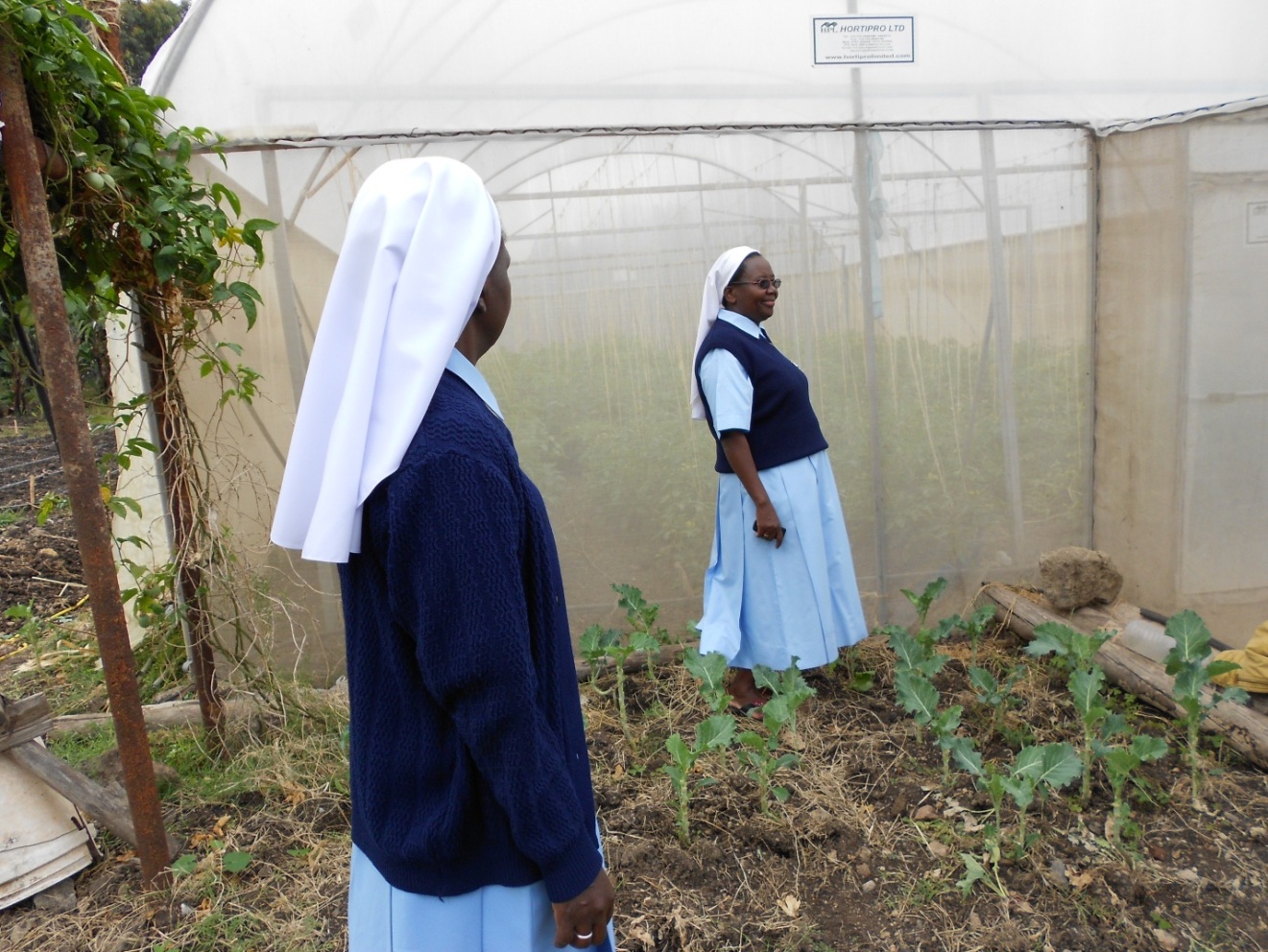 Sr. Christine of the Evangelizing Sisters of Mary, Ongata Rongai Kenya and an SLDI alumna shows off the Green House they have created to increase vegetable production for the community and children served by the sisters.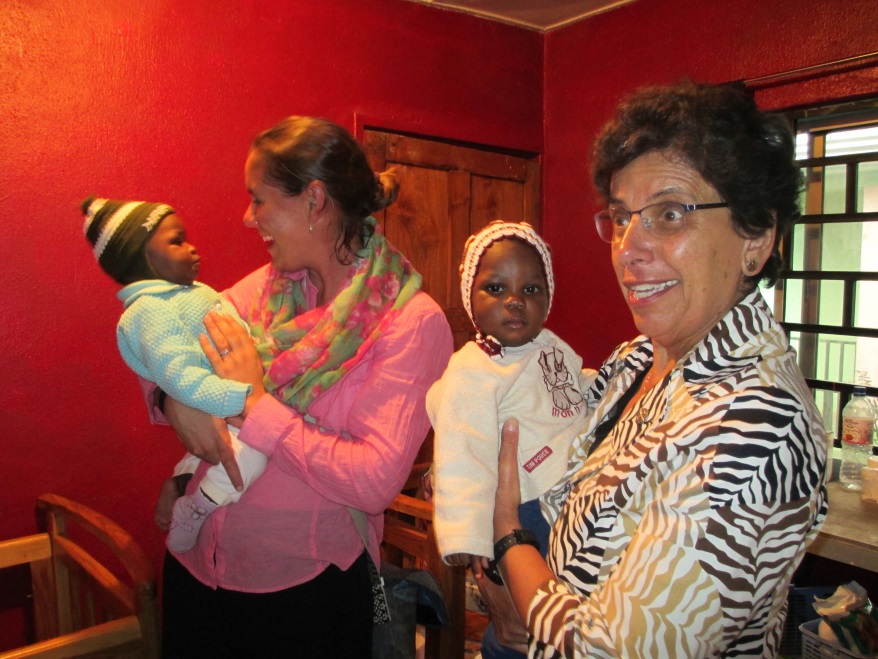 At Zawan Hospital in Jos, Nigeria sisters ran an orphanage which is a home for children with disabilities. The children there have been abandoned or have no parents. Sisters depend on donations to provide care and education to these children. In Ghana, we saw a palm oil and orange juice production plant operated by the Sisters of Saint Louis in Kumasi. This program, though small, has facilitated in empowering local women by creating jobs for them and teaching them to create their own income-generating projects.
In Tanzania the delegation visited the Bigwa Secondary School where 29 women religious are studying to acquire a High School diploma. Also at Bigwa the delegation visited with sister students there and listened to the challenges facing the school. For these sisters their dream of becoming teachers, nurses, agriculturalists, and serving their people in more meaningful ways is on the path to reality. Through the ASEC scholarship program, a majority of these sisters who are in their 30s are now enrolled in Bigwa School. They are the future workforce for the Catholic Church in Tanzania.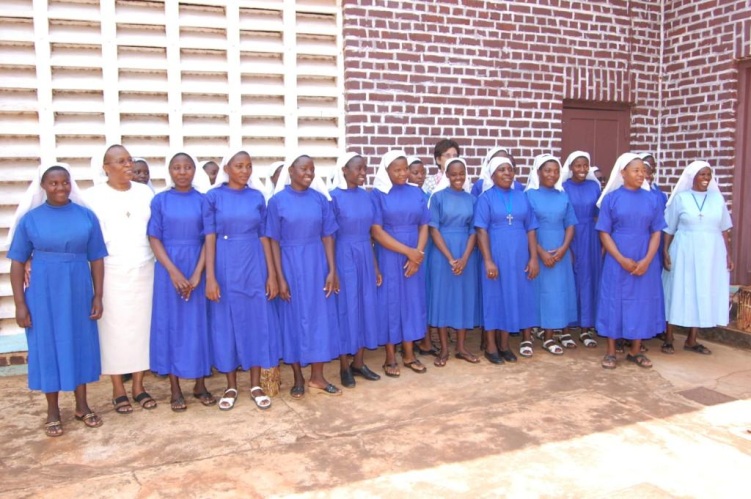 The visiting delegation visited four Associations of Women Religious, which have created national formation programs for formators of young members. These associations are: Institute for Formators in Jos, Nigeria; the Institute Conference for Formators in Morogoro, Tanzania; the Holistic Center at Cape Coast, Ghana; andthe Tumaini Center and Chemi Chemi ya Uzima Institute in Nairobi, Kenya. Programs are geared towards strengthening religious life. Gradually these programs have developed into international programs. While the vocation to religious life is dwindling in the West, in Africa society is ripe with young women desiring to dedicate their lives as religious. In the photo are novices and their formators at the Immaculate Heart of Mary Sisters (Mgorole) in Morogoro, Tanzania. Sister Philipina, the Novice Mistress is an SLDI alumnae. She has integrated the SLDI skills into the formation program.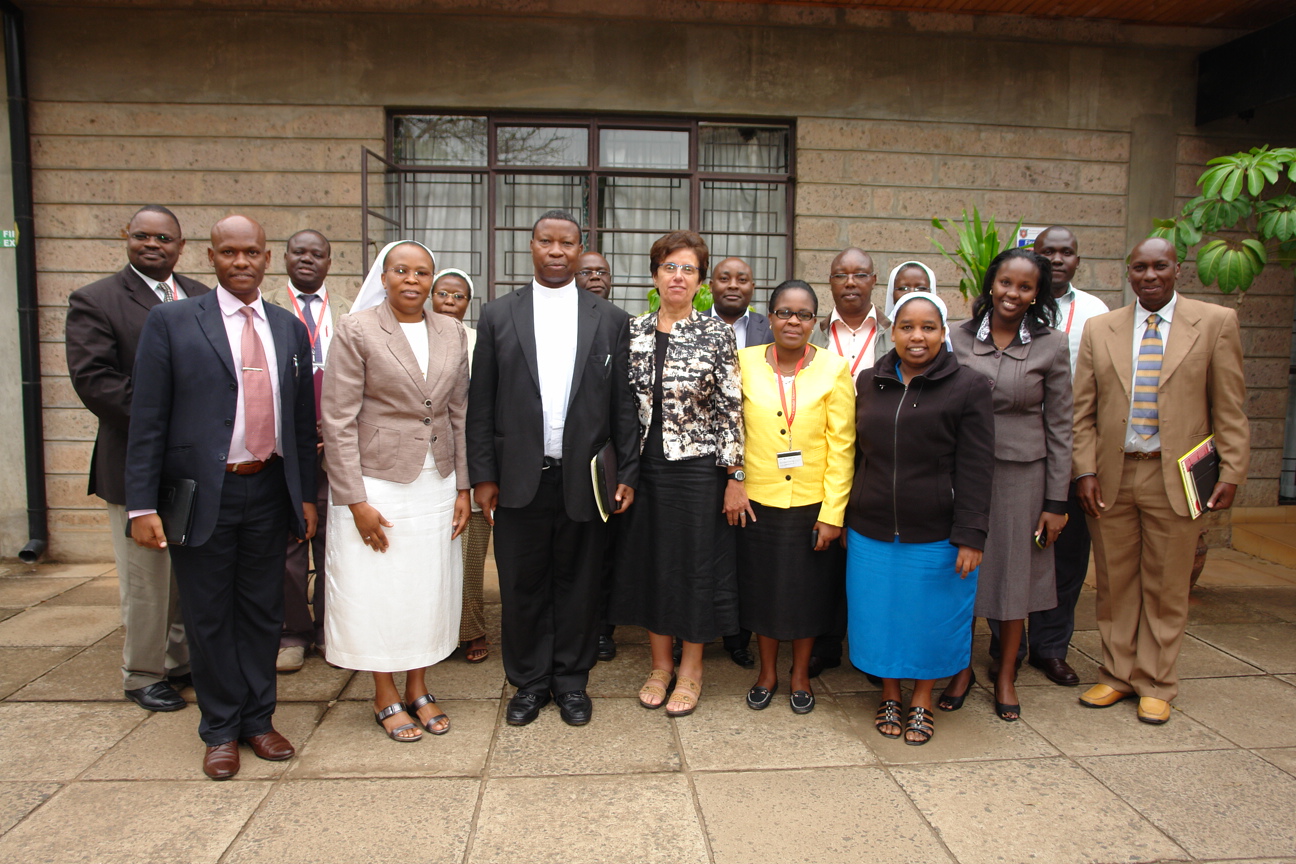 The delegation met with representatives at the Catholic University of Eastern Africa (CUEA) to evaluate the progress of the HESA program. Present were Sister Rosemarie Nassif, SSND, Director of the Catholic Sisters Initiative at Conrad N. Hilton Foundation; Rev. Msgn Pius Rutechura, Vice Chancellor, Catholic University of Eastern Africa, Prof. Justus Mbae, Deputy Vice Chancellor of Academics at CUEA, Dr. Rita Njageh of the Directorate of Academic Linkages at CUEA and Sister Jane Wakahiu, LSOSF, ASEC Executive Director, as well as faculty and staff at the Catholic University of Eastern Africa (CUEA).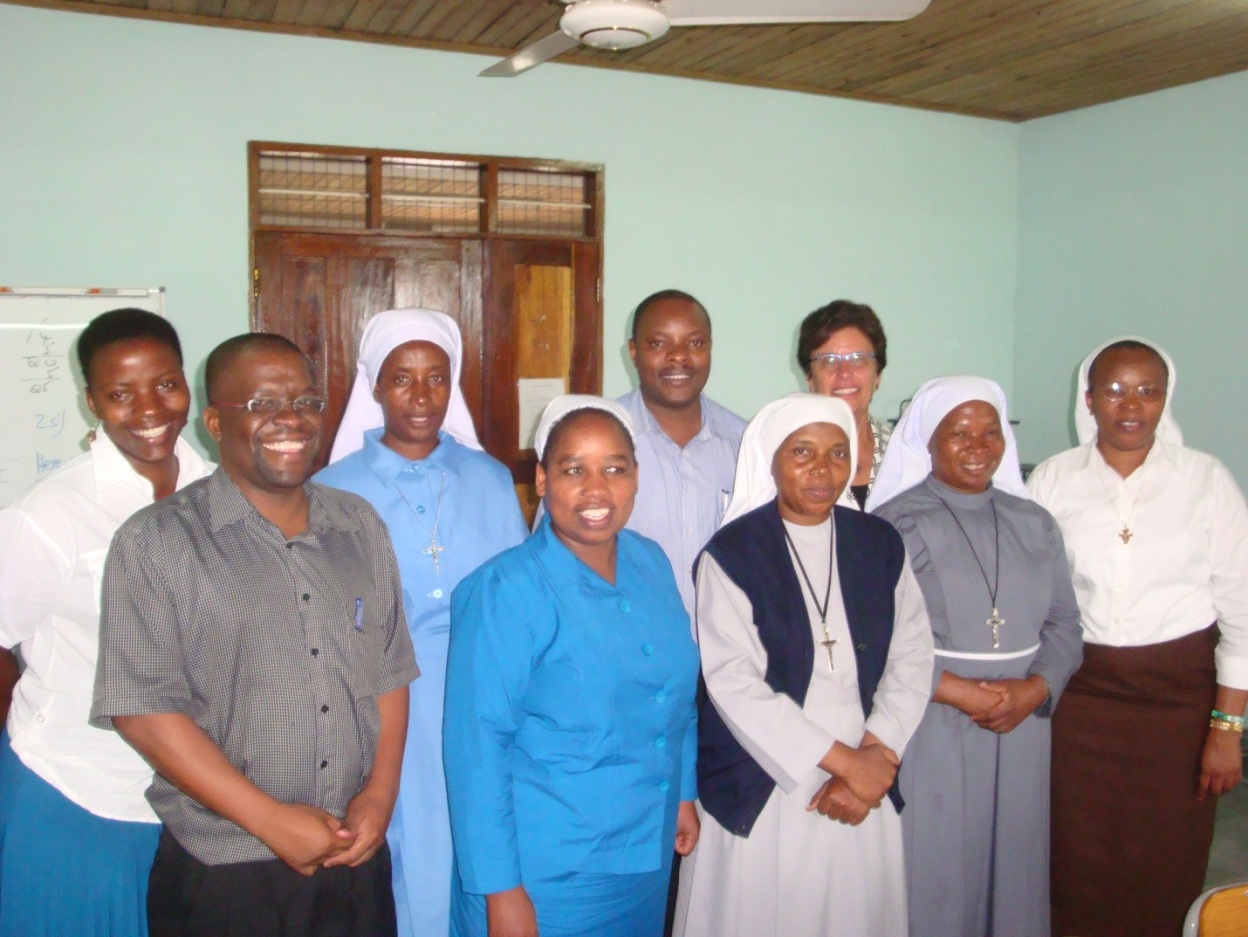 In summer 2013 ASEC entered into partnership with Saint Augustine University, Tanzania (SAUT) within the framework of the Higher Education for Sisters in Africa (HESA) program, signing a Framework of Reference on July 25, 2013. Present at the signing were Fr. Thaddeus Mkamwa, Deputy Vice Chancellor of Academics at Saint Augustine University. The photo was taken after the signing of the Framework of Reference in SAUT, Dar es Salaam Campus.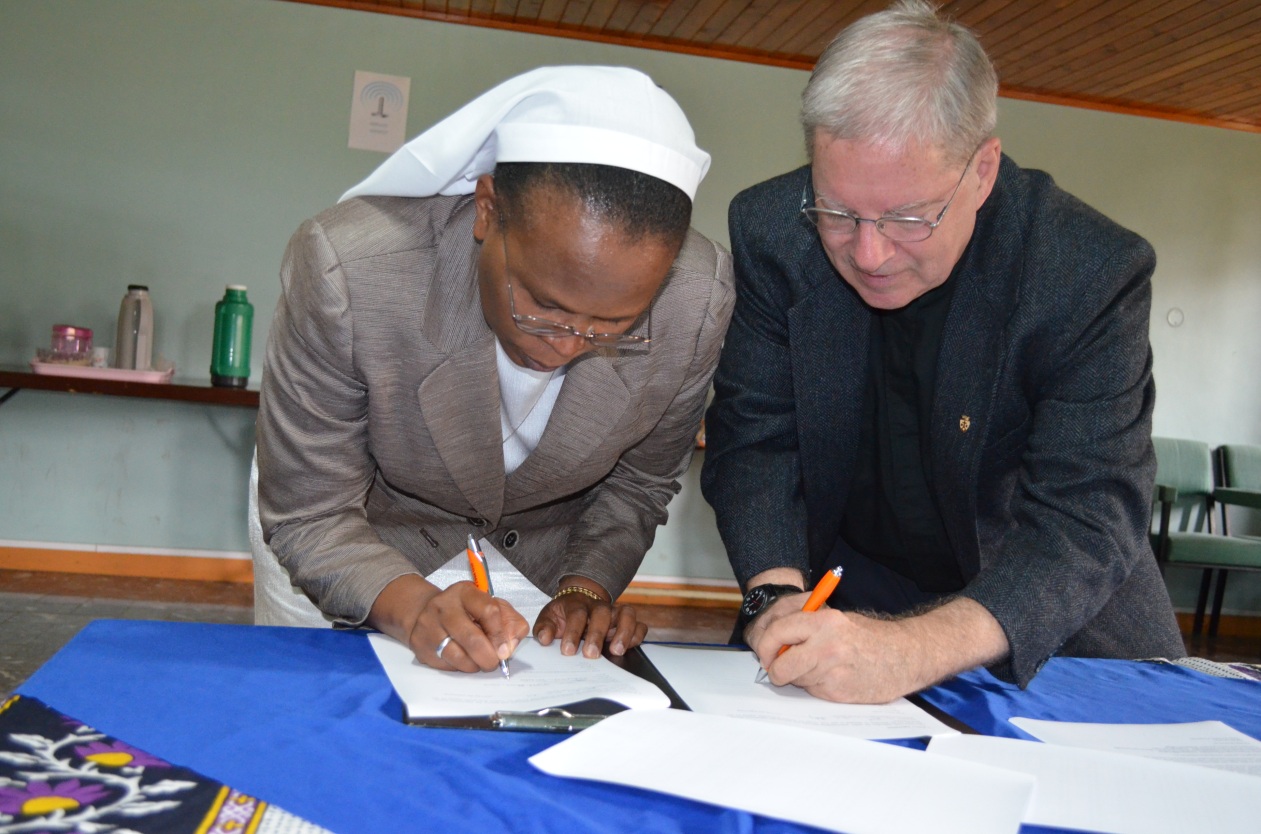 Rev. Fr. Steven Payne, Principal, Tangaza University College and Sr. Jane Wakahiu, LSOSF, Executive Director, sign the Framework of Reference on July 29, 2013 to educate sisters at Tangaza University College.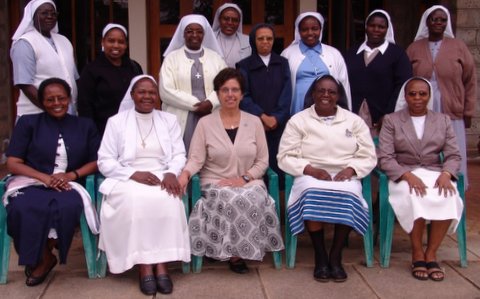 Association of Consecrated Women in Eastern and Central Africa (ACWECA) Executive Council Meeting with the representative of the Conrad N. Hilton Foundation, Sr. Rosemarie Nassif on July 26, 2013 in Nairobi, Kenya.
Sisters working on their computers in Kenya. Thirty-one sisters from Kenya, Sudan and Congo were taking Basic Technology classes within the framework of the SLDI program.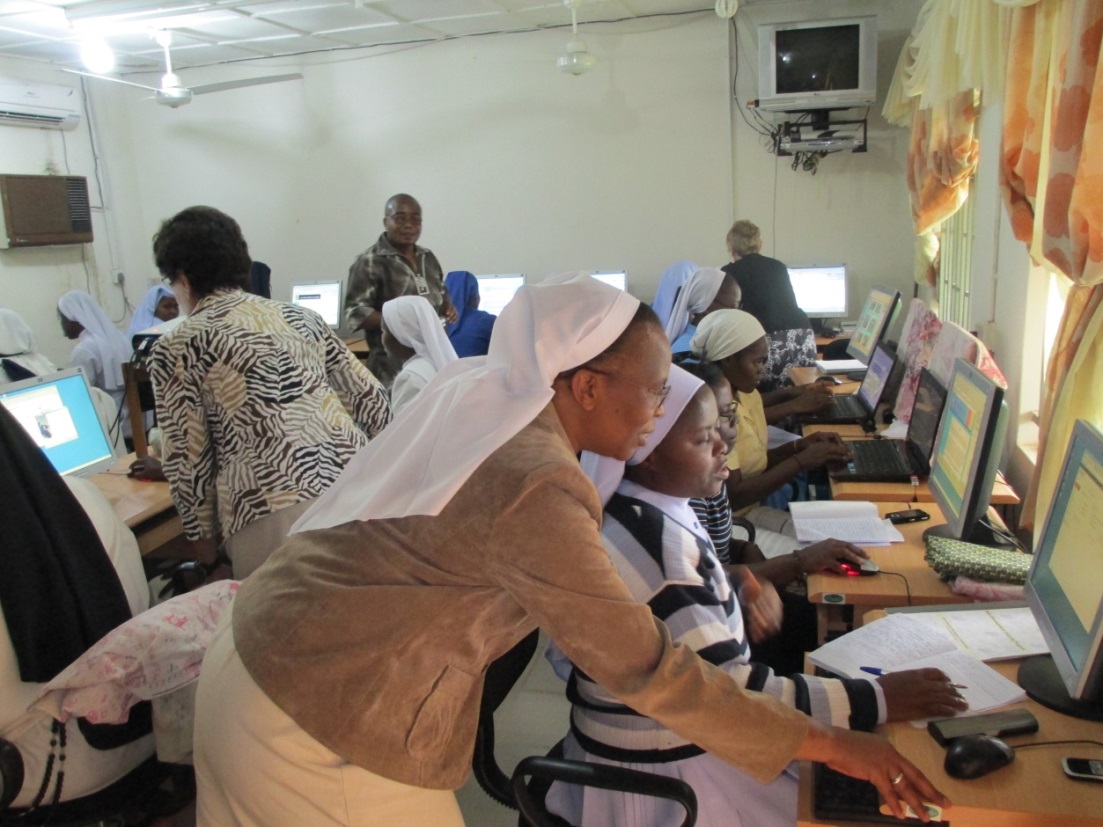 Sister Lisa Oliveri, SSJ from Chestnut Hill College, Philadelphia taught Web Design at ICF, Jos, Nigeria for the SLDI program. Sisters created websites for their ministries.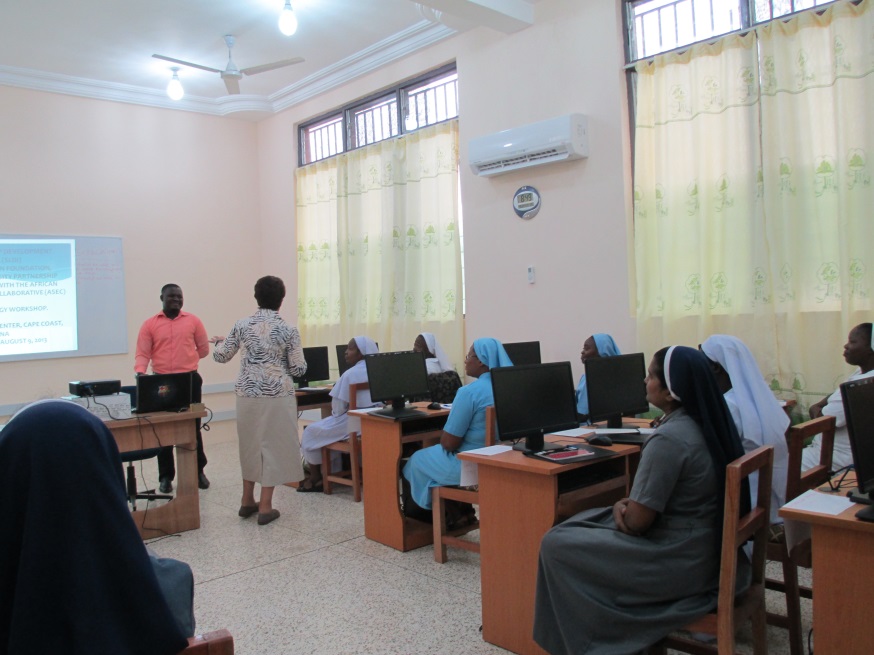 Shown here is a computer lab in Ghana.
I have the greatest admiration for the sisters and all they are able to accomplish with so few resources. I am forever grateful to the Conrad N. Hilton Foundation for living out the legacy of Mr. Hilton and your willingness to continue championing in the support of the Education of the Catholic Sisters in Africa! - Sr. Jane Wakahiu