Featured in photograph above:
Kneeling: Srs Wanjilia, Christable, Zuvero, Augustine, and Helen.
Standing: Srs Angelina, Jenipher, Prisca, Marian, Patricia, Princess, Bridget, Ruth, Pauline, Namasiku, Pamela, Agness, Theresa, Kabule, and Dominic.
________________________________________________________
The SLDI Financial Management Course I training is taking place from June 1 to June 28, 2014. It is being held at the Kalundu Study Centre in Zambia. Fourteen Congregations were represented; one Congregation was from Lesotho while the other thirteen Congregations were found within Zambia. The total number of participants was 20, two Sisters from Lesotho and eighteen Sisters from Zambia. The Sisters were engaged in different ministries such as teaching, nursing, community and Congregation Bursars, School Bursars, Administrators, Pastoral Work, Accountants and Secretaries.
The Sisters attending the training stated, "We are happy to be receiving training in finance because the skills and knowledge that we will acquire will help us to improve our work and aim at doing better." Sr. Zaverio Beatrice Karimi echoed by saying, "Thank you so much for our donors and for giving me the opportunity to be one of the luckiest participants."
After receiving her new laptop, Sr. Agnes Thokoana from Lesotho exclaimed, "Wonderful gift indeed! When I was coming to the training, I never dreamt I would be receiving such a precious gift."
The Sisters learned and understood the accountancy rules, balance sheet, bank reconciliation, budgeting, strategic planning and proposal writing. Lastly, they were so grateful for the new Laptops and text books that they received. The Laptops will make their work easier and help to produce accurate financial reports and the text books will widen their thinking and knowledge.
_________________________________________________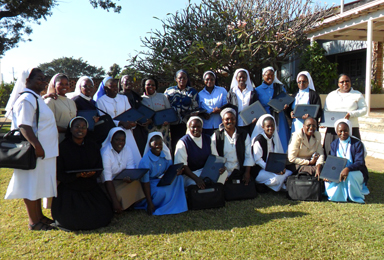 Featured above is a group photograph of the Finance class posing with their laptops.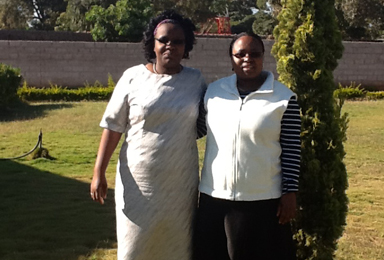 Featured above are Srs Agnes and Augustine from Lesotho.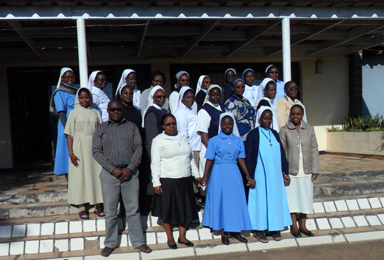 Featured above is a group photo of the Zambia Finance class -
Front row: Mr. V. Agolla and Srs Augustine, Christable, Jenipher, Maureen, Wanjihia, Ruth, Namasiku, Zuvero, Princess, Dominic, Kabule, Pauline Patricia, Bridget, Agnes, Pamela, Helen, Marian, Prisca, and Theresa.
Above: Sr. Maureen Malashya distributing text books and laptops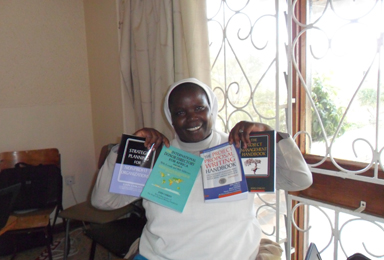 Above: Sr. Zavero Beatrice Karimi posing with her text books during class.