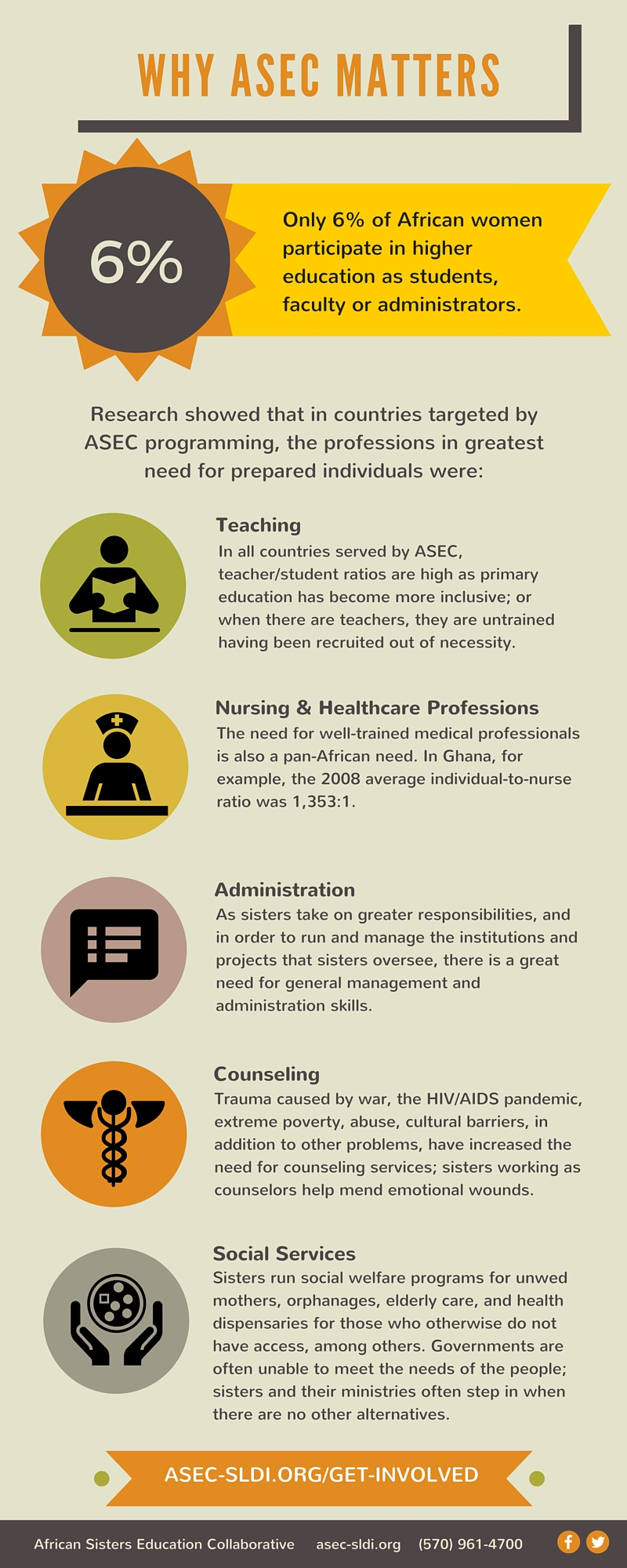 Only 6% percent of African women overall participate in higher education processes as students, faculty or administrators. In African countries targeted by ASEC programming, the professions in greatest need for prepared individuals were:
Teaching – In all countries served by ASEC, teacher/student ratios are high as primary education has become more inclusive; or when there are teachers, they are untrained having been recruited out of necessity.
Nursing and healthcare professions – The need for well-trained medical professionals is also a pan-African need. In Ghana, for example, the 2008 average individual-to-nurse ratio was 1,353:1.
Administration – As sisters take on greater responsibilities, and in order to run and manage the institutions and projects that sisters oversee, there is a great need for general management and administration skills.
Psycho-social – Trauma caused by war, the HIV/AIDS pandemic, extreme poverty, abuse, cultural inhibitions and barriers, in addition to other problems, have increased the need for counseling services to the people; sisters working as counselors help mend emotional wounds.
Social Services – Sisters run social welfare programs for unwed mothers, orphanages, elderly care, and health dispensaries for those who otherwise do not have access, among others. Governments are often unable to meet the needs of the people; sisters and their ministries often step in when there are no other alternatives.
30% of the sisters serve in social service-related ministries
Catholic sisters work to advance human development in some of the most impoverished and marginalized communities around the world. In particular, they are an integral part of many health care systems. According to a 2014/15 survey conducted by the African Sisters Education Collaborative (ASEC), 30% of the sisters serve in social service-related ministries, including HIV/AIDS programs, nursing, and women's development centers. The congregations surveyed own 118 health care centers and 35 hospitals.
It is essential, therefore, that sisters have the resources and clinical skills to do their work, as well as the advocacy and leadership training to ensure that they have a voice in local health policy and budget decisions. Recent grants from the Conrad N. Hilton Foundation illustrate how meeting the sisters' needs also addresses larger societal problems.