Sr. Astrida Bandah Banda, OP is an SLDI participant from Zambia. She participated in the SLDI 2016 Web design workshop 2016 and attended the SLDI Finance Track I workshop in 2017. Sr. Astrida is also SCORE ECD Coordinator for Zambia working with children between 0-5 years.
ASEC has helped her further her skills in IT and now she has ventured into the topic of visual story telling. Recently, she attended a five day workshop organized by the Dominican Sisters Africa. "The Art of Visual Story Telling" was held in Nigeria from October 15-20 2017.
After the ASEC course in Web Design, she was tasked to manage the congregational website and Facebook page. She felt very privileged to be chosen by the Dominican Sisters' Zambian Region to attend the visual story telling workshop. She adds,
"It added to the skills and knowledge I gained in ASEC course. Now I know how to take a picture at an angle and how to create a good short article. I should have the ability to perceive and describe a story/situation. I learnt how to take a picture that tells a story by itself. A video should be straight to the message you want the audience to hear. If one is conducting an interview, they need to prepare an interview guide and get facts about the topic."
She also has learned a lot of knowledge about social media,
"I learnt that there is a positive way to brand Jesus than posting food and places on social media. To evangelize, I need to start by creating a conversation on questions that people have so that I am an opion leader. I need to ensure that my audience is not only the believers, but the non believers as well."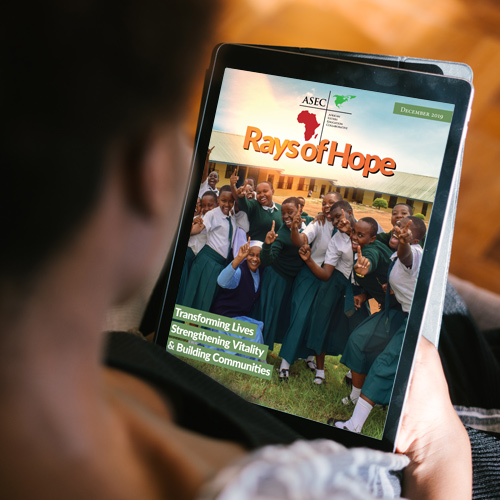 Read Rays of Hope
Learn more about Catholic Sisters transforming poor, rural communities across Africa in our FREE Rays of Hope ebook.
Read It Now »
Work Sample
Below is an article Sr. Astridah wrote for a fellow sister:
Home Away from Home- Nigeria my country
It was a sunny day on October 17, 2017 with temperatures of 35 degrees. The Dominican sisters decide to take a walk around
Dominican University in Ibadan and they are running down with sweat. They get on a motorbike to see the University compound
surrounded with green loan, red rose flowers and green palm trees. A slim old lady wearing a tone yellow t-shirt sweeping the
surroundings stops them for a chart. They share laughter with her. Over lunch, they try out Ugu soap prepared with a local
vegetable and a lot of fish eaten with pade yam or Fufu.
By Sr. Josepha and Sr. Astridah