I can't forget the day I went to the top of the hill at 7 pm to access internet because of the poor network at our place. I wanted to Skype with one of the instructors. It was a wonderful experience, though I was in fear because it was getting dark. I thank the Almighty God for the golden chance He granted me to study online.
I, Sr. Betty Namatovu, of the Immaculate Heart of Mary Reparatrix in Uganda, feel very proud of being an Alumnae of HESA. I graduated from Marywood University and Catholic University of Eastern Africa. Long live ASEC the sponsor of HESA program! I am a living testament that through hand work everything is possible. I encourage all my sisters in Christ, who are studying online, to work hard, be committed, cooperate with classmates, be determined, be contented with what they do, and lastly, to be competent students who will make a difference. Do your research to become more knowledgeable. With the grace of God all things are possible!
Through the HESA online program, I came to experience many things. For example, owning and being able to use a computer. I learned many technical skills which were useful for my studies. I was able to access Moodle by myself, do the assignments and send them in, and join Skype for chat sessions. All this knowledge I received from the HESA orientation workshop in Nairobi. I learned the instructor's expectations for the assignments, and I discovered that the language level in most of the courses was appropriate for me. The most difficult vocabulary occurred in psychology because of all the technical terms. Furthermore, working as a team, being committed, determined, hardworking, and cooperating with classmates were very helpful to me. I worked hand in hand with my companion sisters, though we were from different congregations.
During the online year in 2014, I was working and taking classes. I was a teacher and the bursar, as well as head of the non-teaching staff. I had to monitor them every day. I tried my best to balance work and study though sometimes the work load was too much. What was most urgent were my studies even though others things were important. In 2015 to 2016, I taught during the long holidays of May to August each year, since I had full-time studies at Catholic University of Eastern Africa. Our instructors were helpful too in all the courses we had online. I did my best not to miss chats sessions in order to get clarification from the instructors themselves, even though Skype was not always good because of the poor network connectivity. Still, I thank our sponsors for the good work done in educating African Sisters.
After my graduation with a BA in Education in May 2017 from the Catholic University of Eastern Africa (CUEA), my congregational superiors appointed me as a Head teacher of St. Matia Mulumba, Kiganda RC Primary; a government-aided primary school in Kiyinda-Mityana Diocese, Mubende District in Uganda. I am confident in all that I do. The knowledge and skills I attained help me a lot in whatever I am doing now. For example, I am the chairperson of all catholic schools in the parish where I am working. I feel confident and empowered for my responsibilities because of the education attained through HESA. I grew spiritually, socially, physically, technologically and morally because I was able to fit in with people of different personalities.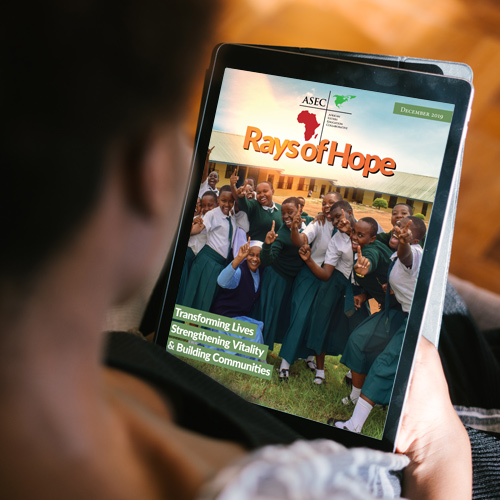 Read Rays of Hope
Learn more about Catholic Sisters transforming poor, rural communities across Africa in our FREE Rays of Hope ebook.
Read It Now »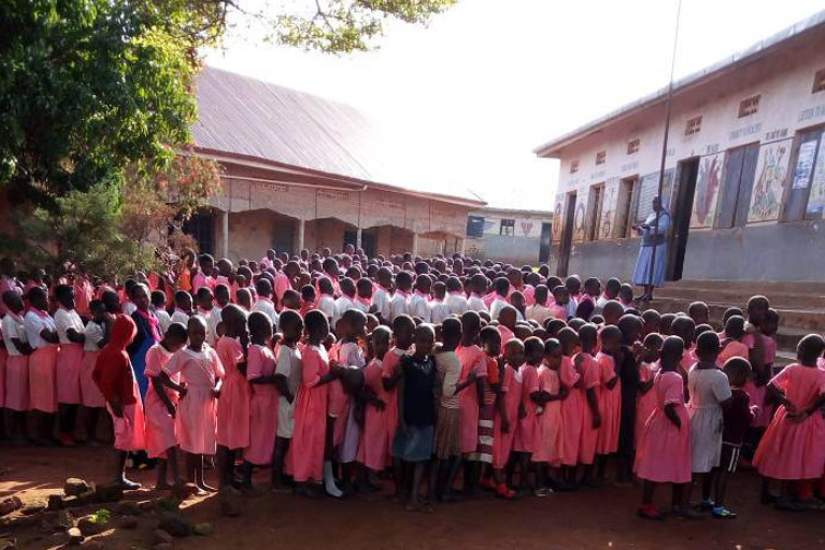 Thank you
I take this opportunity to thank the HESA team for the wonderful and tremendous work done for us. I am grateful to the ASEC Executive Director, that the sisters of Africa are being educated. May the good Lord bless our sponsors a hundred times. I appreciate our coordinators in different countries for their motherly love, care and concern and the Coordinator and Director in Uganda for the continuous support, encouragement and care. They checked on us all the time online to find out if we had problems. Whenever there was something which worried us, they came in quickly to solve it. Thank you so much dear sisters. What can I say to Rev. Sr. Lina in Kenya for her concern? She has really done her work as a mother and even more than she was expected to do. We did not regret that we were in another country. She really loved us so much. Thank you so much dear Sr. Lina. May the good Lord grant you all your hearts' desires.