ASEC's annual staff meeting was held at Fiesta Royale Hotel in Accra, Ghana from January 6-13, 2019. The theme for this year's staff meeting was Collaborative Leadership. This is ASEC's third annual staff meeting, with previous meetings held in Zambia (2018) and Tanzania (2017). Staff from all 10 countries in sub-Saharan Africa along with key members of ASEC's USA staff attended the meeting.
Highlights from this year's staff meeting included:
Presentations: leadership competencies, decision making, shared accountability, sustaining organizational relationships, communication, cross-cultural operations, emotional intelligence and institutional capacity-building.
Prayers and cultural presentations each day by ASEC staff in Kenya, Lesotho, Malawi, Nigeria, Zambia, Uganda, Cameroon, Ghana, South Sudan and Tanzania.
USA staff video conference meet & greet
News Submission Award Ceremony
Overview of HESA, SLDI, Scholarship, Service Learning and Visiting Scholar programs
Understanding ASEC program evaluation
Team building / Field Trip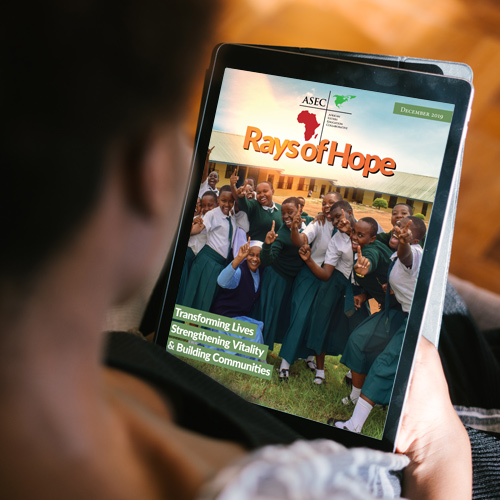 Read Rays of Hope
Learn more about Catholic Sisters transforming poor, rural communities across Africa in our FREE Rays of Hope ebook.
Read It Now »
In addition to the Ghana staff meeting, a USA Staff professional development meeting took place from January 29-31, 2019 at the Radisson Lackawanna Station Hotel in Scranton, PA. Staff spent time together learning about our individual DiSC personality types and how they apply to work culture. In the theme of collaborative leadership, many of the activities were centered around teamwork and effective communication. ASEC's full-time staff, graduate assistants and research assistants in the USA were in attendance for this USA team-building retreat.