How To Get Involved
Pay by check:
To make a donation, please mail checks made payable to African Sisters Education Collaborative to the address below:

African Sisters Education Collaborative
Accounting Department
2300 Adams Avenue
Scranton, PA 18509

Visit smile.amazon.com and choose African Sisters Education Collaborative as your charity of choice. 0.5% of every purchase you make will be donated to ASEC!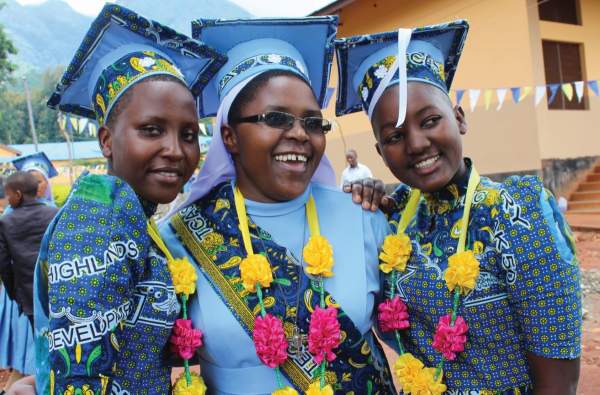 Give the gift of a good education.
Because of you, our alumnae have used what they've learned to raise $12.2M to support their own projects in Africa.
We've learned that education has exponential positive effects in building sisters' self-confidence, increasing productivity, and in improving their service delivery and sustainability of their ministries and church. With the gift of education, they can overcome the cycle of poverty that characterizes their lives and the lives of those they serve.
Where your contributions go
100% of your contribution is used to sponsor the education of African Sisters in our programs.*
*We depend on grants and partnerships to cover all of our operating costs. Because of these incredibly gracious and dedicated donors we are able to scale as an organization and use all public donations directly toward our mission, our cause: to educate women religious in Africa.
We need your help today!
Because of people like you, our programs are providing hope to the future of Africa. But there is so much more to be done.
Make a gift today »
Associate Membership
For a minimum $5,000 membership fee, we invite colleges, universities, and congregations to help us promote and further the mission of ASEC. Associate Members can participate in ASEC activities, such as
Participate in board committees or serve on the board.
Attend the annual ASEC Advisory Board meeting
Collaborate in ASEC programming
Host African sisters
Are you or someone you know interested in an Associate Membership? Please fill out the form to submit the nominee's information.
Friends of ASEC
For a minimum $100 contribution, any individual, organization, business, or other group can become a Friend of ASEC. Anyone interested in this level of membership can contact ASEC for more information about how you can be an important part of empowering and educating women religious in Africa.