ASEC: Our Team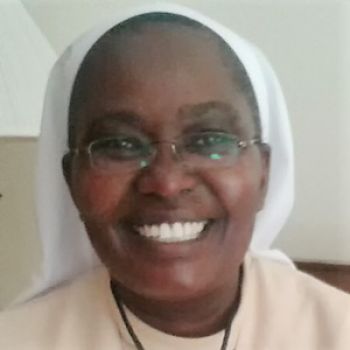 Sr. Kevin Karimi, LSOSF
Former ASEC Researcher, Program Evaluation - USA



Expertise: Social Justice and Advocacy for the under-privileged and unrepresented, Strategic Leadership

A graduate of Marywood University, MSW (2017), with successful defense of my doctoral dissertation on Jan 21, 2020. I will receive my PhD in Strategic Leadership and Administrative Studies from Marywood University on May 16, 2020. I am an international student from Kenya, where I earned a BA in Sociology - Major & MA in Philosophy both from the University of Nairobi (Kenya).

My Special interests are in Social Justice and Advocacy for the under-privileged and unrepresented. I had the honor of being the recipient of Marywood's Eva Connors Peace Medal (2017).

The most precious part of my life and rewarding experiences have been informed and formed by life circumstances, when I risked hard enough to step out of my comfort zone. In one instance, the year 2000, letting go off a prestigious position as an Administrative Assistant, at Maryknoll's Africa Regional Office in Nairobi's Lavington Area, to serve the underprivileged children in the streets of Nairobi. An engagement which left me forever transformed as I later became Director of the Program. In another instance, letting go a job offer at a prestigious university in the city of Nairobi in 2011, to work in a rural town and furthest corner of the Western Province of Kenya neighboring Uganda. I ended up elevating the war prone region to the national limelight for its great potential to shine, where previously all the good had been overshadowed by ethnic clashes and political instability. Although a Director of Pontifical Missions Office - Catholic Diocese of Bungoma, here again I attribute the innocence of the children to have done the magic for me. Reaching out to communities through their children, building relationships and a culture of reconciliation and breaking barriers. The children did not care about my ethnic origin, academic credentials, or my status in the society, all they cared for was the goal that had brought us together;- activities that advocated for their inclusion in the mainstream Church Pastoral Plan, academic opportunities for all children particularly the marginalized girls from Mt. Elgon region and life-skills outreach programs like Making Life's Responsible Choices (MLRC) and behavior modification for the youth just to attest.

And now yet again, stepping out of my comfort zone to burn the mid-night oil, studies while serving another unique category of an unrepresented population (so to speak), Catholic Sisters in Africa, where ASEC serving in 10 countries, has found that in a population of about 40,000 sisters, 80% lack academic credentials. I know well now, I no longer live for myself, I am proud to be part of ASEC's dream and realistic endeavor to change that statistic by serving as a Graduate Assistant in the SLDI program.

Long live ASEC, Hilton Foundation and the Four Founding Women Religious Congregations in Pennsylvania; we Catholic Sisters in Africa hold a treasure not made of gold!
Contributions