Our Partners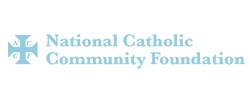 ASEC Partnership with National Catholic Community Foundation
Location: USA
Crownsville, MD
Start Year: January 2020



The National Catholic Community Foundation (NCCF) provides donors funding options that enable them to become involved in lasting and creative ways in support of charitable work.

NCCF offers services to help individuals become more effectively engaged in philanthropy. The Foundation provides donors with a philanthropic vehicle which honors the human dignity proclaimed in the Gospel and affirmed by the Roman Catholic Church. NCCF and its donors shares the values of ASEC in supporting the educational, spiritual and social needs of our community. We are grateful for NCCF's generous support of our Scholarship program.

ASEC Executive Director Sr. Draru Mary Cecilia, LSMIG, Ph.D., shares her gratitude of NCCF's support of ASEC's Scholarship Program,
"NCCF's support enables ASEC to continue enhancing the capacities of women religious in Africa by providing them with opportunities to obtain skills and credentials that they need to continue providing healthcare and educational services in their societies. Sisters in Africa initiate programs that provide services in rural villages and often in hard to reach areas where there are no social services offered."
Sr. Draru adds,
"Education is a key investment in helping the Sisters in Africa gain the tools necessary to enhance not only their own lives, but also the lives of the people they serve. The daily challenges faced by the Sisters is real and the results of your investment are signficant."