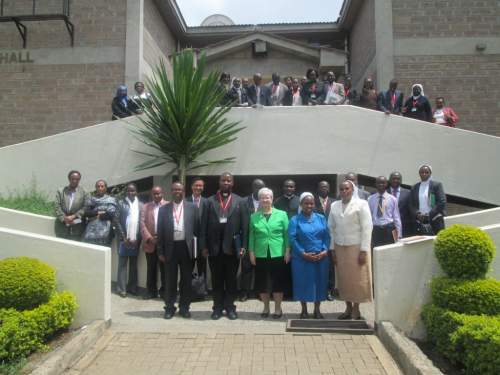 Posted on Mon, Jan 20, 2014
CUEA is seeking to empower African Sisters following the Signing of Memorandum of Understanding (MoU) between CUEA and African ASEC at CUEA Lang'ata Campus, Nairobi Kenya. From Amecea News Blog
Keep Reading...
ASEC Welcomes Visiting Scholar from CARA, Georgetown University
Visiting Scholar Sr. Bibiana, LSOSF, Ph.D., visited ASEC's Scranton Office from March 6-10, 2017. The week offered a space for collaborative exchange on emergent opportunities for research and program development.
ASEC Director Sr. Rose Jane Adiero laid to rest in Juba, South Sudan
ASEC staff attended the mass and burial of our friend and colleague Sr. Rose Jane Adiero, ASEC's Director in South Sudan. Sr. Rose devoted much of her life to teaching and ministering children.
260 Sisters join HESA in Phase II, Year 1
Students in Malawi, Tanzania and Uganda entered HESA in year one of phase II, with the last cohort enrolling at Catholic University of Malawi in February, 2017.
GSR: Sharing voices of African sisters
In Nairobi Kenya, Global Sisters Report led a writing workshop for sisters who are in leadership positions or are superiors general of their congregations. Here, sisters tell their stories.
ASEC celebrates International Day of Women and Girls in Science
ASEC stands in support of Catholic Sisters in Africa working in science-related fields, especially students in its Higher Education for Sisters in Africa (HESA) and Scholarship programs.
Support Higher Education for Sisters in Africa (HESA)
Consider supporting a sister to study in the HESA program for $7,300/year
Donate Now »