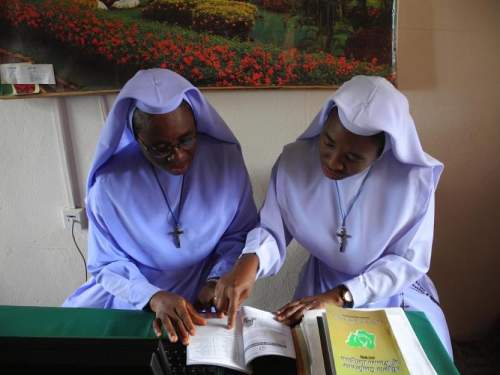 Posted on Mon, Sep 21, 2015
About Sr. Jane Wakahiu's book, Voices of Courage: Historical, Sociocultural, and Educational Journeys of Women Religious in East and Central Africa. From Global Sisters Report
Article Submitted by:

Melanie Lidman
Correspondent for Africa and the Middle East, Global Sisters Report
Keep Reading...
ASEC Welcomes Visiting Scholar from CARA, Georgetown University
Visiting Scholar Sr. Bibiana, LSOSF, Ph.D., visited ASEC's Scranton Office from March 6-10, 2017. The week offered a space for collaborative exchange on emergent opportunities for research and program development.
2017 Alumnae-mentee networking workshops held in Africa
Workshops held for SLDI and HESA alumnae held in Tanzania, Kenya, Nigeria, and Uganda.
Donate to ASEC using Amazon Smile
Shop on Amazon Smile and Amazon will donate to African Sisters Education Collaborative on your behalf!
CARA receives grant for four studies, visiting African scholar
The Center for Applied Research in the Apostolate (CARA) at Georgetown University receives a grant to conduct four studies of women religious and host a visiting scholar. From Global Sisters Report
ASEC launches our new website
When you have a moment, check out our website redesign, which has been 1.5 years in the making!