Above is a group photograph of the student participants posing with their laptops. Twenty five sisters have benefited from this program. Each participant was so thankful for the laptop they were provided as well as their textbooks. Finance was taught for three weeks, with one week of grant writing and and two days of learning Quick Book software.
Those who attended class were the following (in no particular order): Srs. THERESIA NYANCHAMBA, VERONIKA TIMALIAS, FEDES LEMA, VICTORIA KIWALE, GEORGIA AUDAX, ANITA GORDIAN, CONSOLATA ANDREA, BOSIRE ANNAH, ADELA MWADUSO, WILFRIDA ASSENGA, EVETHA MLINGI, ATHANASIA MREMA, DORICE TARIMO, MARY LUUMI, IMMACULATA MGENI, DEODATA SERIKALI, JOSEPHINA NICAS, ADOLFINA BALAGOMWA, RITA MKENDA, LUCIA SHIRIMA, CHRISTINA NIKUZE, JULIANA GURTY (QAMBO), JOSE CHIWINGA, EMMANUELA KAPINDA, AND MERCY NGULUMI.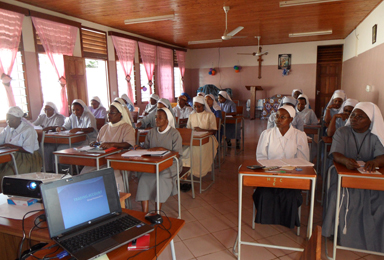 Above: Students during class time.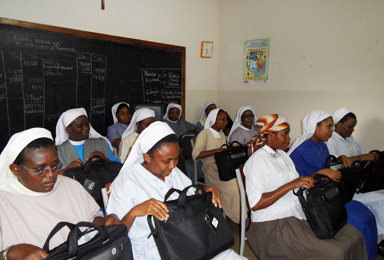 Above: Sisters with their laptops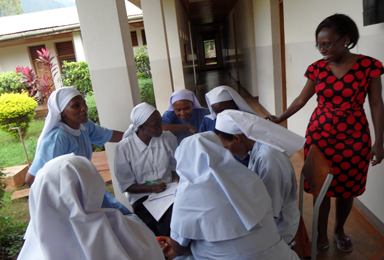 Above: Group discussion with teacher Ms. Beatrice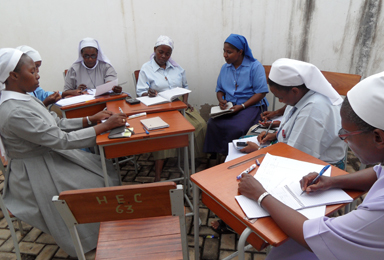 Above: Class time