Climate change experts are releasing statistics that suggest while the temperature of earth is at its highest yet, the rate of growth has slowed down, giving a bit of hope. As time goes on, though, these statistics become more urgent in their foreshadowing. While a few years ago there was debate over whether climate change exists, now the debate has pivoted to how we can best reverse the change or protect our planet from worse.
The Intergovernmental Panel on Climate Change (IPCC) Chair Hoesung Lee explains:
"We are at a crossroads. The decisions we make now can secure a liveable future. We have the tools and know-how required to limit warming. I am encouraged by climate action being taken in many countries. There are policies, regulations and market instruments that are proving effective. If these are scaled up and applied more widely and equitably, they can support deep emissions reductions and stimulate innovation."
Africa has not been conservative with their goals to make positive impacts on their environment. For instance, in 2007 the African Union pledged to create the Great Green Wall. Based on the idea of the Great Wall of China, this wall of trees will span the continent and touch 22 countries. Planting has already started to fulfill the mission of restoring degraded landscapes and transforming lives in the Sahel.
So what are ASEC Sisters doing in their communities to protect the planet? Well, lots!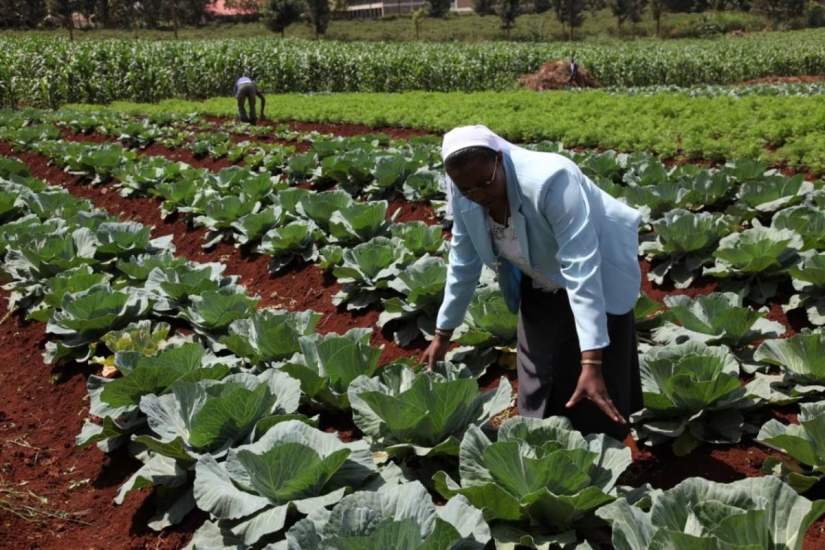 They are using sustainable farming to transform their communities.
Sr. Susan Wanjiru Njoroge, an Assumption Sister of Nairobi (ASN), is Project Director of a farm in Kenya and an alumna of ASEC's Sister Leadership Development Initiative (SLDI) program. In SLDI, sisters complete workshops in technology and leadership over a three-year period. They receive laptops and participate in field trips to gain hands-on learning experiences to help them to be more effective leaders.
Sr. Susan has used her SLDI training to run the successful Thika Farm, which uses sustainable, eco-friendly farming methods to bring food security to the surrounding community. They grow both perennial and perishable food crops, providing food for the sisters, the institutions they run and the local community.
Click here to read more about Sr. Susan's work.
They are finding ways to provide clean drinking water to those in need.
When Sr. Esther Waithera Wangari, a Little Sister of St. Francis (LSOSF) in Kenya, experienced water shortages firsthand, she knew she needed to do something. Several years ago Nairobi's water department restricted water access to 3 days/week. While it didn't take her long to seek solutions, they turned out to be more complicated than she originally thought.
After learning how to dig a well and then carrying out the task, Sr. Esther realized the water was contaminated with high levels of fluoride and was therefore undrinkable. The solution to this issue would need a bit more technology.
Using her skills in advocacy and leadership, Sr. Esther contacted several organizations which might be able to help. In the end, they did, and an energy-efficient, high-recovery FILMTEC™ Reverse Osmosis filtration system that removes fluoride from the community's drinking water was installed. Now, the St. Francis Community Hospital, schools and other congregational programs have clean and safe vended drinking water.
To read the full article, visit: http://asec-sldi.org/news/success/innovative-technology-clean-water-kenya/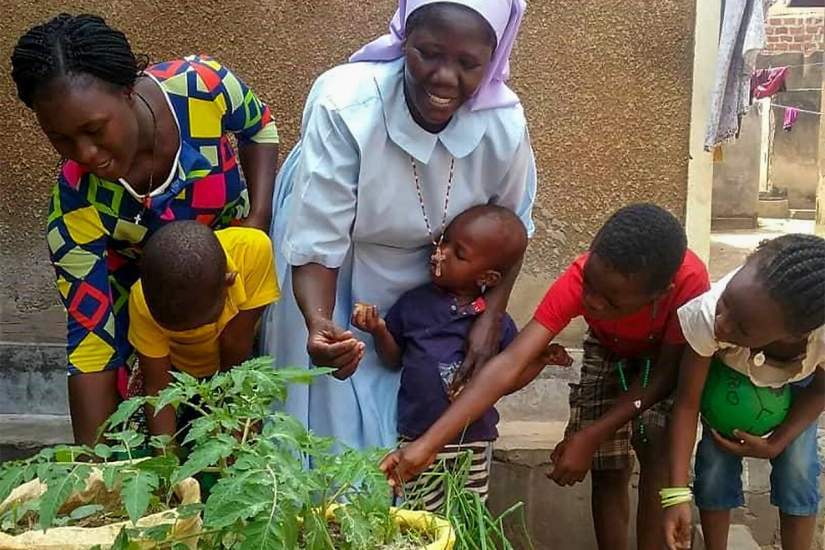 They are spreading their knowledge about sustainable fuel materials.
Sr. Teresa Mulenga who is a member of Sisters of St. Theresa of the Child Jesus (Teresian Sisters) and ASEC Coordinator for Malawi, has been teaching her community about simple technologies that can be used to preserve the environment. Specifically, she has learned that most of the corn stalks that are considered wastes can actually be used as fuel and fertilizer.
Using the corn stalks as fuel to cook, afterwards the ashes can be mixed with animal dung or urine to make a strong fertilizer.
Aside from this knowledge, Sr. Teresa also spreads knowledge of how to make fuel from other farm wastes like groundnut stems, banana stems, rice straws, elephant grass, pigeon peas stem, cassava stems and sawdust.
You can read more about her dedication to sustainability here: http://asec-sldi.org/news/general/simple-technology-malawi/
They are using the resources they have to create home gardens to feed those in need.
The unrest and violence from conflict in South Sudan have caused major impacts to the country's infrastructure and stability. Over two-thirds of the population remains in need of humanitarian assistance with dire challenges ranging from food insecurity, displacement, sexual violence, lack of education and destroyed livelihoods.
Despite the overwhelming humanitarian emergencies facing South Sudan, Sr. Mary Faida, SHS, stays. A Sister of the Sacred Heart, she is committed to rebuilding the broken lives of those affected by the violence and with nowhere else to go. Not only is she using spirituality to build hope among the South Sudanese, but she is also utilizing her education to provide tangible help with basic necessities.
With her ASEC training, she has been able to secure several grants that help her congregation with trauma-informed education, clean water, help with medical bills and more.
To read her full story, visit: http://asec-sldi.org/news/success/hope-war-torn-south-sudan/
They are using solar technology to support their missions.
Sr. Susan Nderi, CPS, saw an opportunity for a more reliable and cost-effective source of energy while working in Kenya. Using the skills she learned through ASEC, she was able to prepare a grant request to convert the home's hot water system from electric to solar power.
The funds were granted and the system now provides reliable hot water for the 60 elderly and ill sisters using renewable energy while also decreasing expenses for the congregation.
Sr. Susan explained:
"Solar energy is a truly renewable energy source and is available every day. We cannot run out of solar energy, unlike other sources of energy...it is also an alternative for fossil fuels since it is non-polluting, clean and reliable."
To read more about Sr. Susan's use of technology, visit: http://asec-sldi.org/news/success/solar-energy-kenya/
Our website is filled with many other success stories of ASEC Sisters using their developed skills to protect our planet. If you are interested in sponsoring the education of a sister, please visit: http://asec-sldi.org/donate/