With agriculture representing nearly 30% of Tanzania's economy and three quarters of its workforce, there is value in knowing the skills and having the supplies needed to support agriculture in every community. Especially because over 34% of children under age five suffer from malnutrition and nearly half of the population is living on less than $1.90 per day. This means that while Tanzania's agriculture sector has the potential to feed more and provide more income, that is only possible with the right education and equipment.
That is why the work of ASEC sister's in Tanzania and across Africa is so important. At a recent alumnae workshop, ASEC sisters came together to discuss their charisms and the common mission of the church, as well as sustainable agricultural opportunities. They also made liquid soap and molded flower pots using cement, water, and old towels.
Aside from the planned activities, alumnae also discussed how ASEC programs have helped them make positive changes in their community and find success for projects in their congregations. Three alumnae, Sr. Fransiska Kimario, Sr. Monica Leonard Mhando, and Sr. Alfoncia Aloyce, shared noteworthy stories of how they are using their experiences to cultivate food and income by tapping into agricultural opportunities in Tanzania.
Sr. Fransiska Kimario, Congregation of Mary Immaculate Sisters, graduated from ASEC's SLDI program in the fall of 2021. Since then, she has used her skills to aid her congregation and local community by raising funds from internal donors to support a project that would help feed those in need by raising chickens. In the beginning, Sr. Fransiska used the funds collected to buy about 1,000 chicken eggs. Within four months of starting the project, she was able to produce more than 2,700 eggs. The eggs have provided the community with protein for their diets and income to promote economic growth. Because of the success of this project, Sr. Fransiska was also able to secure funding for a vehicle for pastoral activities, which allows for easier transportation.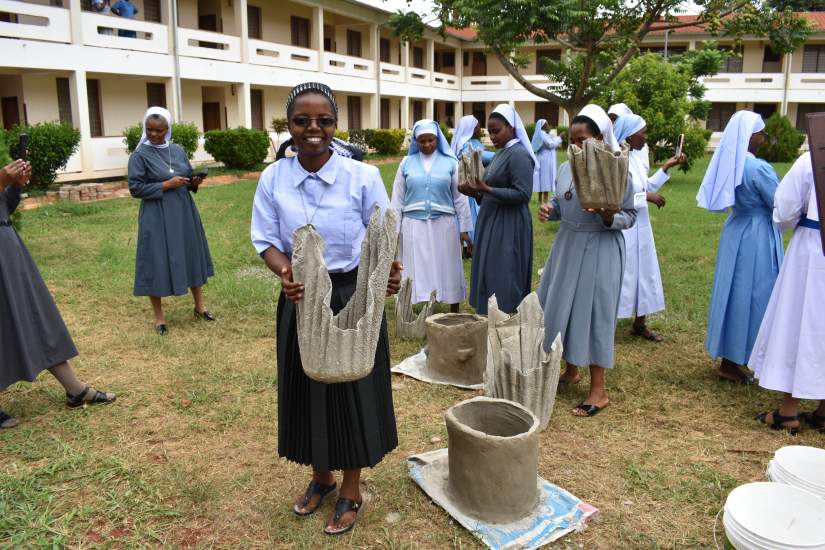 SLDI alumna Sr. Monica Leonard Mhando, Congregation of the Sisters of Our Lady of Usambara, graduated in 2020. After that she was employed at a pre- and primary school in Tanzania as a bursar, which comes with an agricultural twist, as she engages in agricultural farming to earn income and produce crops for the school community. After obtaining her education, she attended several seminars on organic and sustainable agriculture and conservation in Tanzania. Combining the knowledge obtained from both of these experiences, Sr. Monica was able to create a program to cultivate onions in her community. The income generated from selling onions raised almost $1,000.00 in just a few months. Not only that, but the school was able to save money on food costs by being able to supply their own onions rather than having to buy from a vendor. The program also branched out and started to cultivate maize, providing even more food to the school and the ministry.
Another alumna, Sr. Alfoncia Aloyce, Misericordia Sisters, graduated from the HESA program in 2019 and has openly expressed her joy of the knowledge obtained from the program. Currently, she is a manager at the Misericordia Pre and Primary school in Dodoma, Tanzania, where she manages more than 1,200 students and 60 teachers. She has incorporated agriculture into the culture of the school, where she teaches students how to cultivate maize and sunflower in order to feel the school's community members. They have been successful in feeding the community for an entire year as well as generating income by selling the crops.
She exclaimed,
"I am empowered, skillful, and have sufficient knowledge to work effectively because of ASEC. Thank you!"