Although the worldwide numbers of people suffering from hunger have decreased from 31% since 2000, still nearly 20% of the population in Africa experiences hunger. Sociopolitical conflict and instability, drought, poverty and displacement have all contributed to the increase over the past four years in the number of people suffering from hunger.
In Kenya, children are especially at risk for hunger and malnutrition. According to the United Nations, rapid population growth and climate change have led to inefficient food systems that often leave Kenyan children without access to nutritious food, especially in rural areas.
But one innovative Catholic nun has found a sustainable way to provide nutrition to her neighbors.
Sr. Susan Wanjiru Njoroge, an Assumption Sister of Nairobi (ASN), is Project Director of a 70-acre farm located 45 miles northeast of Nairobi, Kenya and an alumna of ASEC's Sister Leadership Development Initiative (SLDI) program. In SLDI, sisters complete workshops in technology and leadership over a three-year period. They receive laptops and participate in field trips to gain hands-on learning experiences to help them to be more effective leaders.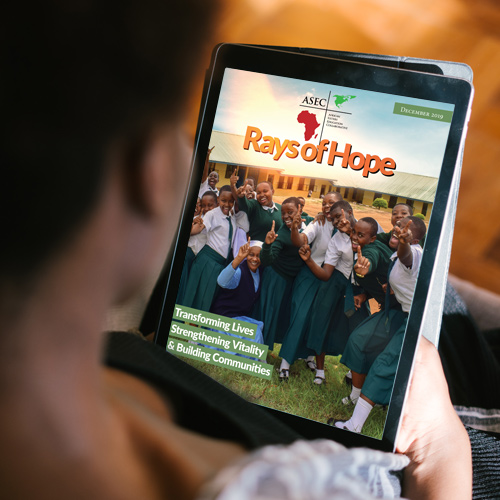 Read Rays of Hope
Learn more about Catholic Sisters transforming poor, rural communities across Africa in our FREE Rays of Hope ebook.
Read It Now »
Sr. Susan has used her SLDI training to run the successful Thika Farm, which uses sustainable, eco-friendly farming methods to bring food security to the surrounding community. They grow both perennial and perishable food crops, providing food for the sisters, the institutions they run and the local community.
Food grown at the farm includes vegetables, carrots, corn, banana plants and tomatoes. Coffee crops bring in an annual income of Ksh 600,000 (around $7,500 USD).
Animals also contribute to the farm's production, ranging from a piggery project with 80 pigs to a fishpond that yields thousands of tilapia each season. Twelve cows produce 15 liters of milk each per day, which is used to supply local communities, including schools and convents.
Agricultural extension officers use Thika Farm as a demonstration center to train community members on farming methods, including horticultural farming that uses drip irrigation to produce cabbages, pepper, onions, kale, chili, carrots and bananas. While there is water scarcity in the region, Sr. Susan is using a dam and drip irrigation to farm the land. Waste products from the animals are also used to fertilize the crops.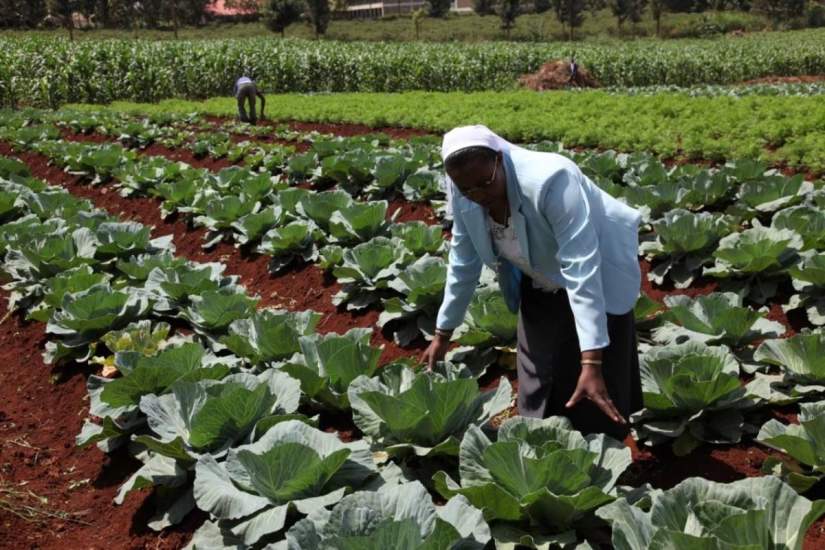 The produce, which is plentiful year-round thanks to the irrigation system, is used not only by the sisters and local community, but also the schools and rehabilitation centers run by the sisters.
An estimated 2,800 people benefit from the farm's produce. Plus, the project provides employment to 70 people.
The success and productivity of projects like Sr. Susan's Thika Farm suggest that food security in Africa is possible. The persistence, creativity and resourcefulness used by sisters from the SLDI program are ensuring reliable food and income for their neighbors and helping to diminish malnutrition in the children of Kenya and throughout Africa.