As deeply-trusted members of their communities, African nuns live, lead and serve where needs are the greatest - in schools, healthcare facilities, social services, environmental and economic projects across the continent.
But the single biggest hurdle that nuns face in their ministry work is a lack of education and skills. Without higher education credentials or professional preparation, some do not even have the secondary school qualifications required for entry to higher education.
ASEC's programs provide educational opportunities for sisters from leadership and technology training to undergraduate and graduate degrees at higher education institutions. At ASEC, we've seen the success stories that result from the education of African nuns who gain the skills, confidence and networks to improve the effectiveness and impact of their ministry work and in turn, are helping to end extreme poverty.
But even before they use their education and skills in the "real world," sisters in ASEC programs are seeing major success and academic accomplishment while in school.
ASEC's Higher Education for Sisters in Africa (HESA) program enables sisters to further their training through undergraduate and graduate level education at higher education institutions in Africa and online in the USA. HESA fills a gap in educational access for women religious in sub-Saharan Africa, where only 9% of the college-age population enters higher education and women are outnumbered 72 to 100.
Since 2013, more than 1,700 sisters have participated in HESA and more than 643 sisters have graduated with undergraduate and postgraduate degrees. During the 2019-20 grant year, approximately 160 sisters graduated from HESA at partner institutions. Approximately 75 students reported graduating with honors during this period and at least seven graduating sisters received awards for best graduating student, best in department or student leadership from their institution:
Sr. Theresa Uzoamaka Ezewelukwa, OLA, Nigeria, received an award for "Best in Class" and "Best in Department" from Veritas University in Nigeria. Sr. Theresa participated in the online-onsite hybrid program with Chestnut Hill College and Veritas University.
Sr. Suzana Gertrude Livinus-Didam, SSL, Nigeria, received an award for "Best in Department" from Veritas University in Nigeria. Sr. Suzana participated in the online-onsite hybrid program with Chestnut Hill College and Veritas University.
Sr. Margaret Okaima Ogbebor, SSMA, Nigeria, received an award for "Best in Department" from Veritas University in Nigeria. Sr. Margaret participated in the online-onsite hybrid program with Chestnut Hill College and Veritas University.
Sr. Felistas Kingori, RSM, Kenya, received an award for "Best First Year Student" from Tangaza University College in Kenya.
Sr. Felicity Amikiya, SHCJ, Ghana, received an award for "Overall Best Graduating Student" from Catholic University College of Ghana.
Sr. Kirigha Kizia Felister, ASN, received a "Student Leadership Award" for serving as a class representative at The Catholic University of Eastern Africa (CUEA) in Kenya.
Sr. Honorine Akateh, FSFB, Cameroon, received a "Student Leadership Award" as a class delegate at ChemChemi Ya Uzima Institute in Kenya.
These graduating honorees are just the latest academic achievers to come through HESA programs. Current students and alumni have reached major academic achievements as well.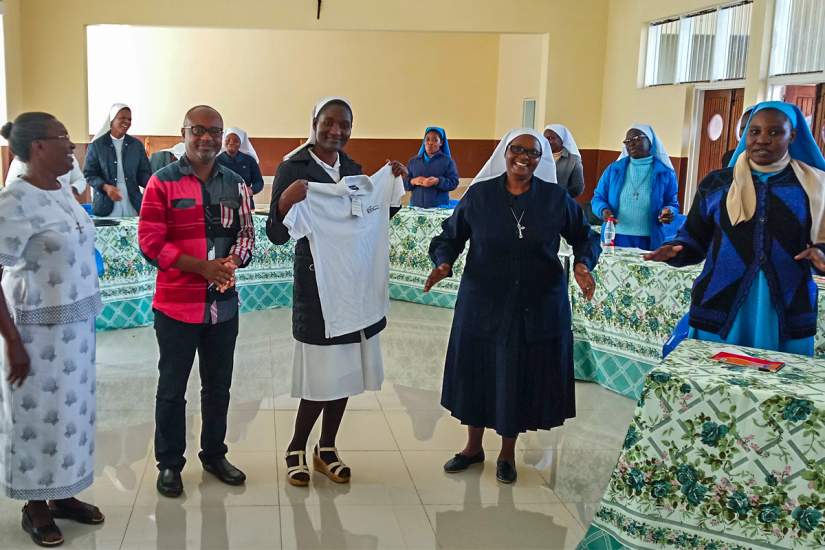 Sr. Evarista Kapwata, SOL, is a current HESA Bachelor of Education student specializing in English at the Catholic University of Malawi. During HESA Reflective Learning, Sr. Evarista received recognition for maintaining the rank of top student at the Catholic University of Malawi for five consecutive semesters. Sr. Evarista joined HESA in 2017, among the first group of HESA students to enroll at the Catholic University of Malawi.
After waiting 20 years since her initial acceptance to university, the timing was right for Sr. Judith Nkolonga, SOM. She graduated in 2019 with second class upper division at age 50 from the Catholic University of Eastern Africa (CUEA). She notes,
"All comes at an opportune time. The goodness of the Lord is witnessed and experienced at the time the Lord allows it to happen… God's time is the best time."
Sr. Efrosina Mbiki, CICM, an Immaculate Heart of Mary sister, was among the first group of HESA students in Tanzania. She began her undergraduate studies in education in 2013 at St. Augustine University and went on to receive her Master of Arts in History (MAH) through the HESA program in December 2018, graduating with first class honors.
Sr. Anne Kamene, ASN, received her B.A. in Development Studies in 2016 from CUEA First Class Honors. She has since made a huge impact as the Director of Cheshire Home for Girls in Limuru, Kenya, that provides a residential and training program for girls with varying mental and physical disabilities.
Sr. Mary Nalule MSMMC, a member of the Missionary Sisters of Mary Mother of the Church, spent a year studying at Marywood University in the United States before transferring to CUEA and graduating with a Bachelor of Education with First Class Honors. Education has become a recurring theme in her life, as she now teaches young girls at the Bukulula Girls School in Central Uganda.
"My passion for education is matched only by my love for the youth, particularly the girl-child," said Sr. Mary.
She hopes to continue her education and earn her Master's degree.
Sr. Lois Moses, SSL, was among the first 14 sisters from the HESA program to graduate from Veritas University in December 2017. Along with her B.Sc. in Accounting, she received three awards:
Vice Chancellor's Award for Overall Best Graduating Student, with the best CGPA of 4.79
The Head of Department Award, for best graduating student in educational foundation
The College of Education Award, 2017
Sr. Clementina Obembe, OSF, HESA alumna and former ASEC Regional Director for West Africa- Nigeria, commented,
"This achievement will encourage the sisters' superiors and those sisters following them that you have to work very hard in order to get a good reward. For this we are very grateful to God."
Sr. Sylvia Namuleme, DM, of the Daughters of Mary, was a model student, studying diligently for 1.5 years at St. Francis Hospital Nsambya Training School in Uganda. An inspiration to her teachers and her cohort, she received her Diploma in Nursing in September 2018 with an Award of Academic Excellency for Best in Class.
Sr. Philomena Aboagye-Danso, FST, began her studies online at Chestnut Hill College in the United States and graduated from the Catholic University College of Ghana. She earned a Bachelor of Education and the Best Graduating Student Award.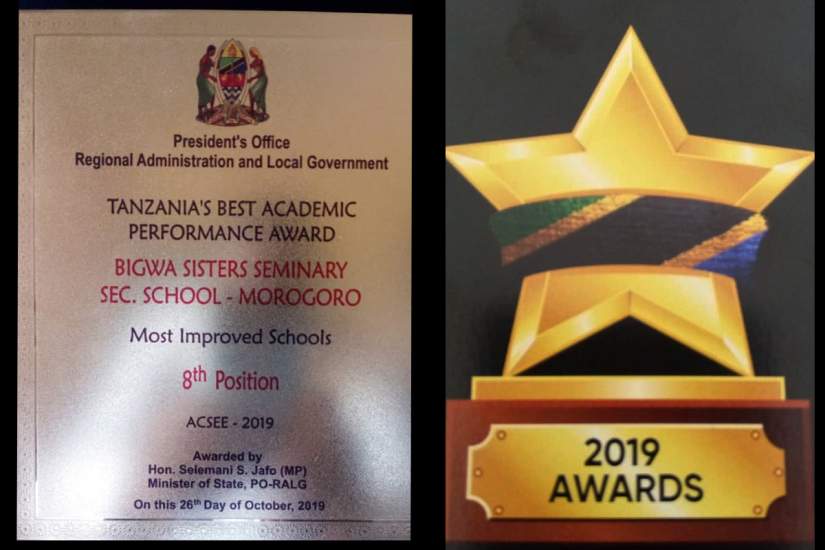 But it's not just individual sisters making big academic achievements.
In October 2019, Bigwa Sisters Seminary Secondary School (Bigwa), a residential high school for religious women in Morogoro, Tanzania, received Tanzania's Best Academic Performance Award in the category of "Most Improved Schools." ASEC awards tuition scholarships to religious women to attend Bigwa, where their notable academic performances have contributed to the school's reputation.
The award was prepared by the Office of the Regional Administration and Local Government (OR-GOVERNMENT) in collaboration with the Examinations Council of Tanzania (NECTA) as a government effort to recognize and congratulate students, teachers, schools, councils and regions that achieved high performance in Tanzania's National Examinations.
In addition to offering tuition scholarships at Bigwa, ASEC has also facilitated the construction of a dining hall, a dormitory, a fish pond and a state-of-the-art Science laboratory consisting of three well-equipped biology, physics and chemistry labs.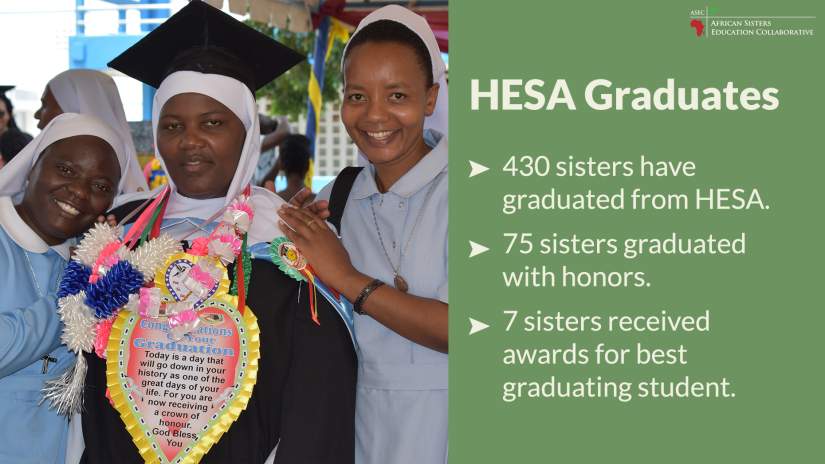 With a 96% retention rate, HESA participants have shown they are committed to furthering their education. But these academic achievements show just how dedicated sisters are to making the most of their opportunities.