It was a great joy for all of us on Tuesday, December 5, 2017, as 14 HESA sisters graduated from Veritas University, Abuja, Nigeria. Among the graduates,12 sisters from Veritas University cohort one (entered in October 2014) graduated with bachelor's degrees in various fields. Two sisters from the first master's cohort (entered in October 2016) graduated with master's degrees in English and Literary Studies.
On Monday, December 4, 2017, a convocation lecture titled "The University Today" was delivered by His Eminence Francis Cardinal Arinze, CFR.
On Tuesday, the convocation mass was attended by approximately 20 bishop, including John Cardinal Onaiyekan, the Archbishop of Abuja Archdiocese, Nigeria and Francis Cardinal Arinze, who came all the way from Rome for the occasion. The convocation began after mass with a procession of the graduates from their respective departments along with the principal officers of the university. This graduation marked the10th anniversary and 6th convocation of our partner institution, Veritas University.
I was so proud of the sisters because they worked very hard and put in their best as the first set of HESA graduates from the Veritas University. 8 out of 12 HESA undergraduate students received First Class Honor while 4 received Second Class Honor.
Our HESA students continued to be the greatest attraction of the day, as Sr. Lois Moses, SSL, received three awards, including
Vice Chancellor's Award for Overall Best Graduating Student, with the best CGPA of 4.79
The Head of Department Award, for best graduating student in educational foundation and
The College of Education Award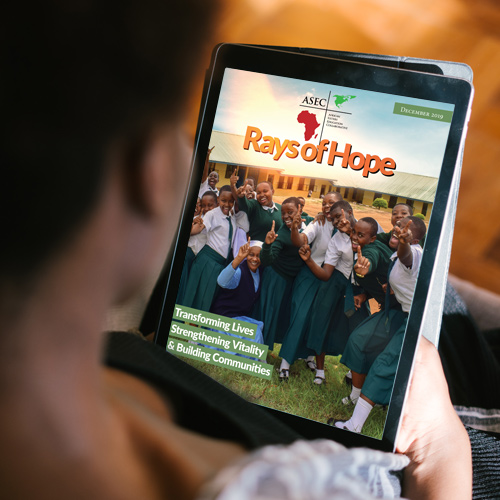 Read Rays of Hope
Learn more about Catholic Sisters transforming poor, rural communities across Africa in our FREE Rays of Hope ebook.
Read It Now »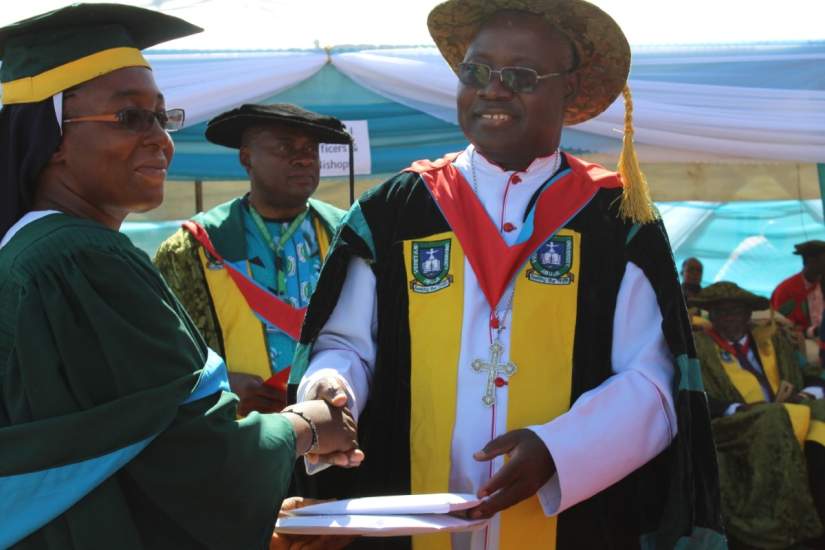 This achievement will encourage the sisters' superiors and those sisters following them that you have to work very hard in order to get a good reward. For this we are very grateful to God.
Nigeria staff organized a dinner in their honor where they received gifts from ASEC and their HESA Alumnae Badges. We give glory to God for the success of the occasion.
Congratulations to all of our new HESA graduates:
Sr. Maria Dabang, DC – B.Sc Accounting
Sr. Prudence Oriaku, DDL – B.Sc Accounting
Sr. Karunwi Francisca Olamide, OLA – B.Ed English Education
Sr. Ogunjobi Taiwo M., SSL – B.Sc Business Management
Sr. Lois Moses, SSL – B.Sc Accounting
Sr. Effiong Patience Emmanuel, DHS – B.Ed English Education
Sr. Abah Grace, DHS – B.Ed English Education
Sr. Okeke Stella U., DCPB – B.Ed English Education
Sr. Cordelia Okoro, DCPB – B.Ed English Education
Sr. Nwoke Jovita Onyinyechi, SJGS – B.Sc Business Management
Sr. Ikhane Christiana, OP – B.Sc Accounting
Sr. Esther Chinyere Madu, HHCJ – B.Sc Accounting
Sr. Stella Skpan Malachy, HHCJ – M.A. English and Literary Studies
Sr. Cordelia Ifeyinwa Nwefo, HHCJ – M.A. English and Literary Studies