In 2020, ASEC developed a pilot initiative under its Scholarship Program to support two women religious in Africa pursuing doctoral degrees. The two sisters chosen will study at ASEC partner institution, the Catholic University of Eastern Africa (CUEA), in Nairobi, Kenya.
The pilot Ph.D. initiative will support the sisters through their education and research requirements for a doctoral degree, as well as engage them in professional and learning opportunities.
Here's some information about the two very impressive sister candidates selected for the pilot.
Sr. Esther Wambui Gitee, ASN
Sr. Esther is a Kenyan sister of the Assumption Sisters of Nairobi (ASN), was selected as a doctoral scholarship recipient for a pilot initiative through the ASEC's Scholarship Program beginning in 2020. Sr. Esther is pursuing a Ph.D. in Financial Management at CUEA. She earned her MBA in 2019, also from CUEA.
Sr. Esther's research examines the effect policies (e.g. financing, investment, cash management and risk management) have on health institutions managed by the Catholic Church in Kenya. She was drawn to the field of finance after observing a need in her own and other congregations for stronger financial planning and management policies. She understands earning a Ph.D. is a way to help her congregation, as well as to support other congregations struggling financially.
In addition to her current studies, Sr. Esther teaches business studies and catholic religious education classes at Maryhill Girls High School in Thika, Kenya and serves as their business coordinator. She is also an adjunct finance lecturer at CUEA.
When describing herself, Sr. Esther uses words such as "proactive," "logical," and "focused." She enjoys hobbies including music, reading and teaching.
Sr. Kiden Christine Janet, MSBVM
Sr. Kiden is a sister of the Missionary Sisters of the Blessed Virgin Mary (MSBVM), was selected as a doctoral scholarship recipient for a pilot initiative through the ASEC's Scholarship Program beginning in 2020. She is from South Sudan and is currently serving in Kenya. Sr. Kiden is pursuing a Ph.D. in Education at CUEA. She previously earned her M.Ed. in Educational Administration and Planning in 2010.
Sr. Kiden's research examines internal quality assurance policies of public universities in South Sudan, seeking to understand how these policies are implemented, their relevance and obstacles to their implementation. There has been a recent governmental push in South Sudan for lecturers to hold a Ph.D., as well as a general need for highly trained educators. She has been working on her Ph.D. since 2018.
Prior to pursuing her doctorate, Sr. Kiden served as the Head of the Department of Education, 2011-2013 and Dean of the Arts and Social Sciences, 2013-2018, at the Catholic University of South Sudan.
In her spare time, Sr. Kiden enjoys reading, gardening and singing.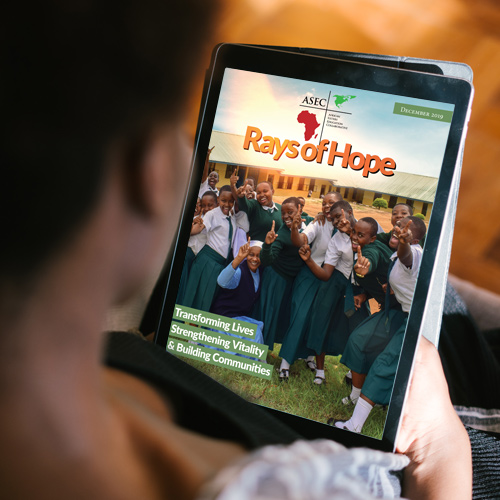 Read Rays of Hope
Learn more about Catholic Sisters transforming poor, rural communities across Africa in our FREE Rays of Hope ebook.
Read It Now »
Congratulations to Sr. Esther and Sr. Kiden for receiving this competitive scholarship opportunity. We will keep you in our prayers as you pursue high levels of academic and research success that will benefit your communities, congregations and the church at large.