In Nigeria, inequities in healthcare access, a lack of functioning medical equipment, and inadequate healthcare facilities with poor governance structures are some of the factors contributing to low quality healthcare in the country.
Sr. Josemaria Anyanwu, HFSN, willingly confronts these issues in her ministry.
Sr. Josemaria studied Administration in ASEC's Sisters Leadership Development Initiative (SLDI) program. Upon completing SLDI, she was promoted to Hospital Administrator of Holy Family Hospital in Nigeria, where she was already a mid-level manager.
You'll soon see how much the skills from SLDI have catapulted her level of impact.
Improving hospital facilities and processes
During her time at Holy Family, she worked diligently to upgrade the standards of the hospital. She added departments and wrote successful grant proposals to purchase an x-ray machine and an ultrasound machine.
Obtaining operational medical equipment now allows for more accurate diagnosis and treatment of diseases as well as improved maternal care. She has also invited other sisters to the hospital so they can learn how the equipment works. Sr. Josemaria says that obtaining the equipment, "...is becoming a learning moment."
But her success doesn't stop there. Sr. Josemaria also used her grant writing skills to get an ambulance for the hospital. With an ambulance to serve the surrounding area, more people in surrounding communities have access to medical services.
Stepping into a leadership role
In her role as Hospital Administrator, Sr. Josemaria supervised 30 employees—20 more than she previously supervised. She says SLDI helped her become a more effective supervisor. She put human resources and governance structures in place and encouraged teamwork among her staff.
Sr. Josemaria commented on how her professional relationships changed after SLDI:
"I was able to interact with other professionals and made a positive change by introducing team work in the work place and also winning their trust. I was able to manage the personnel working with me differently, empathizing with them and sometimes not exercising my authority and I saw them queuing into the system with ease. I began to think in different dimensions on how to move my ministry forward. I was able to relate with other professionals sharing views and my thinking became wide. I realized the need to relate with my professional colleagues to share views and it boosted my personal integrity."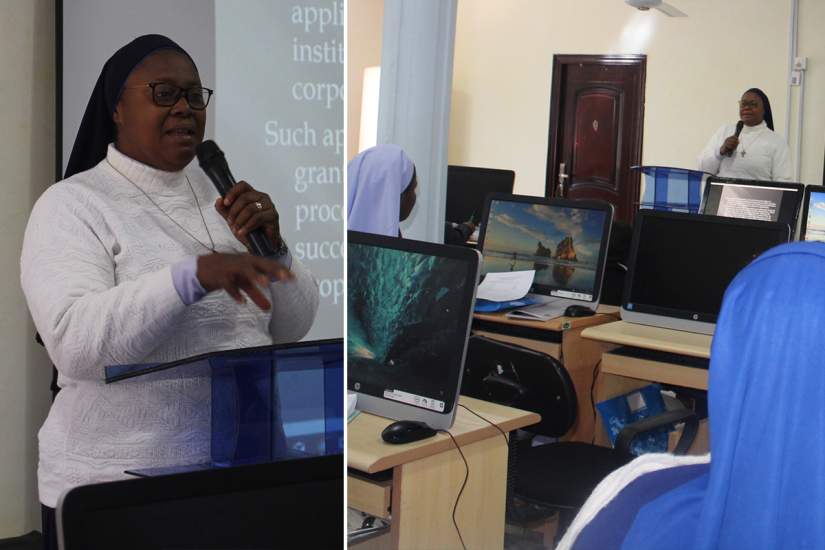 Sharing her grant writing skills with others
Sr. Josemaria also collaborates outside of her ministry. She wrote a successful proposal to fund a borehole, providing clean water to about 500 people in the local community.
She's also the "go-to" sister for grant writing and has mentored four other congregations in preparing grant proposals. Thus far, her mentorship has been a success. She's helped one congregation establish a computer lab, install a solar power system and secure a host baking machine. Another congregation was able to obtain an ambulance.
"The program [SLDI] actually made me to be acquainted with so many other religious sisters outside my congregation, sharing views together, networking together and mentoring others. I...helped other sisters in other congregations to write grant [sic] and all were successful," she says.
In January 2020, Sr. Josemaria served as a facilitator at the ASEC Alumnae Workshop in Nigeria, teaching grant writing skills to 42 fellow alumnae.
Strengthening her congregation and leading her peers
Sr. Josemaria continues to impress. She uses her teamwork and collaboration skills within her congregation as a Community Superior and a Councilor. She contributed to the strategic planning of her congregation as well as human resources management in her role as a Councilor.
Even her peers recognize her talents and gifts. ASEC alumnae in her country elected her as President of the SLDI/HESA Alumnae Association in Nigeria, a role she held for three years.
In the years since her graduation from SLDI, Sr. Josemaria has used her collaboration, mentorship and grant writing skills in diverse ways, demonstrating a capacity to positively impact her own congregation, strengthen the resource mobilization abilities of other congregations and improve healthcare services for hundreds of people in the local community.
Sr. Josemaria currently serves as a Laboratory Scientist at Claretian University clinic. We can't wait to see what she'll do next.