The Sisters Leadership Development Initiative (SLDI), the largest program run by ASEC, has a clear purpose: to provide leadership and technology training to Catholic sisters in Africa.
In the SLDI program, sisters complete workshops in technology and leadership over a three-year period. The three-year period includes attendance of three month-long workshops in several fields. These workshops help educate Catholic sisters in different aspects so that they may better serve their communities.
Sisters may use the skills they learn for teaching, healthcare, spiritual ministries, social service and many other fields. Several sisters that attended these workshops have written about the amazing effect that gaining an education has caused.
SLDI Alumna, Sr. Virgilia Zamah, TSSF was elected to be a part of the SLDI Leadership Team of Cameroon shortly after graduating. The team consisted of other alumnae to help out with future workshops. Soon after, Sr. Virgilia was invited to become an SLDI instructor.
"It feels good being a classroom instructor. As I watched the group of Sisters sitting in front of me from every field of life: educational background, age, Mother Generals, ex-Mother Generals, Local Superiors, and different religious congregations; I was humbled."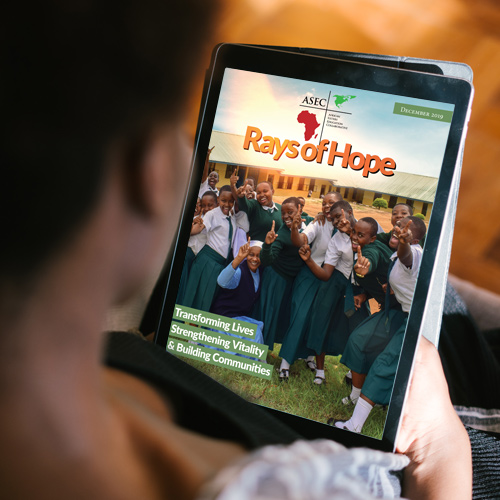 Read Rays of Hope
Learn more about Catholic Sisters transforming poor, rural communities across Africa in our FREE Rays of Hope ebook.
Read It Now »
As well in Cameroon, Sr. Vera Ndifoin, SST comments that she has "become an expert in many fields" thanks to SLDI.
After completing workshops in finance management, Sr. Vera wanted to share her expertise with others. She delivers motivational speeches to women and children, sometimes with over 100 attendees. She conducted a training session on customer service and time management for workers of The Martins Catholic Medical Centre in Nkwen, Bamenda. This session proved to be effective, as they receive more customers and good feedback.
She has also designed templates for cash flow statements for her congregations' education and health institutions.
"I'm doing well what I love doing most."
After attending SLDI workshops in Zambia, Sr. Maudy Mudumha, CPS, writes that these workshops have made her more effective in her work as an Administrator of the Precious Blood Convent Retreat Centre in Macheke, Zimbabwe.
Sr. Maudy learned about strategic planning, employee recruitment, technology programs like Microsoft Excel and project/grant proposal writing.
She comments that these workshops have laid a foundation for her future studies, as she plans to move onto higher education.
"The knowledge I receive will continue even for the next stage when I shall continue in my studies as administrator at a higher level. I am confident that the knowledge I have received will help me as I have been given an opportunity by my congregation to pursue Business and Administration Studies at a higher level."
In the Diocese of Mohale's Hoek, Lesotho, Sr. Junicia Mosifa, SCIM, started her work as a Bishop secretary with very minimal computer skills. She testifies that the administrative and leadership training she's received through the SLDI program has been extremely helpful in her work,
"[The SLDI workshop] is where my dreams came alive because from that time until now I am able to do my work easier."
The SLDI training has made a significant difference in Sr. Junicia's life. She now has the necessary skills to serve as Bishop secretary and is more quickly and efficiently completing her work. Her computer skills have gotten better and better. Now, she and even uses the computer to make Christmas cards and business cards.
"...I am very grateful for the gift of ASEC to Lesotho, because by the help of ASEC, I have managed to make christmas cards and business cards."
Sr. Namasiku Mutonga, LSSF, completed her SLDI finance training this year in Zambia. She is now able to manage finances according to the universal financial standards for her congregation and ministry. Her first priority is to mentor three Sisters from her congregation so that they can improve their ministries.
"I will ensure to put what I learn into practice so that the knowledge and skills I got from ASEC training bear fruits in my congregation and ministry."
In Malawi, sisters shared different ways to use their SLDI skills in a meeting with ASEC director, Sr. Draru Mary Cecilia, LSMIG, Ph.D. Sr. Teresa Mulenga, Programs Coordinator of Malawi, writes that sisters have planned to mentor others and to write project proposals for their congregations. One participant said:
"I have already experienced a change in the way I carry out my tasks in my ministry. I am organized now than before, I feel empowered with the skills got, I can make presentations comfortably, indeed this course has changed my life."
The sisters have expressed their gratitude for the ASEC staff, donors, partners and instructors of the SLDI workshops.
The different types of workshops that SLDI offers have helped sisters become better assets to their congregations, ministries and communities