In June 2019, ASEC staff and partners traveled to Uganda for the first Higher Education for Sisters in Africa (HESA) partners conference. While in Africa, staff and partners visited several ASEC alumnae projects in Uganda to learn more about how ASEC programs are helping Sisters in their ministry work and service to the poor and marginalized:
Kikyusa Primary & Secondary Schools
Mapeera Bakateyamba Home for the Elderly & Sick
Nkozi Hospital
Cabana Sisters' Bread Bakery
Kikyusa Primary & Secondary Schools
Sr. Monica Auma, MHC - Head Teacher of Kikyusa Primary, HESA Alumna (B.Ed.)
Sr. Imelda Namyanzi, MHC - Head Teacher of Kikyusa Secondary, HESA Alumna (B.Ed.)
The Kikyusa Primary & Secondary Schools, run by the Sisters of Mercy of the Holy Cross (MHC), have a reputation that brings them students from all over the African continent. 14 Sisters live together in a community consisting of both schools and a health clinic. The school serves 357 students ages 6-13. 138 students board at the school.
Sr. Monica was appointed Head Teacher of the primary school after graduating from ASEC's HESA program. She used her skills from HESA to help raise funds for a school kitchen. She's also implemented a small farm on the property where students are taught how to cultivate food.
Sr. Imelda is Head Teacher of the Secondary School. She learned how to make soap at a HESA workshop and has implemented this skill at the school. The children sell their soap to the community and local health centers to raise funds for the school. Sr. Imelda has also introduced an extracurricular program so students can develop holistically through dance, singing and sports.
Read more about Sisters Monica & Imelda and their ministry at Kikyusa schools.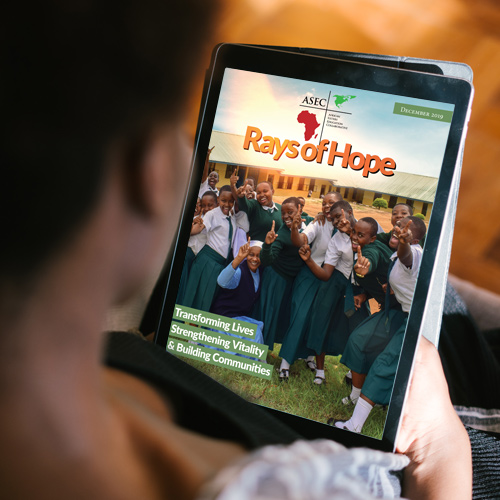 Read Rays of Hope
Learn more about Catholic Sisters transforming poor, rural communities across Africa in our FREE Rays of Hope ebook.
Read It Now »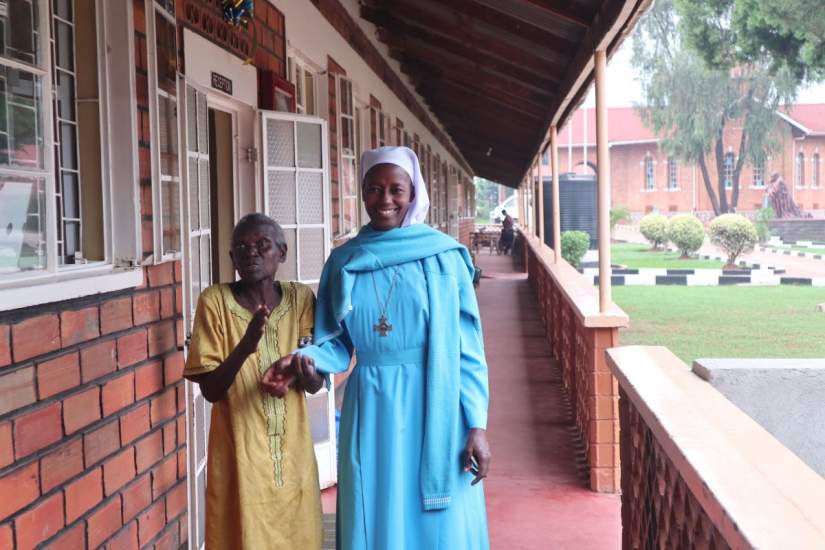 Mapeera Bakateyamba Home for the Elderly & Sick
Sr. Lawrence (Regina) Nakiwu Nakyeyune, GSS - Bakateyamba Home Administrator, SLDI Alumna (Project Management)
Sr. Elizabeth (Betty) Namagama, GSS - Clinical Officer, Nurse, Midwife and Part-Time Laboratory Technician at Bakateyamba Home, SLDI Alumna (Administration)
Mapeera Bakateyamba Home is run by the Good Samaritan Sisters. The home's mission is to be the leading provider for hope, help and friendly services to the elderly, poor, destitute, disabled and neglected people of God without discrimination, following the example of the Good Samaritan. The home has 65 residents and 13 staff.
Three SLDI alumnae currently serve at the home. Many Sisters also live in the home with the patients in order to care for them in the night. Aspirant Sisters get basic first aid training and are required to work in the home for their first year and return to working in the home just prior to their final vows. The Good Samaritan Sisters believe this is a way for a Sister to learn humility and the true value of service, as part of their understanding of their lives and charism as women religious.
Learn more about the Good Samaritan Sisters' work with the elderly and sick.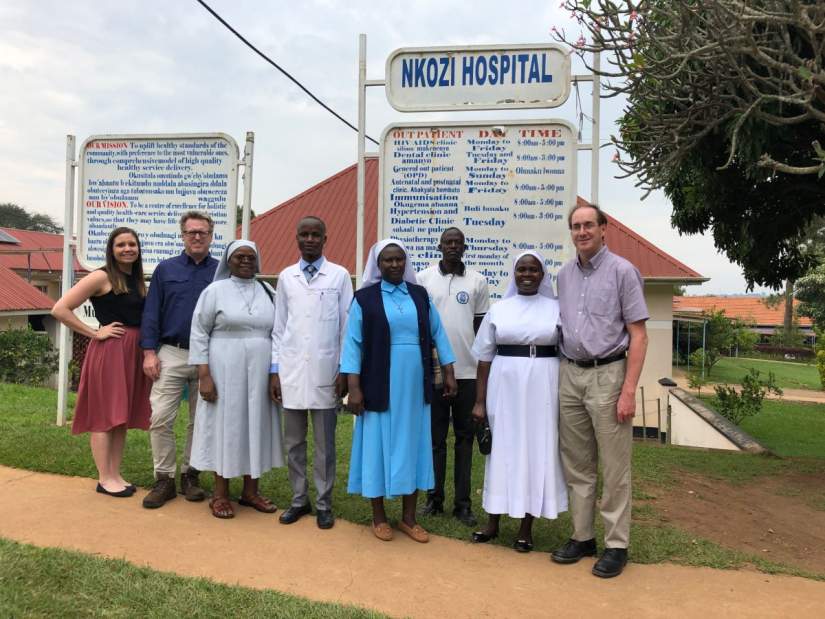 Nkozi Hospital
Sr. Harriet Baker, IMHR - Nkozi Hospital Nursing Director, HESA Alumna (Diploma in Nursing)
The Nkozi Hospital is a private nonprofit health facility run by the Immaculate Heart of Mary Reparatrix (IMHR) Sisters in Kampala, Uganda. The mission of the hospital is "to uplift healthy standards of the community, with preference to the most vulnerable ones, through comprehensive model of high quality health service delivery." The hospital offers a variety of services including in-patient and outpatient services and specialized care for mental illness, HIV/AIDS, diabetes, dental, eye and more. 115 staff care for over 2,200 total patients, with a hospital capacity for 70 inpatients.
Sr. Harriet began her position as Nursing Director of Nkozi Hospital in February 2019. She serves as an administrator and supervisor of 95 healthcare workers. She also manages human resources for hospital staff.
Read more about Sr. Harriet and Nkozi Hospital.
Cabana Sisters' Bread Bakery
Sr. Maria Teopista Namigga, IMHR - Cabana Bakery Manager, SLDI Alumna (Web Design), HESA Alumna (Diploma in Leadership and Resource Management)
Cabana Sisters' Bread Bakery is run by the Immaculate Heart of Mary Reparatrix (IHMR) Sisters and is also located in the same compound as the congregation's motherhouse. The bakery has 30 employees and supplies bread 70-80 loaves of bread per day for schools, hotels, supermarkets and the local community.
Sr. Teopista supervises bakery workers from her local community, including orphans and school dropouts who need to support themselves. Since implementing a savings scheme she learned through ASEC's programs, the bakery is able to run on its own. The savings scheme has also enabled Sr. Teopista to purchase a small bike and two vans as well as incentivize her employees by paying some of their school tuition.
Learn more about Sr. Teo and Cabana Sisters' Bread Bakery.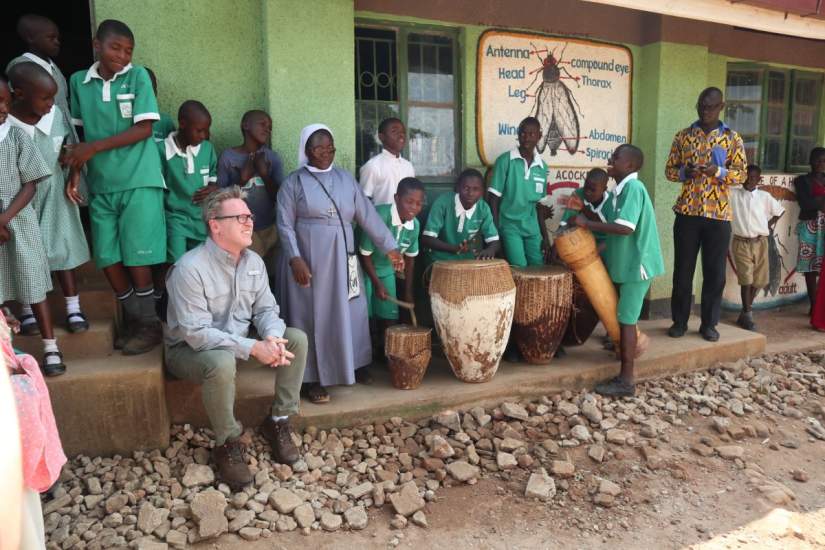 Successes and Accomplishments of ASEC Programs
In total, seven ASEC alumnae were interviewed (three SLDI alumnae and four HESA alumnae) while in Uganda.
During the nine day trip, ASEC staff and partners also visited two HESA partner institutions, the University of Kisubi and Uganda Martyrs University, to assist in strengthening these partnerships and developing institutional linkages. During the visit to the University of Kisubi the team also interacted with ARU novices who were convening as part of their preparation for their religious vows.
During the interviews and site visits there was a lot of positivity surrounding the contributions of ASEC alumnae.
Supervisors of ASEC alumnae cited them to be innovative in their thinking and problem solving which is transforming the services the Sisters are providing. Sisters are passionate about their work and it shows.
In the classroom, teachers and partners say that ASEC alumnae are bringing rationality and widom to campus, inspiring other students to help with activities. Many of the HESA sisters serve as counselors to their peers.
HESA partners who attended the site visits were also impressed with the work of the Sisters in Africa. Dr. James Sullivan, Marywood University Dean of Professional Studies and HESA Liason says,
"The work that the Sisters are doing and that Marywood supports through ASEC programs is so tangible and real world at the most basic level of living life. For instance, they make sure a bakery is up and running to produce good bread so that the community has that portion of its nutritional needs met; they take elderly indigent people off the streets and give them a place of shelter, food, spiritual subsistence and take care of them; they take students that would not have an opportunity for an education and give them a place where they can learn and, if necessary, live. The ASEC programs raise the aspirations that the Sisters have for themselves and their country. With these aspirations, they undertake this work that is just so remarkable at such a basic level [and that is why] I think ASEC has such a profoundly positive effect."
The interviewed Sisters say that ASEC programs have been beneficial to them. They are more confident and are benefiting from networking and workshops that bring Sisters from different areas together so they can learn from one another. Sisters have stated that they are implementing what they are learning from other Sisters and workshops in their own communities.