During a recent trip to Kenya, ASEC Finance Manager Betsy Hartshorn sent messages while she was attending a graduation at the Catholic University of Eastern Africa. She was in awe of the celebration – noting that it was much livelier than the graduation ceremonies you would go to in the U.S. For one, it was four hours long. That doesn't mean four hours of just sitting and watching and listening. People are dancing. Music is playing. Graduates are dressed up in their robes and shaking off the stress of the hard work they've put into their studies. Family members are rejoicing in the successes. People from all over the world – even a member of the ASEC team from the United States - joined together in happiness and joy. Most importantly, I've learned that African cultures consider dancing to be a celebration of God.
If you think I am exaggerating about the graduation, you can watch the video here. This was only a snippet – a tiny clip of the entire ceremony. So you can imagine the entire thing.
It isn't just graduations, though. Dance is integrated into African culture in many different ways. While attending the convening for the Conrad N. Hilton Foundation in Kenya, Sr. Program Manager Rosemary Shaver also experienced the tradition of African dance and music. During segments there were vibrant performances. After watching one of the videos as a music and dance lover, I wish very adamantly that I could have seen that musical group perform.
Pictures taken from Sunday mass from that same visit to Kenya also show a brilliant lightness reflected in the art found on the church walls and through the big windows, and also in the people attending the mass. You can see people thoroughly immersed in the music and prayer of the community around them. In short, I feel that a mass like this must only bring goodness and healing. If nothing else, it looks like a lot of fun. I've noticed no one is sleeping.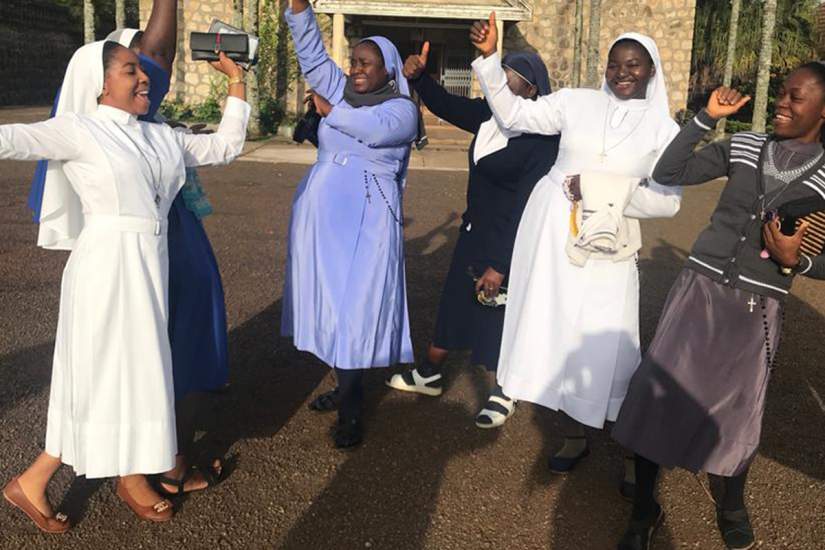 After the observances it made me wonder – what is the role of dance for ASEC sisters?
I asked Sr. Prisca Phiri, a graduate assistant for ASEC and a sister from Zambia, about the role of dance in African culture. She had so much to say! In particular, she touched upon the religious and spiritual aspects of dance.
Sr. Prisca explained:
In African culture, dance is part and parcel of life and is featured in almost all celebrations, including weddings, traditional ceremonies, parties and as a form of play for children. In modern society, people dance at celebrations such as birthday parties, anniversaries, graduation ceremonies and to celebrate achievements in life.
There is an old adage that in African traditional cultures, music and dance is as much "a part of everyday life as eating and breathing." Dance is used not only for entertainment but for different purposes that carry cultural symbolism. It is part and parcel of life and is featured in almost all celebrations, including weddings, traditional ceremonies, parties and as a form of play for children. Dance is said to recount history, convey emotion, celebrate rites of passage, and help to unify communities. It has therefore been said that, "Dance is appreciated as a social occasion but is simultaneously enjoyed as an activity in its own right, entertaining and giving pleasure as an expression of communal life."
Having this in mind, it makes sense that dancing was incorporated in worship when Christian practices and teachings were adapted to African cultures. Inculturation is said to be the incarnation of the gospel in native cultures and also the introduction of these cultures into the life of the Church. Unlike in past centuries, evangelization pays due awareness to the cultural heritage of the people to whom the gospel is addressed. Paul VI recognized that the gospel must encounter and permeate a variety of cultures and cultures themselves need to be "regenerated by an encounter with the gospel… and the building of the kingdom cannot avoid borrowing elements of human culture or cultures". (EN 20) John Paul II holds that every nation, every culture has its own part to play in the universal plan of salvation. Hence, inculturation is an integral part of evangelization because Redemptoris Missio asserts that "through inculturation the Church makes the Gospel incarnate in different cultures and at the same time introduces people, together with their cultures, into her own community." (RM 52)
Thus, with dancing being inseparable from the African cultural activities, it has therefore also been integrated in worship. Masses typically feature dancing among parts of worship such as Gloria and Thanksgiving. Dancing, a keystone of African culture, has become a keystone of African Christian culture as well.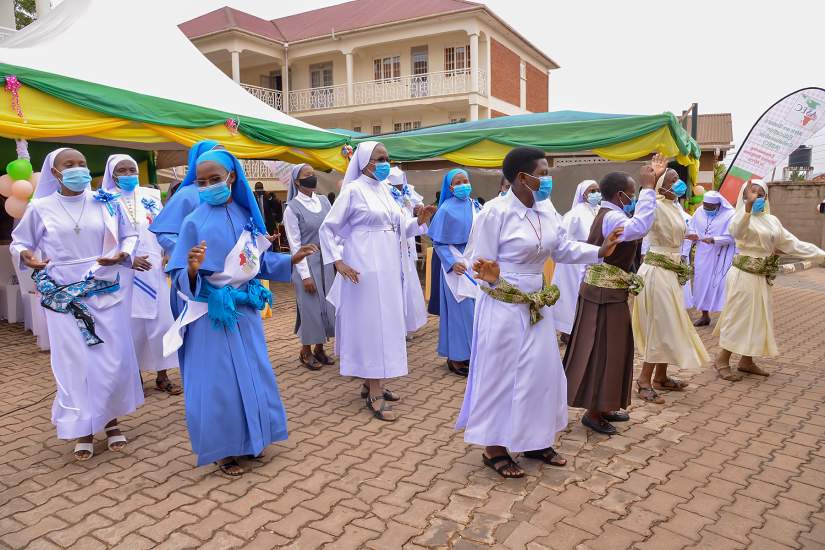 After that explanation from Sr. Prisca, I had just one more question: Why is that? What is it about dancing and what does it help one to express that makes it so important for cultural and religious tradition? (Okay, two questions…)
Sr. Prisca explained that dancing is believed to be inborn. With her eyes shining bright, she explained the joy of seeing a child dance before they are even aware of what dancing is – they just feel the music and move with it. That expression seems innate to all human beings and for Sr. Prisca, it helps her express inner joy.
I personally love to dance and I feel dancing helps me to express my inner joy. Being a Catholic sister, I have been able to express myself during important moments of my life through the art of dance by actually doing the dancing. I have danced during Mass or worship as well as when we gather for celebrations after worship. I have also been able to express my joy through dancing when we celebrate birthday parties/feast days in the convent and many other celebrations such as Christmas parties, Easter celebrations and Jubilees. Through dancing I have not only expressed my joy, but I have brought joy to the others around me, sharing laughter and joyful moments with my religious sisters
She also explained that dancing is used as a way to praise the Lord in the Old Testament. Some of these scriptures include:
They will come and shout for joy on the heights of Zion; they will rejoice in the bounty of the LORD— the grain, the new wine and the olive oil, the young of the flocks and herds. They will be like a well-watered garden, and they will sorrow no more. Then young women will dance and be glad, young men and old as well. I will turn their mourning into gladness; I will give them comfort and joy instead of sorrow. (Jeremiah 31:12-13)

Then Miriam the prophetess, the sister of Aaron, took a tambourine in her hand, and all the women went out after her with tambourines and dancing. (Exodus 15:20)

And David danced before the LORD with all his might; and David was girded with a linen ephod. (2 Samuel 6:14)

Let them praise his name in dance, make music with tambourine and lyre. For the LORD takes delight in his people, honors the poor with victory. (Psalm 149: 3-4)
Sr. Prisca also mentioned that sad events, such as funerals, can also feature a type of dance that would be done in a mournful manner to express sorrow. When I explained to her that in the United States it is common for people to be too embarrassed to dance and not uncommon to have a date refuse to dance at an event, she was shocked. She assured me that one day I'll have to visit Africa and experience the dancing for myself.