Raising awareness of deforestation in Africa should be an ongoing campaign. Deforestation is affecting Africa at twice the world rate. According to the University of Pennsylvania African Studies Center, 31% of Africa's pastures and 19% of its forests are classified as "degraded." Africa is losing over 4 million hectares (about 9.9 million acres) of forest per year, which is twice the average deforestation rate for the rest of the world. (Source). In several Sub-Saharan African countries, the rate of deforestation exceeded the global annual average of 0.8%.
Deforestation is a problem in many African countries, but is particularly prevalent in the country of Zambia. Zambia is a land-locked country in the Southern African neighboring the Democratic Republic of Congo to the North, Tanzania and Malawi to the East, Mozambique, Botswana and Namibia to the South and Angola to the West. Despite the efforts of the government, deforestation of Zambia is happening at alarming rates.
The major cause? Poverty. Many people depend on the same forests for their livelihood and survival.
How sisters are combating deforestation in Africa
Planting Trees
Sr. Clementine Phiri, a Sisters Leadership Development Initiative (SLDI) alumna in Zambia. During the SLDI workshop she attended, sisters took a field trip to Kasisi Agricultural centre where they learned about growing trees for economic sustainability. Sr. Clementine never forgot this experience. When she began working at Lwitikila Girls Secondary School she gathered students and staff together to plant trees. Together the school was able to plant 1,000 pine trees and 100 Moringa trees on school grounds.
ASEC alumnae in Malawi plant trees efforts to combat deforestation in Africa. Malawian sisters invite all of us to seriously look at the problems of deforestation, which are leading to catastrophic soil erosion, drying up of rivers or lakes. Sr. Teresa Mulenga, TS, ASEC Programs Coordinator, Malawi, comments, "There is need to place more emphasis on conservation farming."
Reducing poverty through sustainable agriculture
We know that the largest cause of deforestation in Africa is poverty. Many people depend on the forests for their livelihood and survival. Working towards eliminating poverty in the rural areas of sub-Saharan Africa will contribute to solving deforestation. It's no surprise that sisters are doing just that.
In Nigeria, visiting the Abeokuta Agricultural project run by the Sisters of the Holy Child Jesus was evidence of sisters' engagement in training the local communities on food production and arable land use practices. Sisters are working to increase food production and to train women in income-generating skills and sustainable agriculture. The projects include a piggery, poultry and rabbit farming and food production.
See many more projects by sisters who are practicing sustainable agriculture.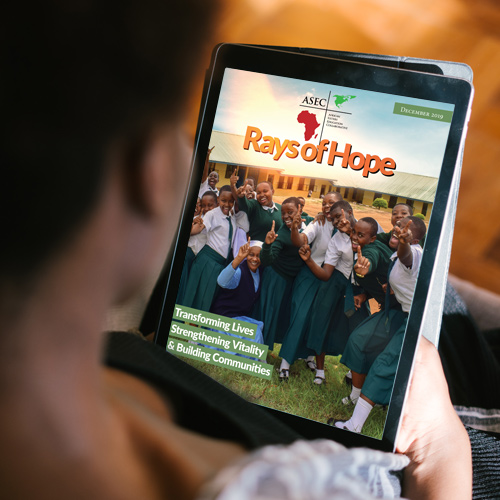 Read Rays of Hope
Learn more about Catholic Sisters transforming poor, rural communities across Africa in our FREE Rays of Hope ebook.
Read It Now »
Education
Education is another way sisters are bringing awareness to deforestation issues in Zambia. Sisters hope to create awareness of deforestation at an early stage by educating young students in schools. Children are the leaders and parents of tomorrow's society. Illegal cutting of trees and grass should be addressed for it has left Africa's forests' bare.
The International Day of Forests is a global event to create awareness of the types of forests in the world. This day was established and first observed on 21st March 2013 with the revolution of the United Nations general assembly that took place on November 28, 2012. Each year has its own specific theme and events to raise awareness of the importance of all types of forests and trees.
Sisters are working hard in Zambia and across sub-Saharan Africa to slow down the rate of deforestation. Sisters educate all people, including the youth, on the dangers of deforestation. They also teach and mentor others in sustainable agriculture, tree-planting and how to raise awareness. Africa needs to work together to resolve deforestation. If you cut one tree, plant eight more. Enforce laws against the illegal burning of charcoal and grass. Work together, and work towards a solution for deforestation in Zambia and all of Africa.
You can learn more about deforestation and the International Day of Forests on the United Nations website.