In a recent workshop, an SLDI student confessed "I didn't know that Sr. Consolata is an accountant, I thought she has done social communication."
The reason for her confusion? Since 2009, Sr. Consolata has written over 60 project proposals, 75% of which have been successful. Her incredible talent at proposal writing is addressing urgent needs in local hospitals, schools, orphanages and homes for individuals with disabilities. They also helped fund fellow sisters' education.
Sr. Consolata has realized how much can truly be achieved through effective communication. Nothing less than "a very successful program" comes to mind every time she thinks of the ASEC's Sisters Leadership Development Initiative (SLDI) program.
"If there are lucky people in this world, count me as one of them. I cannot give back enough in exchange for the transformation I have received after completing an intensive 10-week training on financial management over the span of 3 years (2007 to 2009)."
The SLDI workshops have taught Sr. Consolata many skills that she uses each day. She enjoys report writing, public speaking and mentoring anyone who needs assistance. She's also gained valuable computer skills in Microsoft Word, Excel and Quick Books. Many ask how she keeps warmth and joy while serving in the very demanding ministry of finance/accounting, especially while attending school in the evenings. Sr. Consolata says that she enjoys always maintains a high level of enthusiasm and passion for her work and looks forward to going to the office and serving others.
"...I enjoy every bit of it."
In 2012 her Superior appointed her to be officially responsible for resource mobilization of the Province. Since she was still working as a finance administrator and attending school in the evenings, four more sisters were assigned to be her resource committee. She says that although these sisters had no prior proposal writing experience, she was able to use her skills from the SLDI program to mentor them.
"They appreciated the opportunity since it was an eye opener to them. I am glad they can now do better in proposal writing."
This opportunity has been just one of many for Sr. Consolata. She has secured grant funds and donations for human development projects related to education, infrastructure, health equipment, sanitation and clean water, nutrition and feeding programs, farming, dental care and formation.
"From the words of my facilitator, Victoria Mutiso, "Make use of every opportunity that falls in your life." I always listen to her powerful advice. My religious Superiors also have great appreciation for their decision to give me this opportunity. It has had a great impact on our Congregation of the Franciscan Sisters of St. Anna, and beyond."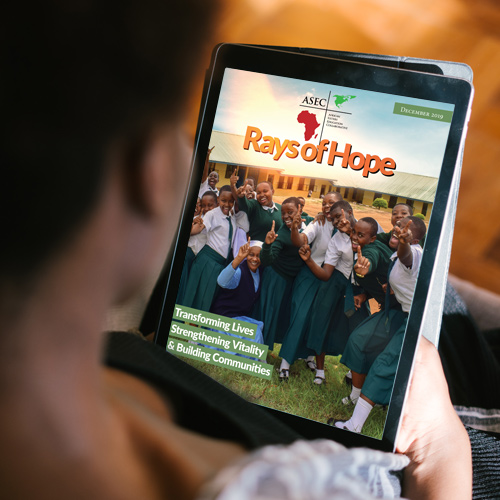 Read Rays of Hope
Learn more about Catholic Sisters transforming poor, rural communities across Africa in our FREE Rays of Hope ebook.
Read It Now »
Sr. Consolata also offers advice for others interested in proposal writing. Getting a response from a donor, whether positive or negative, should be exiting. When the response is positive: be happy for the success. When negative: appreciate that someone took time to read the proposal and respond. Negative response also give you a chance to improve your future proposals. She cannot stress enough the power of effective communication.
"I appreciate that people create time to communicate to me and the best I can do is to be responsive."
What's next for Sr. Consolata? In her future, she contemplates becoming a project manager. She remains extremely motivated to use her project writing skills to serve widely, improve the situations of others and become the person she desires to be.