Cervical cancer remains one of the gravest threats to women's lives. According to the World Health Organization (WHO), one woman dies of cervical cancer every two minutes.[1] The WHO estimates that over 1 million women worldwide are currently living with cervical cancer,[2] and 300,000 of these lives are claimed each year by the disease.[3]
Regular cervical screening and vaccination can save thousands of life every year. ASEC alumnae Sr. Eunice Okobia, Medical Missionaries of Mary (MMM), is making access to life-saving screenings a reality for women in Nigeria.
Sr. Eunice graduated from ASEC's Sisters Leadership Development Initiative (SLDI) program in 2009 where gained technology, finance and grant-writing skills to aid in her ministry work. She is Matron In-Charge at the Medical Missionaries of Mary Clinic in Abuja, Nigeria. The clinic's outreach extends to 20 villages in surrounding areas.
Sr. Eunice became very focused on ensuring the women she sees at the clinic do not become another statistic for the WHO to report about. She adds,
"Cervical cancer risk can be reduced through various measures, including the human papillomavirus (HPV) vaccine and sexual abstinence before marriage."
But she knew that there was more to be done. In addition to vaccinations and abstinence, cervical cancer is highly treatable with early detection.
So, in 2015, Sr. Eunice wrote a grant proposal to the Conrad N. Hilton Foundation in order to purchase a cervical cancer screening machine for her clinic.
Her proposal was accepted.
"[Obtaining cervical screening equipment] has made our work a lot easier," said Sr. Eunice.
At the Medical Missionaries of Mary clinic, cervical cancer screening is free for everyone.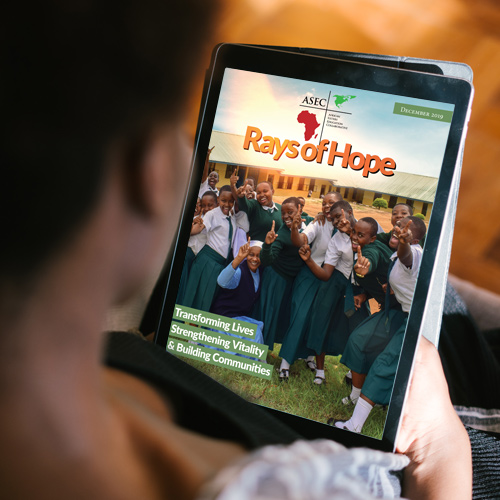 Read Rays of Hope
Learn more about Catholic Sisters transforming poor, rural communities across Africa in our FREE Rays of Hope ebook.
Read It Now »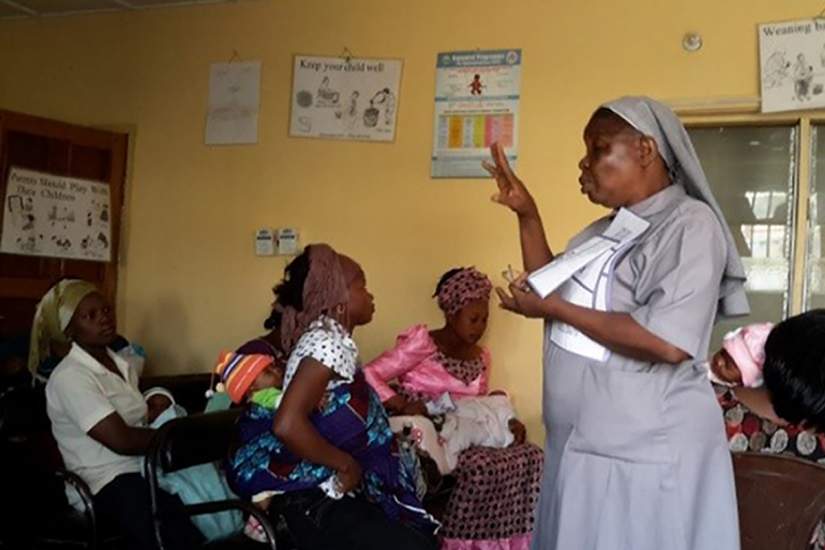 Sr. Eunice is also using the skills she learned in ASEC's SLDI program to form relationships with the community. Through these connections she's able to offer various women's groups, like poor widows, free cervical cancer treatment as well.
"ASEC is a life-saving organization," says Sr. Eunice.
But she still has more work to do.
Due to high poverty levels and lack of resources, many people in her community simply don't have the tools they need to stay healthy. With little education and limited access to maternal care, the women give birth to many children. Unfortunately, a lot of these children are malnourished.
"When we went from village to village to educate people on the importance of delivering at the hospital, they told us that they could not afford the hospital bills. We wanted one of our policies to be making the maternity services accessible and affordable for the poor and the vulnerable."
Others in the surrounding villages are suffering from easily preventable diseases because they don't have an understanding of how the disease can be spread.
"The death tolls are felt across ages through the community and these deadly diseases are very rampant among women and men across all ages of people," says Sr. Eunice.
So, Sr. Eunice now leads educational activities at the clinic twice per week. She teaches the community about topics like cancer awareness, maternal care, tuberculosis, HIV/AIDS and more. Sr. Eunice has found the knowledge she gained from the SLDI program to be invaluable in her service work.
Running a medical clinic for the poor is not an easy job. Each and every day, there are more sick patients. More solutions to find. More teaching to be shared.
And so much more that can be done.
Catholic nuns in Africa are using the skills and knowledge they are learning in ASEC's programs to solve big problems in their communities. Through education, the Sisters are able to effectively carry out their ministry work and help more people.