The Sisters Leadership Development Initiative (SLDI) program offers Catholic sisters in ten African countries the opportunity to enhance their leadership competencies and professional skills in the areas of technology, administration and finance. In the SLDI program Sisters not only learn relevant skills that benefit their congregations and ministries, but also receive a laptop, mentorship instruction and guidance, and entry into the ASEC alumnae network upon completion of the program.
The alumnae of the SLDI program are members of over 320 different congregations, working in a wide range of ministries, and represent more than 30 countries of citizenship, allowing for new and exciting connections within a diverse network of Sisters.
The SLDI program collaborates with partners like consultants, congregational Superiors, and National Conferences/Associations of Women Religious to develop and deliver the program, which is taught over a three-year period.
As of 2018, the SLDI program has served nearly 2,500 sisters, empowering them to become more effective in their congregations and apostolates. Through additional activities, such as workshops for General Superiors and other trainings, the program has served 3,343 stakeholders since 2007. As the SLDI program concluded Phase IV this past year, there is ample evidence that Sisters complete the program with
increased skills and leadership abilities
a desire to pursue higher education and
the ability to create positive impacts on ministries, congregations and human development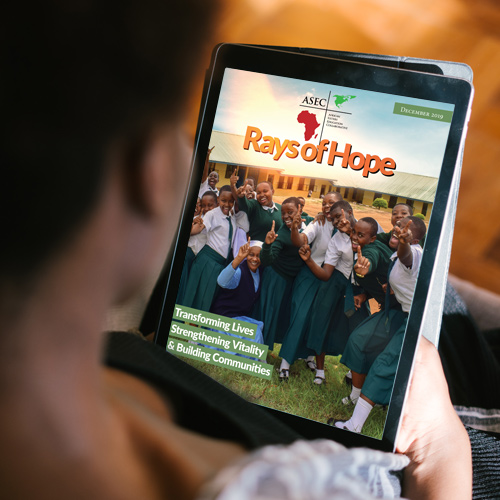 Read Rays of Hope
Learn more about Catholic Sisters transforming poor, rural communities across Africa in our FREE Rays of Hope ebook.
Read It Now »
Transition into SLDI Phase V
After gaining valuable feedback and input from the SLDI partners during the 2018 SLDI Partner Workshops, ASEC staff successfully submitted a grant proposal to the Conrad N. Hilton Foundation, awarding ASEC $7.5 million for the continued implementation of the SLDI program. The program projects it will serve more than 610 Sisters over the next three year period (2019-2021) of Phase V, with additional sisters and congregations to be served through other activities built into the SLDI grant proposal.

Institutional Capacity Building Pilot Project
Through the SLDI program, Sisters develop their individual capacity and skills, which they use to positively impact their congregations and ministries. However, there remains a need to further develop internal systems within the larger institutions to which Sisters belong, including their congregations and their National Conferences / Associations.
With this need in mind, ASEC has initiated a pilot Institutional Capacity Building (ICB) program to build capacity at the organizational and institutional levels.
ASEC's ICB program is meant to support both the internal strength and the external service of National Conferences/Associations and congregations as they strive to positively impact human development. The internal and external strength of Institutions are mutually inclusive and reinforce each other in the ministry of the women religious. Building strong institutional systems within National Conferences/Associations and Institutes of Women Religious will ground the professional skills Catholic sisters in Africa have gained through ASEC's programs like SLDI and the Higher Education for Sisters in Africa (HESA), for meaningful impact in the ministry of sisters. In the ICB program ASEC recognizes the existing capacity of Institutions of Women Religious in Africa and collaborates in strengthening these systems to improve the vitality and vibrancy of Institutions of Women Religious.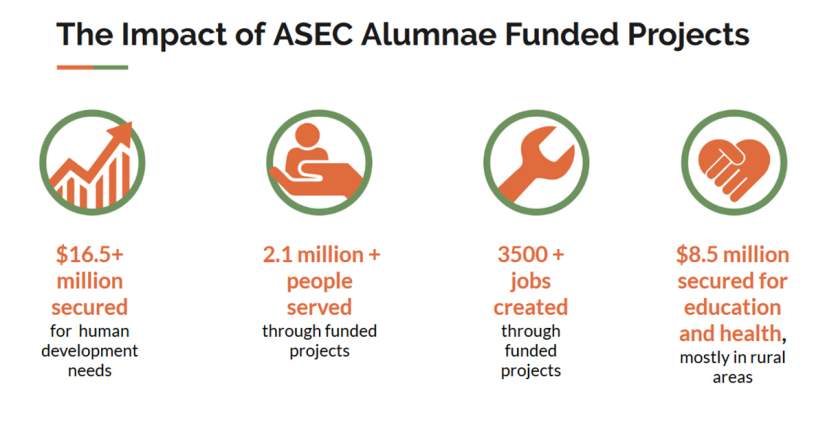 Alumnae Impact
Program evaluation outcomes indicate that SLDI alumnae are able to translate the skills and knowledge they learn into action. Impact can be observed at three levels: individual, congregational (or organizational) and ministerial (or societal). At the individual level, sisters have consistently reported that they improve their self perception and relationships with others through participation in the program, as well as their leadership capabilities. The most recent data show that 95.6% (n = 526) of alumnae improved their perception of themselves and 93.3% (n = 523) saw improvements in their personal and/or professional relationships. Alumnae also report taking up new leadership roles within their ministries (73.1%, n = 517) and outside their ministries (41%, n = 507).
At the congregational level, about 74% (N = 567) of SLDI alumnae have implemented or improved internal systems in their ministry and/or congregation in the areas of strategic planning, financial planning and management, and/or human resources (HR) management. About 66% of alumnae are creating systemic change in both their congregation and ministry. Additionally, 97% (n = 520) of alumnae serve as mentors and their mentees include both religious and lay people.
Finally, at the ministerial, or societal level, ASEC alumnae and their mentees have secured more than $16.5 million for human development projects across Africa, contributing to the achievement of the United Nation's Sustainable Development Goals (SDGs). Education and health focused projects receive the most funding; 51% of all funds support these two areas, largely in rural areas.