"Through the many twists and turns of my life I have found that expectations are seldom met, whether this be in a negative or positive way. Based on that knowledge, I do all that I can to maintain an open mind, be flexible and simply allow experiences to unfold, rather than creating expectations."
Before Emily Schweiger began attending Marywood University, there was always a part of her life dedicated to service.
There was also always a part of her that wanted to go to Africa.
As a first year, Emily joined Volunteers in Action (VIA), a club for Marywood students interested in community and on-campus service.
During a meeting, Sr. Ganon spoke to the group about Service Learning through the African Sisters Education Collaborative (ASEC), located on Marywood's campus.
Emily saw this as an incredible opportunity.
The Service Learning trip would take place in Morogoro, Tanzania. Located in East Africa, Tanzania is a peaceful but poor country. Students on the service learning trip would visit sites like Bigwa Sisters' Secondary School, Mgolole Orphanage and Amani Center for Disabled Persons.
Before the trip, students are required to take a class on the country they're visiting. Emily learned about the history and the culture, but knew that she couldn't be completely prepared for this experience.
Despite this, Emily didn't feel nervous. Her group was comfortable with each other and they felt like a team.
They were warmly welcomed in Tanzania, but there was work to be done.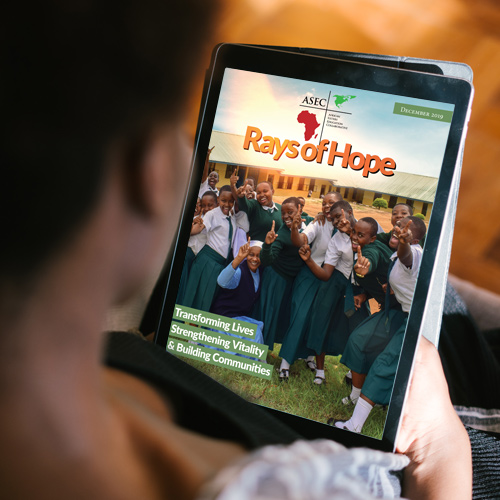 Read Rays of Hope
Learn more about Catholic Sisters transforming poor, rural communities across Africa in our FREE Rays of Hope ebook.
Read It Now »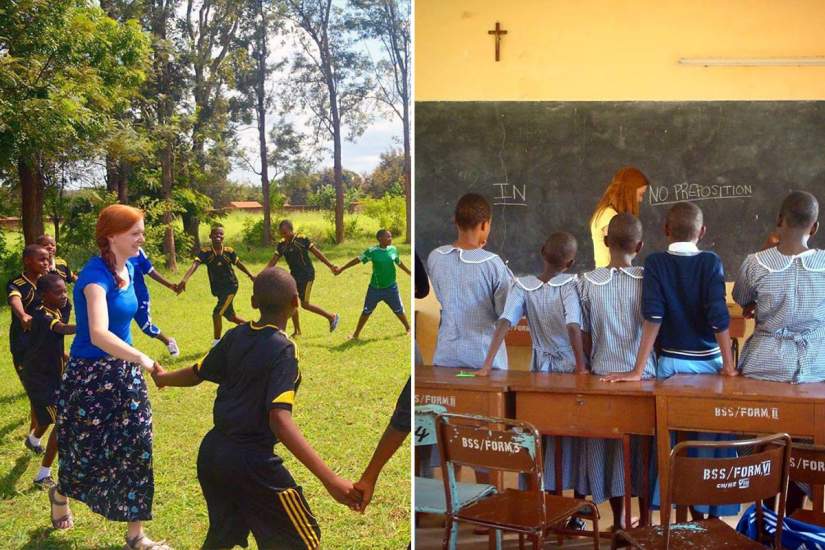 Their first visit was the Bigwa Sisters' Secondary School, a school organized and ran by religious sisters. Bigwa educates religious sisters who are not professed sisters yet. Their education at Bigwa helps them serve their communities better and gives them the opportunity to move onto higher education. ASEC also provides scholarships for women to study at Bigwa through the Scholarship Program.
The service learning group visited to tutor them in English. The main language in Tanzania is Swahili – but all the tests that students take are in English. English is taught in schools but not by native speakers, so this creates a difficult situation.
Once a student reaches a certain grade, they must take the Certificate for Secondary Education exam and pass to continue their schooling. The exam is only in English.
"A lot of kids are failing and I don't think they're failing because they don't know math, or science, or history. I think they're failing because they don't know English very well. I think that there's a real need to teach English and help out in English."
Emily says their tutoring was effective and that casual conversation helped the students as well.
Education plays an important role in sustainable development of Africa. It is the largest ministry1 that Sisters Leadership Development Initiative (SLDI) Alumna focus on.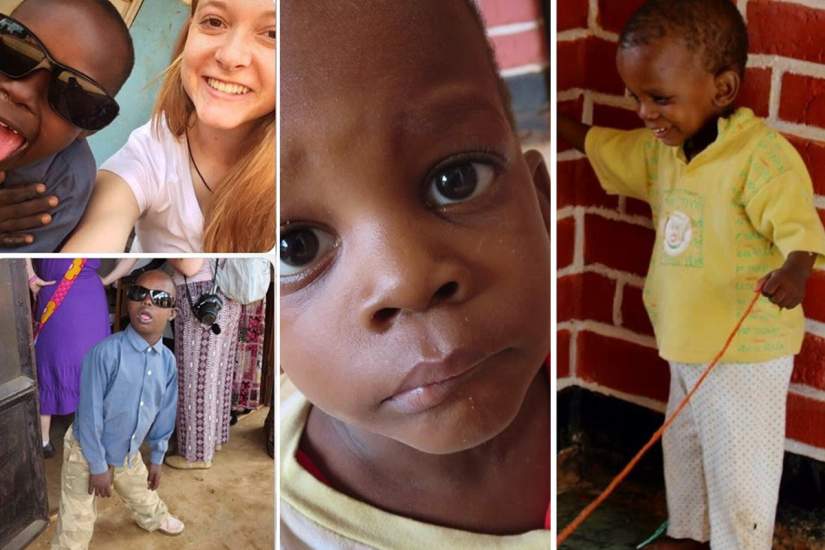 The group then visited the Amani Center for Disabled Persons. Emily was surprised that this was the nicest place they visited in Tanzania. The staff "shined with a beautiful positivity".
Emily expected that disabled persons in Tanzania would be treated poorly simply due to lack of finances but was pleasantly surprised that this was not the case.
By visiting the Amani Center, Emily learned that disabled persons in Africa are not different from disabled persons in the United States. "They are all beautiful," she writes.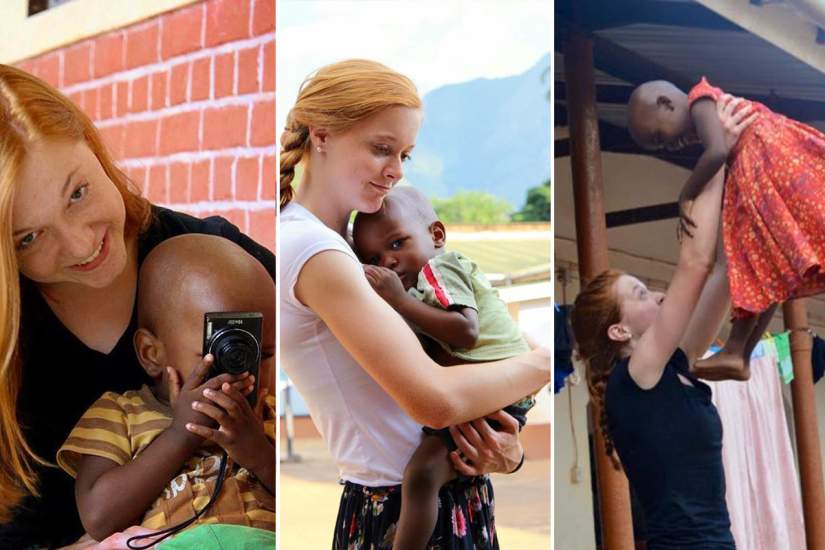 Their next visit was to the Mgolole Sisters' Orphanage run by the Sisters of the Immaculate Heart of Mary (CICM). The orphanage struggled with many issues:
Cleanliness
Feeding the children
Clean water
Medical care
The children also did not speak English at all, but the language barrier did not stop them from connecting with each other.
Through playing games and laughing, Emily made friends with children at the orphanage quickly.
She became best friends with one boy named Atinasi who loved cuddling and laughing. Despite his happy attitude, he struggled with malnutrition and health issues.
"I want nothing more than to give that boy a beautiful life and for the conditions to improve for all of those in the orphanage. We left the children toys and supplies, but that is such a small step of what will be necessary to improve that sad orphanage."
This service learning trip had an incredible impact on Emily and her group.
After returning home, the group got to work on what they could do to help others. Two service learning participants, inspired by their trip, went on to teach English in Thailand to students.
Seeing Tanzania helped Emily be appreciative of what she has. She hopes to work and make a difference in Tanzania in the future.
"This has changed my life, this has set a fire in me and because of this program I'm going to go on and do bigger things. And so are all the other people who have been involved this. It's just the beginning for us."
Currently, she has stayed in contact with those she met on the trip.
Emily remained in contact with students from the school and with the orphanage. She says a woman from Poland has started a farm at the orphanage, so they keep in touch.
As a student studying education and psychology, this trip helped Emily know that this was the right choice for her. Even so, as she moves onto graduate school, she hopes to do her dissertation in Tanzania.
"This has impacted me beyond anything I can explain. There's not a day that goes by that I don't think about Africa."
Through service learning, Emily felt inspired to work towards her dreams. She knew she wanted to help others and that she especially wanted to help others in Africa. Without ASEC, she would not have had this life changing experience.
"ASEC is a beautiful organization that gave me the opportunity of a lifetime. Through multiple programs, the good that ASEC does is immeasurable. With each individual person this program helps, whether through getting sisters the education they deserve or sending students across the world to serve, a ripple effect is started, impacting more lives than expected. I feel so blessed to have had the opportunity to go to Tanzania through ASEC, and to see first-hand the lives that this amazing program is changing. I can't wait to see the ways in which the program will grow in the future and to go on to do my own work, inspired by ASEC," said Emily.
She adds,
"I would not be who I am today if it wasn't for this program."
By seeing the struggles of other people in Tanzania, Emily feels that she has a better understanding of the problems facing Africa. She has a desire to be a part of the solution.