Initiated in 2012, ASEC's Scholarship Program provides secondary and post-secondary education in a variety of disciplines to Sisters reporting to ASEC offices in Tanzania, Malawi, and Zambia. Since 2012, the program has since given scholarships to 361 Sisters.
In 2019, 115 Sisters total were enrolled in school through the support of donors and funders of the Scholarship Program.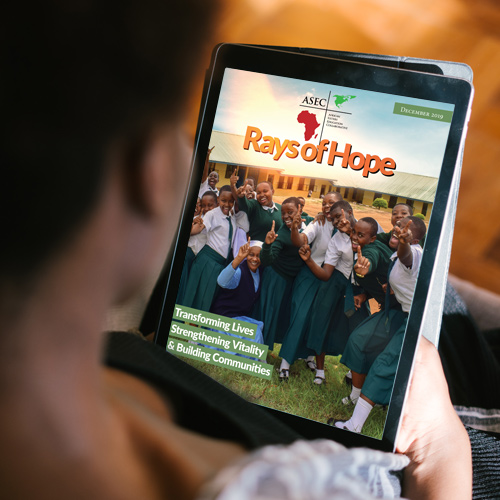 Read Rays of Hope
Learn more about Catholic Sisters transforming poor, rural communities across Africa in our FREE Rays of Hope ebook.
Read It Now »
Secondary School Scholarships
One of our partner schools, Bigwa Secondary School, located in Morogoro, Tanzania, sees the largest attendance of sisters participating in the program. Bigwa Secondary School allows the students to complete their high school level education. Forty students were served at this location in 2019, with 20 new and 20 returning scholarship recipients.
College Certificate & Diploma Scholarships
The Two-Year program, supporting Sisters completing secondary school or a college certificate/diploma at various schools/colleges, served 45 new recipients, with 25 Sisters admitted in Tanzania and 10 sisters in both Malawi and Zambia. There were also 30 returning students supported in the program. In 2019, Sisters were supported to study education, social work, accountancy, psychology/counseling, library sciences, and medical sciences.
A Drive Toward Serving Others
A common theme that appears with Sisters participating in the scholarship program is the drive toward serving others. I am thankful to have the opportunity to work with such selfless women who utilize their education in such powerful ways. In addition, our recipients are very thankful and full of gratitude for their continued support. Letters are often received expressing thanks and a desire for further education to continue to aid their communities further.
I enjoy working with everyone involved in this program and would like to thank everyone who has supported Sisters in the scholarship program. There is always a need for help to continue funding these Sisters' educational journeys.
2019 Evaluation Report
Read the 2019 Scholarship Program Executive Summary (Jan 1-Dec 31, 2019) (PDF)